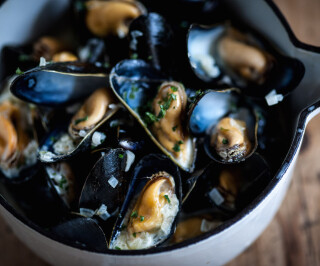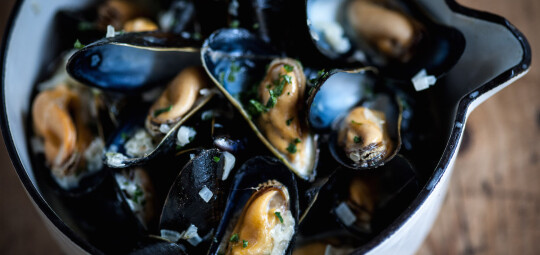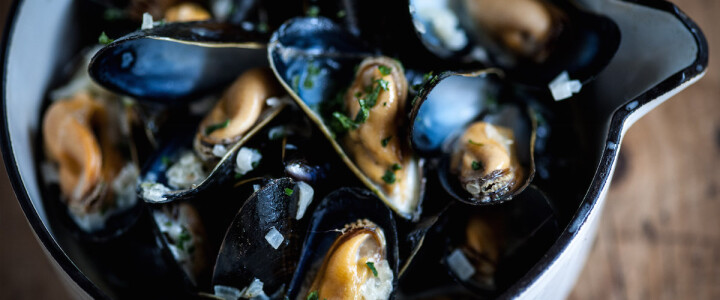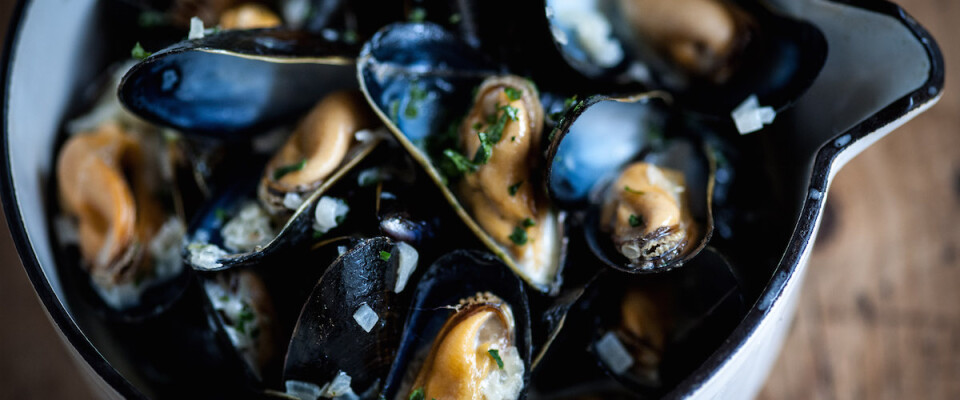 Recipe: Mussels in Cider with Tarragon with Philleigh Way
24 August 2016
Resident Philleigh Way chef George Pascoe said: 'Growing up next door to the brilliant Roseland Inn Pub in Philleigh, I often used to go in as a youngster and order a bowl of mussels and bring them back to farmhouse for my tea.
To me, nothing sums up summer more than enjoying the abundance of fresh fish and shellfish that is available around Cornwall.
This dish also makes the most of some of the fantastic Cornish products available including one of our favourites, Cornish Sea Salt (see our August newsletter for more information on this brilliant company) along with Rattler cider, Cornish rapeseed oil and Trewithen cream.
I love the fact it's simple and quick to prepare meaning more time to kick back and enjoy it along with a chilled glass of Cornish cider or wine!
Mussels in Cider with Tarragon
(Serves 4 as a starter or 2 as a main)
Ingredients:
1-1.5 live Cornish mussels
Cornish Rapeseed oil
1 banana shallot, sliced into half moons
2 garlic cloves, crushed under a knife then finely sliced
250ml medium dry cider (we love Cornish Rattler)
100ml Trewithen whipped cream
4 springs tarragon
Cornish Sea salt
Fennel seed soda bread, to serve
Method:
Prepare the mussels by washing, removing the beards and checking they are all still alive.
Heat a splash of rapeseed oil in a pan, add the shallot and garlic and fry over a medium heat until softened but not browned.
Add the mussels and cook until just starting to open.
Add the cider and turn up to a high heat with the lid on.
Once the liquid has come to a rapid boil and there is plenty of steam stir once, cover the pan again and cook for 2-3 minutes until the mussels open.
Add the tarragon sprigs and stir the mussels to check that the majority have opened – discard any that have not opened.
Divide the mussels between two bowls with a slotted spoon. Taste the liquor and add salt if required. Ladle the liquor over the mussels and tuck in.
Use the soda bread to mop up the liquor.
For more information on Philleigh Way Cookery School including our wide range of cookery courses and dining events please visit the website www.philleighway.co.uk