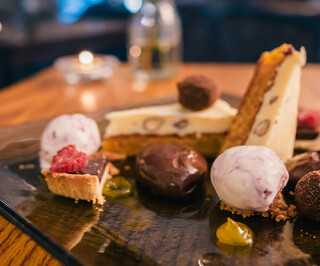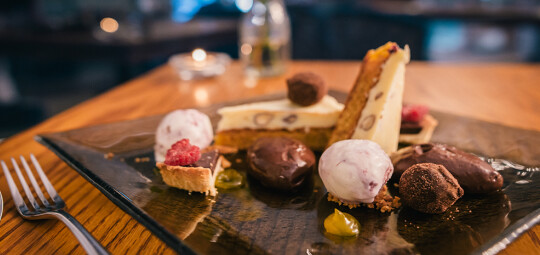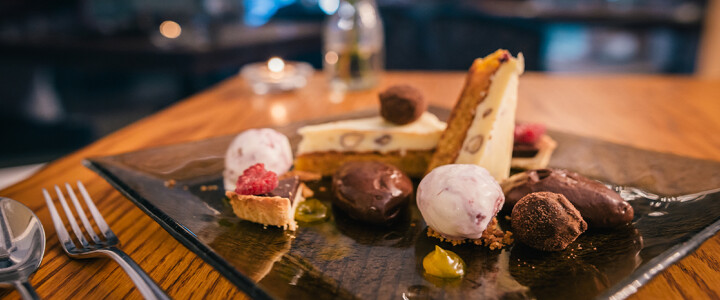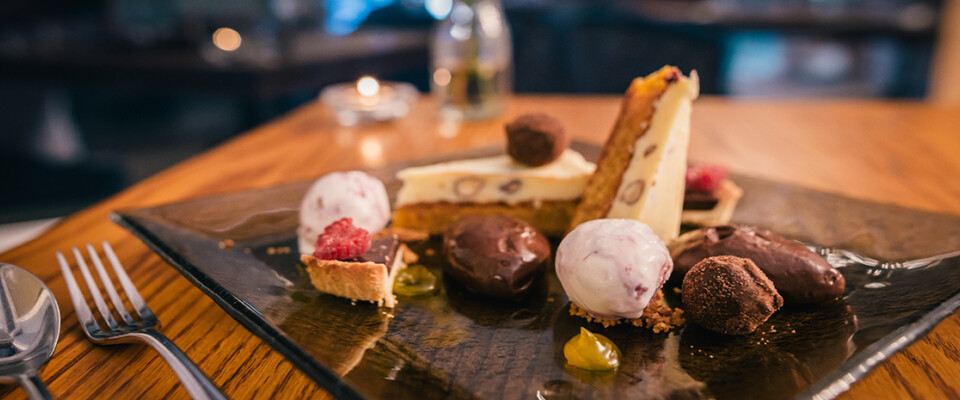 Recipe: Rich Chocolate Tart with Cornish Sea Salt Ice Cream from The Greenbank Hotel
6 March 2017
Paul Beasley, pastry chef at The Greenbank Hotel has shared this mouth-watering recipe for Rich Chocolate Tart with Cornish Sea Salt Ice Cream with us, and oh my, it looks to die for.
Recipe (serves 6)
Chocolate Tart
Ingredients
· 300g dark chocolate
· 200g butter
· 2 egg yolks
· 2 whole eggs
· 60g sugar
· For the pastry: 4 ounces butter, 4 ounces caster sugar, 8 ounces plain flour, 1 egg, 1 vanilla pod
Method
For the pastry, cream the butter and sugar together, then add the flour and egg. Scrape your vanilla pod in half lengthways and add the seeds to your creamy butter. Bring together lightly in the mixing bowl, being careful not to overwork. Wrap in cling film and put in the fridge to rest for half an hour.
Meanwhile, whisk the eggs and sugar in a bowl, to create a light and fluffy sabayon. Melt the chocolate and butter in a bain-marie. Whisk 1/3 of the eggs mixture into the chocolate and butter, then carefully fold the chocolate mix into the rest of the sabayon mix, being careful not to lose too much air created by whisking the eggs.
When everything is cool and your pastry is ready, roll the pastry base with a rolling pin and line a shallow dish, then add your chocolate tart mixture.
Ice Cream
Ingredients
· 500ml whole milk
· 500ml double cream
· 12 egg yolks
· 250g caster sugar
· 2 vanilla pods
Method
Boil the cream and milk together with the vanilla pods. Whisk the eggs and sugar together, pour the milk mixture over them, and whisk in. Then pour the mixture back into the saucepan and cook over a low heat for about 5 minutes.
Sea Salt Caramel
Ingredients
· 300g caster sugar
· 100ml water
· 400ml double cream
· 4 teaspoons Cornish sea salt
Method
Place the sugar and water in a heavy based saucepan, bring to the boil, and reduce until a golden brown colour has been reached. Carefully pour in the cream – this bubbles up quite vigorously so be cautious. Turn the heat down and simmer for about 2 minutes. Leave to cool then add the Cornish sea salt. Add this to the ice cream base and churn, saving a little back for decoration of the plate.


Find out more about The Greenbank Restaurant