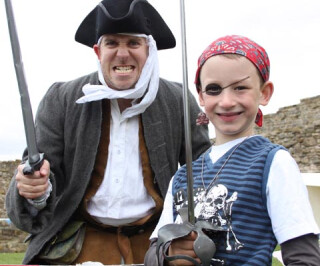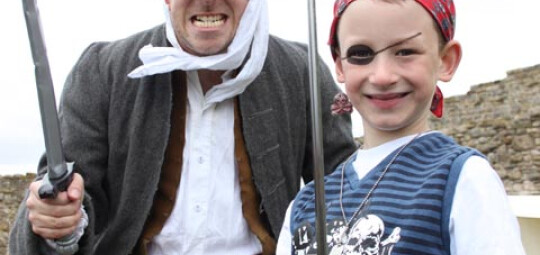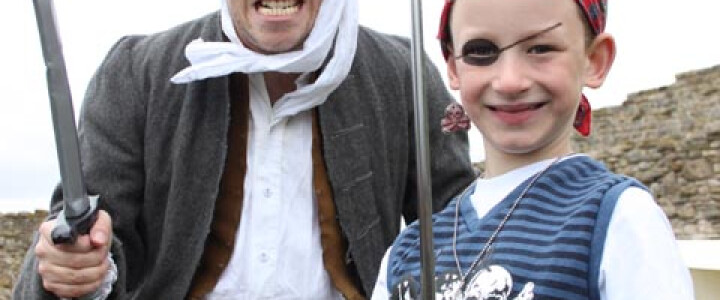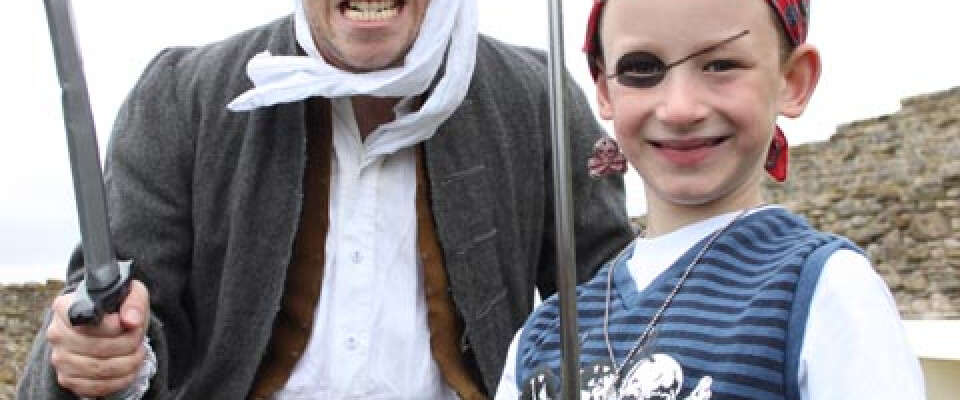 Top Things To Do in April
30 March 2017
It's April and spring is definitely in the air. The coldest months have gone in favour of more sunshine and a fewer rain showers. To help you make the most of it, we've put together our top picks of the very best events happening around the Fal River.
National Trust & Cadbury Easter Egg Hunt
1 - 17 April
The National Trust have teamed up with Cadbury to offer you the ultimate day out. Visit Trelissick Gardens or Glendurgan Gardens over the Easter holidays to run through muddy woodlands, around mystical lakes and along nature trails on a Cadbury Egg Hunt. What's more, everyone will be rewarded with a delicious Cadbury treat at the end of each completed hunt!
Pirates AHOY! at Pendennis Castle

3 — 21 April
Set sail for tales of dastardly deeds and discover Pendennis' piratical past. Join Pendennis for fun and games galore throughout the April. You'd better behave or you might end up walking the plank! Pendennis is a great day out come rain or shine for all the family. Their brand new cafe No.6 is the perfect place for lunch after all that swashbuckling shenanigans!

Find out more...


Simple Suppers at Philleigh Way Cookery School

5 April
Ramp up your cooking repertoire with the Simple Suppers Course this month at Philleigh Way Cookery School! On this course you will learn a number of simple, seasonal and delicious dishes that can be easily recreated at home. In today's world demands on our time are high, so the aim of the course is to equip you with the skills to recreate quick, healthy, delicious meals at home in a relatively short period of time. The emphasis is on making everything from scratch but Philleigh Way will teach you some labour saving tips and tricks to speed up the process!

Making Dosh from Dough
24 April
Inspired by the rustic French bread they sampled on their holidays, two local brothers, Ben and Tim Hawkins, began experimenting with their own version of tasty da bara (good bread). From its early days, the business has expanded into a thriving bakery, supplying renowned, award winning artisan bread, delicious pastries and tasty pies, all of which can be sampled at their latest venture, Da Bara Café on the Roseland. Join Joel Hepworth, Operations Manager for Da Bara as he explains this remarkable success story.

Find out more about Roseland Festival programme of events
Tresillian Singers and Rhos Keur

25 April
Head down to the stunning St Just in Roseland Church and enjoy two Cornish Choirs as they join together in harmony. Tresillian Singers are a long established and renowned ladies' choir. Their Director of Music, Elaine Tangye, recently joined them and their repertoire of popular music grows every year. Rhos Keur is a newly formed choir of male voices which started in 2014 under the baton of Jon Carlyon. Brian Chenoweth gathered some friends together, most of whom sing with larger Cornish choirs, or have had years of Cornish singing in pubs, after Rugby matches and gig rowing and established this wonderful male voice choir.
Find out more about Roseland Festival programme of events

Falmouth Spring Festival 2017

30 March — 17 April 2017
Sponsored by the University of Exeter The Falmouth Spring Festival celebrates Falmouth's open spaces, terrific coastline and gardens. As profiled on the BBC's Great British Garden Revival programme, this wonderful early season festival brings together the Falmouth community like no other. The festival brings an explosion of colour, life and activity to the town.

JMW Turner – Inspiring Change

27 April
JMW Turner (1775-1851) is one of the world's best-loved and influential artists. He travelled extensively in the UK and Europe, at a time when travel wasn't easy, and made oil and watercolour paintings in locations from Falmouth to Folkestone. Join Victoria Pomery, OBE as she considers JMW Turner's legacy and her role as Director of the new gallery, Turner Contemporary in Margate.
Find out more about Roseland Festival programme of events

The Show Must Go On

27 April
"The Show Must Go On" but who and what makes sure that it does? Julien Boast, Director of the Hall for Cornwall, talks to Jane Churcher about his life in the theatre behind the scenes. Producing new writing and drama, site specific and outdoor theatre work has been his particular specialism, alongside a track record in mentoring artists and theatre companies. His experiences in the theatre are wide and all-encompassing. Jane Churcher, who previously worked for the BBC, will quiz him about his career in theatre and what the future holds for theatres such as the Hall for Cornwall.
Find out more about Roseland Festival programme of events

3 Daft Monkeys at Princess Pavillion

29 April
With Celtic and eastern influences, the 3 Daft Monkeys' dynamic style of world-influenced folk music and infectious dancing rhythms will leave you breathless, enthralled and exhilarated. After experiencing the band's notoriously energetic live performance at Glastonbury Festival last summer, Mark Radcliffe declared them as one of his "Highlights of the Festival" on BBC TV coverage, and subsequently invited them to play a session on his BBC Radio 2. Don't miss them at Princess Pavillion this month.
International Male Voice Choral Festival, Trebah Gardens

29 April
Spend the afternoon at Trebah Garden's and enjoy the several male voice choirs performing live at the House. Sit on the lower lawn and listen as you take in breath-taking views of the garden. This performance at Trebah, is just one in a series of events taking place in various locations across the county for this years International Male Voice Choral Festival.

Find out more...