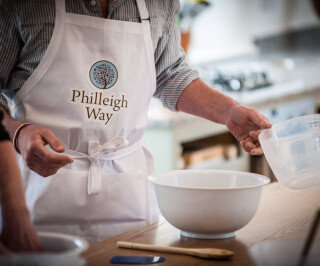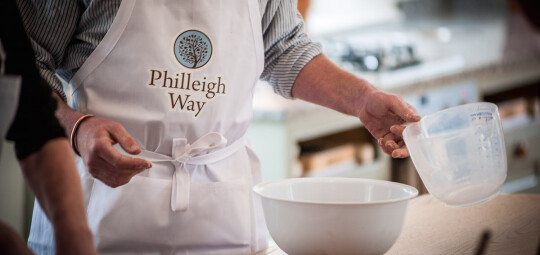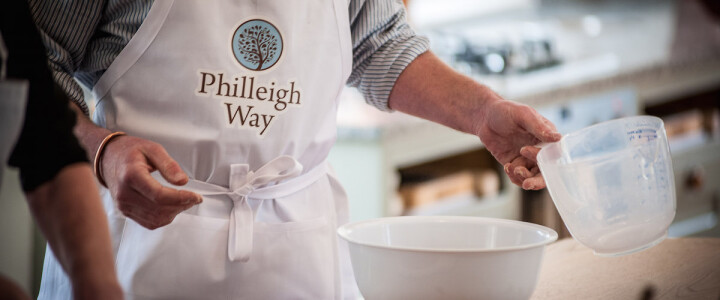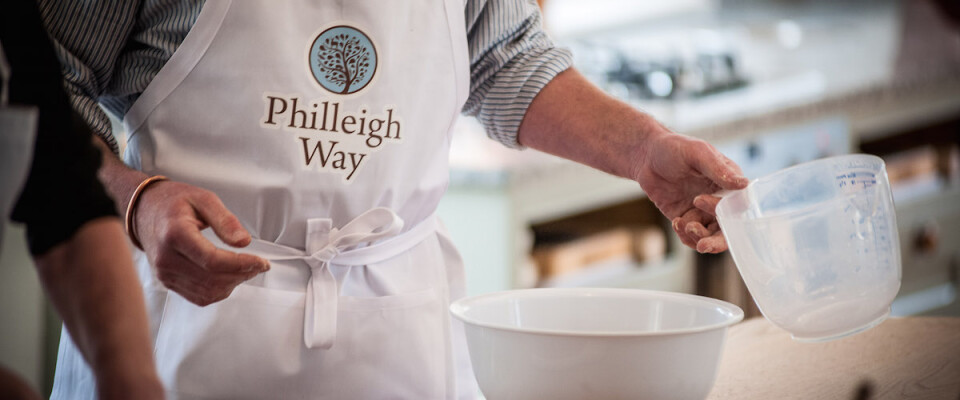 Easter at Philleigh Way
11 April 2017
Philleigh Way are gearing up for Easter with a series of courses and events designed to broaden your creativity, stock up your kitchen with delicious delights and take the stress out of entertaining your Easter visitors.
First up is Philleigh Way's new Easter Baking Course run by Christine Hawker, (an experienced WI market baker, county cookery judge and WI advisor) which takes place on Saturday 8th April. During this half-day course, you'll learn to make a wide variety of traditional favourites with a Philleigh Way twist! From traditional Easter biscuits to Philleigh Way's take on simnel cake and hot cross buns. At the end of this fun, seasonal course, you'll head home with a bag full to bursting with scrumptious treats to share with friends and family this Easter (if they last that long!).
Monday 10th April – Easter Flower Arranging. Impress your Easter visitors this year by creating two stunning arrangements with tuition from amazing local florist Helen Johns and her team from Trebilcocks Flowers. Visit Philleigh Way for a morning of fun and creativity learning all the skills required to design and make your very own Easter table centre piece and hand tied arrangement to take home and enjoy. Learn the basic principles and techniques of floral art as well as flower preparation and selection. There is no need for any prior floristry experience, no need to know the names of any flowers, you just need enthusiasm, the ability to giggle, and a thirst for learning something new!
Wednesday 12th April – Dinner Party Cookery. Take the stress out of entertaining your Easter visitors this year by learning a range of time saving tips and tricks on Philleigh Way's Dinner Party Cookery Course. Covering everything from canapes to starters, mains and desserts, resident chef George Pascoe will teach you time saving tips to ensure you spend more time with your guests rather than slaving away in the kitchen!
Indian Street Food Supper Club – Friday 14th April ** SOLD OUT
On Good Friday, Ben and Jasmine of MahaMasala Spice Company will be cooking up a storm at Philleigh Way's first Indian Street Food Supper Club on Friday 14th April. Imagine you're walking along the bustling streets of India's cities surrounded by the sights and smells of delicious traditional Indian cuisine. Well now you can enjoy this experience in the cosy surroundings of Philleigh Way's farmhouse kitchen. Each traditional and flavoursome dish will be served in succession aiming to give you the feeling of what it might be like to wander the bustling streets of India from food stall to food stall trying out all manner of delights as you go.
Each dish will be prepared and plated in front of you with Ben and Jasmine explaining the origins of each dish as they go.
To bring the experience to life, the menu (consisting of 6 courses) has also been paired with a flight of wines from around the world which will be available to purchase on the night.
Why not treat yourself to a fun night out at Philleigh Way enjoying some traditional Indian cuisine in a warm and friendly setting!
Ben and Jasmine are a husband and wife team with roots in Cornwall and Rajasthan, India. Together they set up Mahamasala Spice Company to pursue their passion for authentic Indian cuisine. They run cookery classes, organise feasts and pop up restaurants, and sell high quality spices sourced from India, blending them in small batches in Cornwall to preserve freshness. Jasmine learnt cooking from a tender age as the chosen 'sous chef' in her granny's kitchen in India. Subsequently, she travelled extensively within India, learning about different regional methods and flavours. Ben is an award-winning cook and gastronome with an interest in revival of traditional methods of cooking, local and seasonal produce and slow food from around the world.
Cornwall in a Day, Saturday 15th April. One of Philleigh Way's signature courses, during the Cornwall in a Day course students will get to grips with one of Cornwall most famous dishes, the 'Cornish Pasty'. Learn how to make the perfect pastry as well as what really should (and shouldn't) go into a pasty. Get competitive seeing who can make the best crimp before going on to learn how to make other Cornish classics including saffron buns, hoggs pudding, scones, clotted cream and more…
The perfect activity for your Easter visitors and what's more, they'll come back with a bag full of scrummy homemade delights!
Japanese Cookery at Philleigh Way – Wednesday 19th April
This month Philleigh Way launches its new full-day Japanese Cookery course run in conjunction with Japanese Cookery tutor Naoko Kashiwagi.
Sushi and Japanese food has seen an explosion in popularity worldwide and with access to some of the best fish in the world, what better place to learn than Cornwall.
On this new course full-day course, students will be taught how to make authentic sushi and traditional Japanese dishes by Japanese cookery teacher, Naoko Kashiwagi. Naoko will share her skills and experience, teaching students how prepare delicious sushi and other traditional Japanese dishes such as Okonomiyaki, Soba Salad, Teriyaki Chicken, California Roll Sushi and much more from scratch, creating new and delicious flavour combinations and textures.

Find out more about Philleigh Way Cookery School