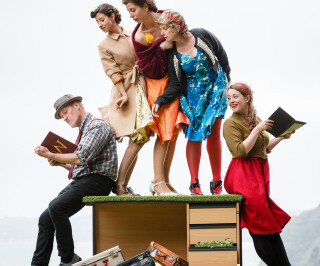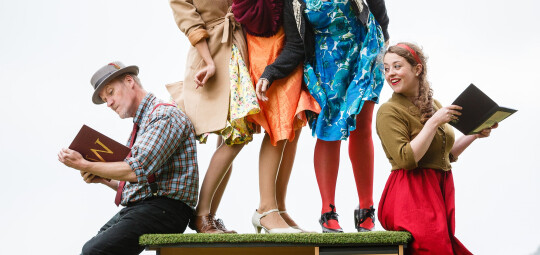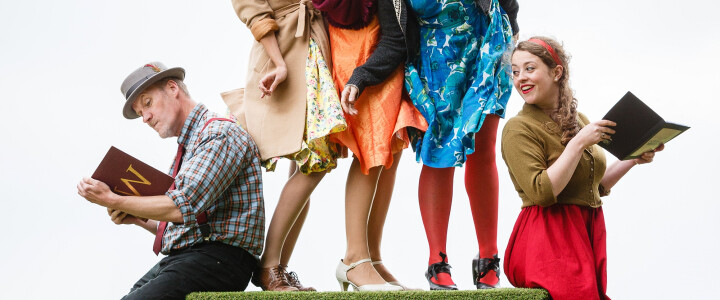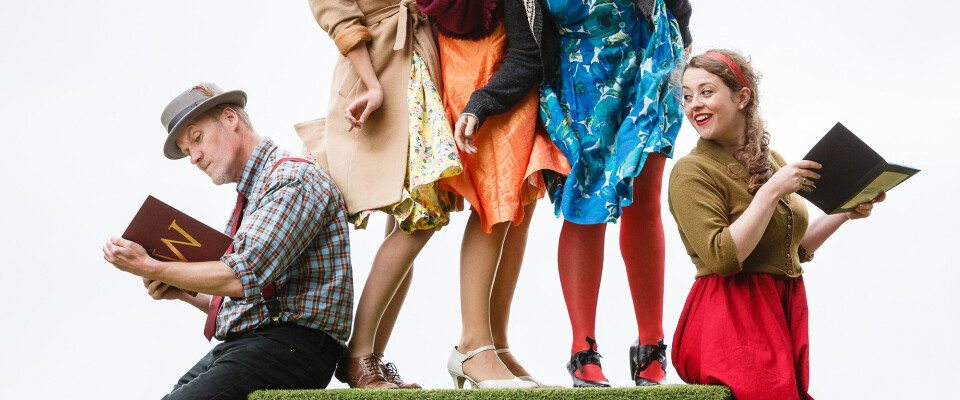 Causley Comes to life, especially for Fal River Festival!
9 May 2017
Inspired by the life and works of Charles Causley, poetry, songs and Cornish tales take The Story Republicans, Cornwall's best-loved band of troubadours, to Tresanton Chapel, St Mawes as part of Fal River Festival this summer.
The performance, which takes place on Tuesday 30th May at 7.30pm, is part of the Causley 100 celebrations and created especially to celebrate Cornwall's best-loved poet in what would have been his 100th year.
The retelling of Causley's work has been at the heart of The Story Republican's repertoire since they formed in 2012, however recent funding from FEAST has enabled the ensemble to explore new poems and commission new work, especially for this commemorative year.
"As well as reinvigorating work from the existing Causley archive, we wanted new pieces of poetry and prose to perform. Causley has inspired so many writers, artists and performers in Cornwall, and beyond, so it felt fitting that we asked writer Pol Hodge to translate some of his work into Cornish. Pauline Sheppard has taken his sense of place as a starting point for a new poem" comments Amanda Harris, Creative Producer of The Story Republicans.
The evening will feature modern-day wordsmiths Bert Biscoe, Mac Dunlop and Pauline Sheppard, who will read their own work and share their love of Causley and how his work has enriched their own work and writing.
"It's fabulous to be part of the Fal River Festival once more and we're thrilled to be performing in such a special location. If anyone hasn't visited Tresanton Chapel, it is well worth a look. It's like stepping back in time into traditional Methodist Cornwall. It's bright and cosy, minute from the hotel and harbour and the perfect venue for this inspiring event. Being so close to the sea, it's fitting that the evening will have a sea-faring theme with well-known shanties, tales of mermaids and when you hear My Young Man's a Cornishman, listen out for moments spoken in Cornish. It will be a wonderful evening" comments Amanda.
The Story Republicans are a charismatic crew of storytellers, singers and performers who have collaborated and performed at festivals and events throughout Cornwall for the last four years. Chockful of cheer, this much-loved team of troubadours have become Cornwall's best-loved band of storytellers and poetry purveyors.
Created three years ago as the brain child of writers Annamarie Murphy and Amanda Harris, the storytelling troop are part of the Story Republic; community and education programme that travels to schools, events and festivals bringing language and literacy to life through workshops, installations and live performance.
Produced by KEAP and funded by FEAST, Arts Council England and Esmee Fairbairn, The Story Republic's modern-day troubadours, known as Story Republicans, first came together in 2012 as part of the programme's talent development strategy. Today the team are performing throughout Cornwall's at all of this year's major events and festivals. Visitwww.thestoryrepublic.co.uk for more information.
Tickets for Tuesday 30th May at 7.30pm at Tresanton Chapel, St Mawes are £10 and can be purchased at Cornish Riviera Box Office: 01726 897500 or visit www.crbo.co.uk
The Tresanton Hotel are offering a special pre-performance meal. Two course and a drink for £25. To book contact them directly 01326 270055 or visit www.tresanton.com