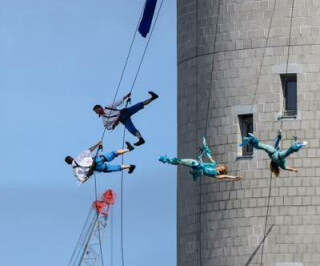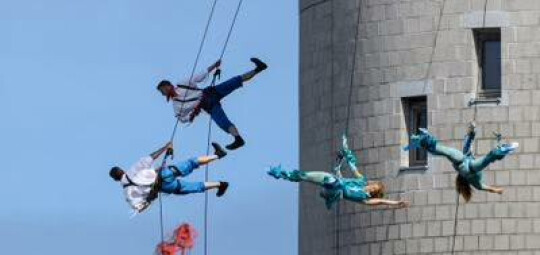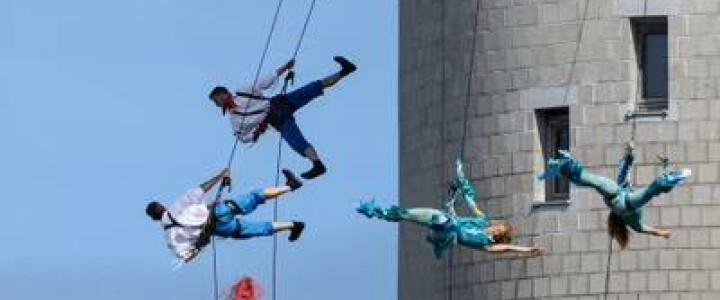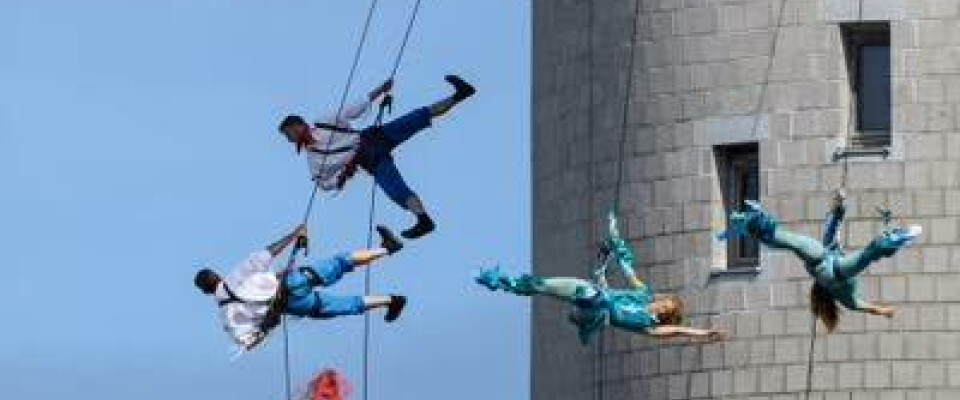 Flying High at Fal River Festival
2 June 2017
Funding from FEAST and Arts Council England has enabled vertical dance company Yskynna to create a pioneering piece of aerial dance especially for Fal River Festival 2017.
Bligh Spirit is a brave new work of high-roped aerial choreography that celebrates of the life of Captain William Bligh, inspired by the new exhibition at National Maritime Museum Cornwall. The dramatic airborne spectacle will be accompanied by sea shanties and vocal soundscapes performed by Lost in Song and The Daylight Choir with performance poetry by Falmouth-based spoken word artist Mc Mc Spoken, Meg Chapman.


The aerial acrobatics and dramatic vertical dance sequences have been choreographed by David Greeves, Artistic Director of Yskynna and the music has been arranged by Emma Mansfield, Roger Luxton and Jim Carey. Mc Mc Meg is an award winning performance poet, who will be re-telling moments from Captain Bligh's extraordinary life on the sea, through new poetry and writing, rapped over the top of vocal tones and four part harmonies.
"We are delighted about this collaboration, funding from FEAST and Arts Council England has enabled us to create a brand new piece of site-specific aerial work in Cornwall and with the best of Cornish choirs, writers and musicians. Bligh Spirit is a truly breath-taking piece of work and to have live music, performance poetry and a 60-strong choir accompany our work is very exciting. We are looking forward to being part of the Fal River Festival and working with National Maritime Museum Cornwall. It is our hope this work will develop over the next few years" comments David Greeves.
Performances will take place on the tower at the National Maritime Museum Cornwall on Friday 2nd and Saturday 3rd June at 3pm and 5pm. The best views can be enjoyed from Events Square in front of Zizzi and Pizza Express. If you want to enjoy the performance close up, limited spaces are also available beneath the tower. This is a free event, standing only so arrive early.
Richard Doughty, Director of National Maritime Museum Cornwall said: "We're always delighted to be involved in pioneering activities such as this and it's a truly exciting complement to our 2017 exhibition. The dramatic airborne spectacle matches drama of our exhibition in bringing to life one of the greatest survival feats in British history."
Fal River Festival takes place from 26 May - 4 June and encompasses a diverse range of events taking place at dozens of locations in, on and around the river. Find out more about Bligh Spirit and other events at www.falriverfestival.co.uk/festival