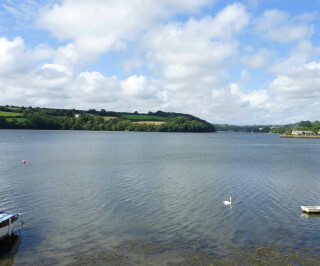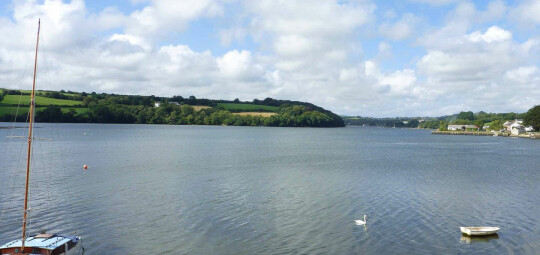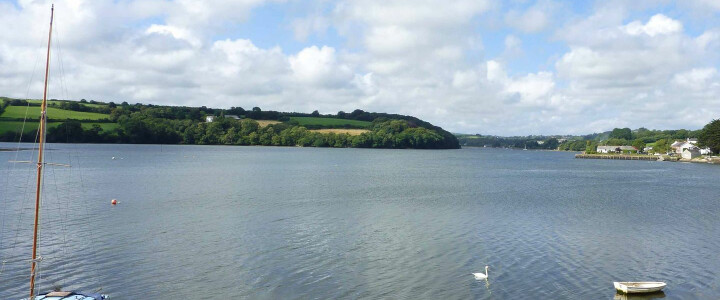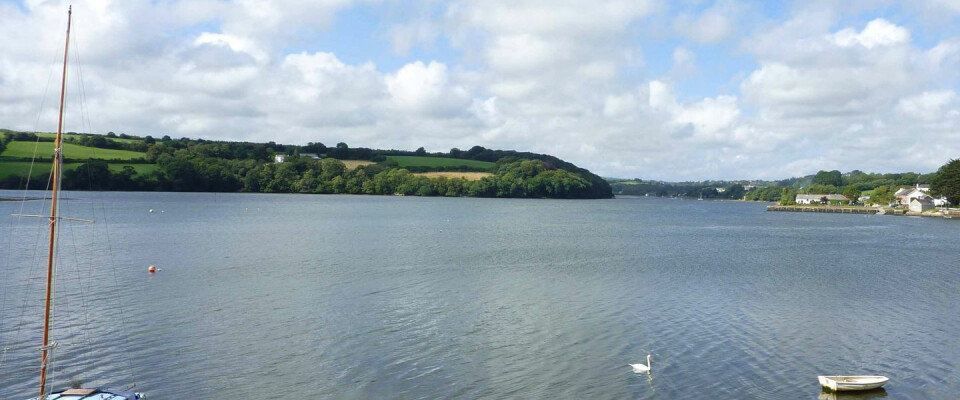 Guest Blog: Watersports Holiday in Cornwall
10 July 2017
Gillian Molesworth takes the family on a self-catering long weekend to Sandpipers to explore the Cornish waters of the Carrick Roads by boat...
Gillian Molesworth, of the Western Morning News, heads to Sandpipers with children and dog in tow:


"Are we there yet? How much longer?" It's the refrain of any parent on holiday. To be fair, the kids had a point. We were six of us crammed into one car, one on the flip-up seat in the back, all available space stuffed to the gunnels with our weekend luggage. The dog teetered atop a stack of groceries under his dog bed, like Simba on a wobbly Pride Rock.

"Actually, we are nearly there," said my husband. We had only just left Truro. "After you run out of road, keep going where it says 'public right of way' after the boatyard," I said.

"I can see the sea!" said a child. "Look at the boats," said another. "This YouTube clip is really cool," said a third. (Oh well.) They weren't all ours, by the way – we have discovered that allowing the kids to bring a friend each is a great way to holiday. They entertain each other and ideally, argue less. That's the theory.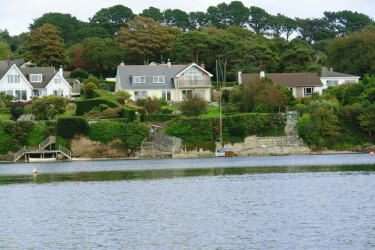 The car pulled into the driveway of Sandpipers in Feock, and we all poured out. Katie Treseder of Helpful Holidays was there to make sure all was well. The adventuring began immediately: two kids roared into the house to bagsy the best bedrooms, and two others ran with the dog to explore the little beach at the end of the lane. After that, time to go into the terraced gardens to practise cartwheels.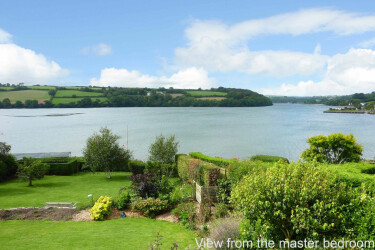 After unloading the car, James and I were much more interested in the cream tea that had been left for us on the kitchen table.
Sandpipers is a modern house, with beautiful views over the water. It is positioned to make the most of them, with lovely glass doors and windows all along the side. The best place to enjoy it was from the master bedroom, with a vaulted triangular window theatrically staged with drapey white curtains. I was not slow to bagsy that bedroom - there are some advantages to being in charge.
It was a Friday night and we were all tired. After giving the kids a run through of what they were and weren't allowed to do, I let them get on with it. My teenage girls immediately leaped onto the broadband to compare notes on Instagram, and the others delved into the games and dvds. While my husband explored the grounds, I went upstairs with a glass of Prosecco and had a bath - heaven.
We had pasta and salad for tea, and the kids watched a movie – I found an enticing book on the shelf and curled up in a corner to enjoy it. I love going through other people's bookshelves, especially if you find some hidden gems.
The next day was cloudy, but clement. Our plan was to go to Falmouth, not by car but by boat. After all, we were on the Carrick Roads, one of Cornwall's most famous waterways. We had arranged a Fal Mussel card, which would give us all-day access to several local ferries.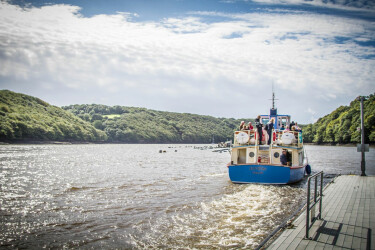 From a dock at nearby Trelissick Gardens we picked up an Enterprise Boat - including the dog. Even though his name is Pirate, it was his first time putting to sea. Both he and one of the kids were a little nervous, so we stood on the back singing sea shanties and pointing out landmarks: Trelissick House, St Just-In-Roseland church, St Mawes Castle. The ferry lads were brilliant and helped reassure our nervous traveller.

By the time we got to Falmouth we were starving, so it was straight into The Grapes pub for a heaping helping of fish and chips. After that, the girls went to splash some cash in the shops while we opted for ice creams and sightseeing.

Sadly there wasn't enough time before our return ferry to go to the Maritime Museum also - but then, you always should save something for the next trip.Back at home, I divided the kids into teams: two helped prepare a lasagne and two, a fruit salad for pudding. I always like involving the kids in the meal prep, it gives them something to do and everyone enjoys the result.
The next day there was more nautical excitement (although this time Pirate had to stay behind in the house's spacious outdoor kennel). We walked down to our little beach in time to see Bob Warren from Loe Beach Watersports arriving in style: in a motorboat with a string of kayaks in tow.
We had some first-timers in our midst and Bob was brilliant at showing us the ropes before taking us out onto the Carrick Roads. It was so lovely: we saw oystercatchers winging across the water and cormorants drying their wings on little inlets, and beached ourselves near the Pandora Inn to take some refreshment before the paddle home.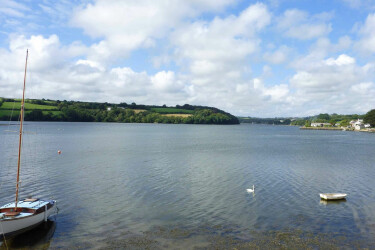 Born and bred locally, Bob provided us with some fascinating insights into the area and the waters around us. I always think it adds so much to a holiday if you can interact with people who live nearby, you learn so much more. It was a pity we didn't have more time on our short break to try out sailing, paddleboarding, and the many other things on the menu.
After supper on our last night we had a raucous game of all family hide-and-seek followed by charades. It was the perfect end to a really memorable mini-break.
If only we didn't have to stuff everybody back into the car again and wave goodbye...sigh.
Sandpipers in Feock sleeps nine people and costs from £1,096 per week.

Find out more about the Sandpipers and other Helpful Holidays Holiday Cottages in the Fal River...