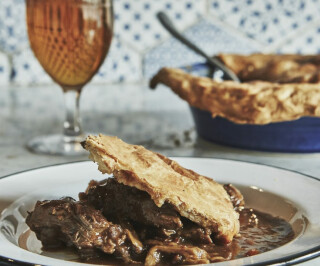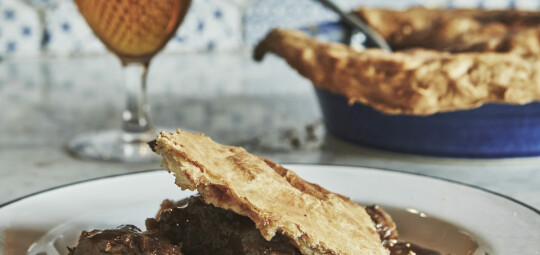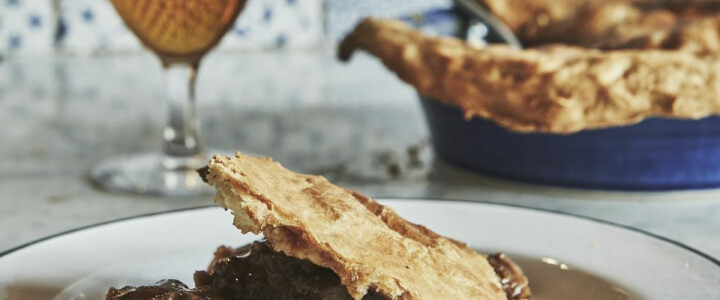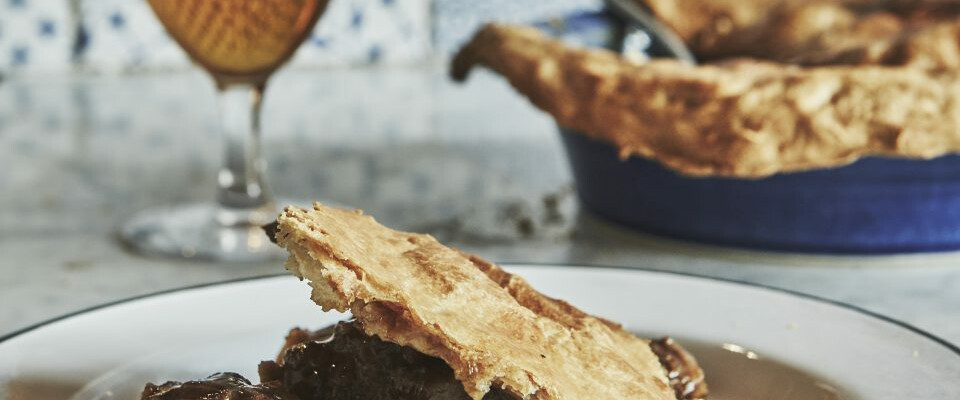 Guest Recipe :: Skinner's Cornish Knocker Ale Pie
1 February 2018
Turns out Skinner's award-winning ales make for mighty good pies as well as pints!
Esteemed chef of the Glassboat, Lido Restaurant and Three Brothers Burgers in Bristol, Freddy Bird, has developed a range of delicious recipes using Skinner's fine Cornish ales.

Try this incredible steak, oyster mushroom and Skinner's Cornish Knocker ale pie at home!

Ingredients

Pastry
375g Plain flour
1 tsp Baking powder
1 heaped teaspoon mustard powder
Pinch of salt
170g grated raw bone marrow
Iced water
Milk to glaze
Pie filling
1kg diced beef shin
1 1/2 bottles of Cornish Knocker (drink the rest)
1 carrot, diced
1 onion, diced
1 stick of celery, diced
3 cloves garlic, fine chopped
200g oyster mushrooms
4 sprigs of thyme, picked
Tablespoon red wine vinegar
Tablespoon dark muscovado sugar
700ml-1litre chicken stock (preferably made with a pig's trotter or two as well)
Salt and pepper to taste
Method
To make the pastry

1. Put all of the dry ingredients into a food processor. Pulse until evenly mixed.

2. Slowly add the water to form a dough.

3. Wrap in clingfilm and leave in the fridge for at least 1 hour.

To prepare the pie filling

1. First brown the beef all over in veg oil. Set aside. Next sweat down the veg and garlic.

2. Return the meat to the pan and add the beer – reduce the beer by two thirds.

3. Add the rest of the ingredients (including the mushrooms) and simmer for about 1 1/2 – 2 hours (or until the beef is tender). Remember when seasoning not to add too much as the sauce will reduce and concentrate.

4. Allow to cool. Fill your pie dish and then top with the pastry. Create a small hole in the centre to allow the steam escape. Brush with milk.

5. Cook for approximately 25 minutes until golden and crispy.

Serve immediately (with a pint of Skinner's Cornish Knocker, obviously!)
Get your hands on a case of Cornish Knocker here