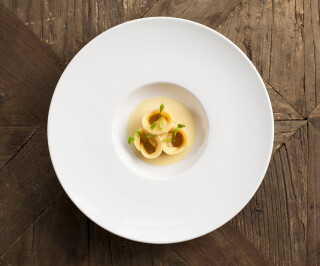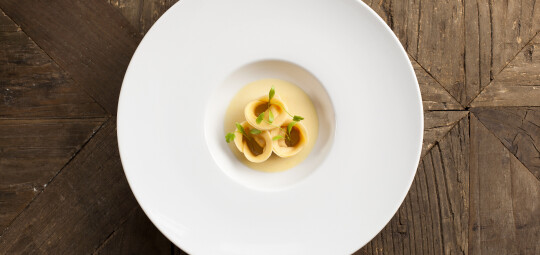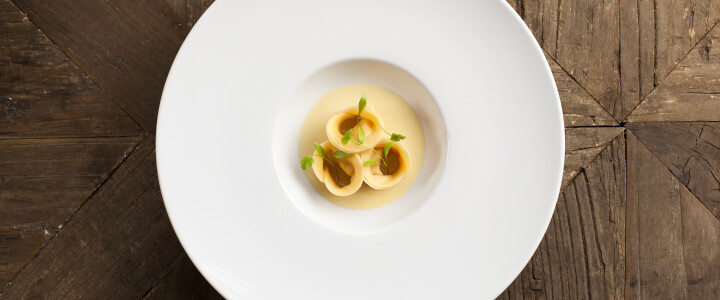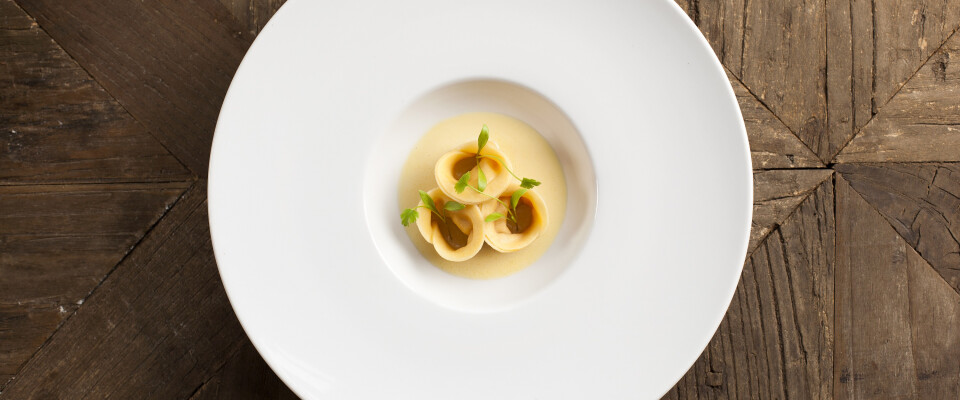 Guest Recipe: Cornish Crab with Lemongrass, Ginger & Coriander Cream Sauce
26 January 2018
Simon George, Head Chef at The Alverton Hotel shares his Crab Tortellini Recipe with us. This sumptuous yet delicate meal can be enjoyed as a starter or main meal.
Ingredients

For the pasta ( Makes 30 individual tortellini )
200g/7oz Italian flour, plus extra for dusting
1 free-range egg
6 free-range egg yolks
50g/1¾oz fine semolina flour
For the filling
250g picked white crab meat
115g picked brown crab meat
1 lemon, juice only
1 free-range egg yolk, beaten
For the sauce
150ml white wine
1 tbsp coriander stalks
75g unsalted butter
1 banana shallot, finely chopped
3cm fresh ginger, peeled and finely chopped
2 sticks fresh lemongrass, bruised and finely chopped
150ml fish stock
150ml double cream
½ lemon, juice only
salt and freshly ground black pepper

Method
1. Pulse the flour, egg, egg yolks and semolina in a food processor until well combined and the
mixture comes together as a dough. Put the dough in a bowl, cover with cling film and rest in
the fridge for 30 minutes.

2. Cut the pasta dough in half. Feed the pieces one at a time through a pasta machine
according to the machine instructions, ending on the thinnest setting.

3. Mix both crab meats in a bowl with a little lemon juice. Season to taste with salt and pepper.

4. Lay a sheet of pasta onto a floured work surface and stamp out discs 6-8cm/2½- 3in wide.
Place a spoonful of the crab mixture onto each disc and brush the edges of the pasta lightly
with the beaten egg.

5. Fold one half of the pasta over the filling then press lightly to seal. Pick the crescent of pasta
up and twist the edges together, forming a little lip on the outside edge of the pasta. Repeat
with the remaining pasta and filling then set the tortellini aside, covered in cling film, until
ready to cook.

6. For the lemongrass and ginger sauce, heat a sauté pan until hot and add the butter, shallots,
ginger and lemongrass and fry for 5 minutes.

7. Pour in the fish stock and bring to the boil, then simmer for 3-4 minutes. Pass the mixture
through a fine sieve into a clean saucepan.

8. To finish the sauce, add the cream, salt, pepper and lemon juice. Whisk until well combined.

9. To cook the pasta, heat a large saucepan of salted water. Once boiling add the tortellini and
cook for 1-2 minutes or until they float to the top.

10. Place the pasta in a bowl and share the sauce evenly between each bowl. Serve with fresh
bread to mop up the delicious sauce.