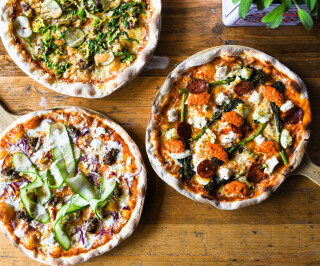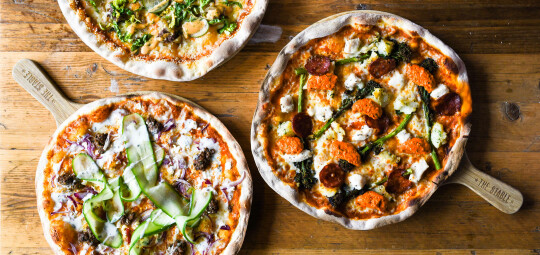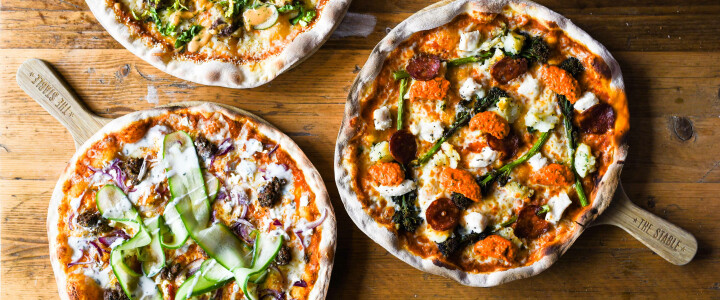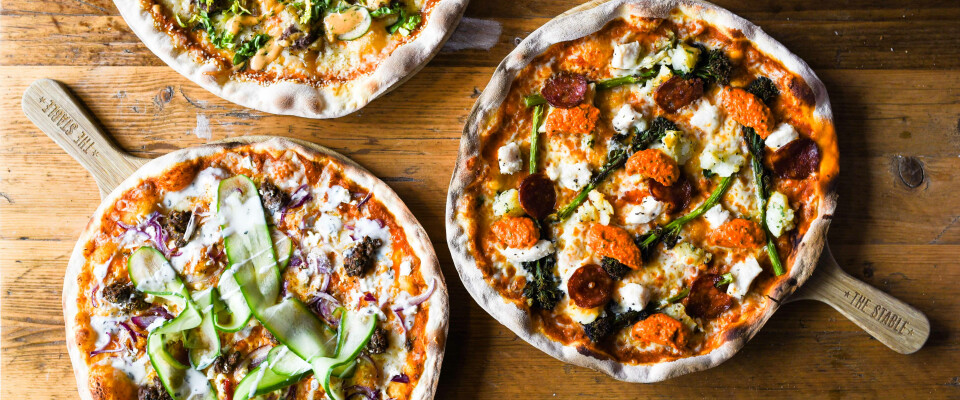 The Stable Announces NEW Menu for Spring / Summer
3 May 2018
Pizza, pie and cider group The Stable, which has seventeen locations across the UK including Falmouth, has announced a fresh new menu line-up for Spring/Summer 2018.
Having launched on the 1st of May, the new menu speaks to The Stable's love of bringing people together and provides a greater selection of sharing dishes (#StableSharing). The menu also champions their vegan-friendly dishes, healthy salads and carefully sourced award-winning charcuterie. Their ever-popular £7 lunch menu features wraps, a selection of pizzas and fresh, tasty salads.
New dishes on the menu include:
The Pot of Gold - a dipping pot of West Country cider, melted cheese, rosemary and garlic, served with sliced sourdough


Heart Skipped a Beet pizza – roasted beetroot, courgette, red onion and vegan cheese, finished with rocket and garlic and herb oil


Royale with Cheese pizza - marinated Longhorn ground beef, white onion and cheddar on a sesame seed crust, finished with shredded baby gem lettuce, house pickles and burger sauce


Hook, Line and Sinker pizza - marinated cod, coley or pollock, garlic new potatoes, broccoli, chorizo and mozzarella, finished with romesco, which is a roasted red pepper and almond sauce


Smoked Duck salad - with blood orange, pomegranate seeds and pine nuts tossed with watercress, red cabbage and a black garlic, balsamic dressing


Capreolus charcuterie and cheese sharing board - award-winning air-dried beef, smoked mutton, Rampisham Tingler salami and cured pork loin with a selection of artisanal cheese, sliced sourdough and spiced tomato chutney


Cider poached pear with almond and vanilla cake with crème fraiche


The Heart of Dorset pudding – a creamy pot of melted Dorset chocolate, served with fresh strawberries and sugared sourdough
Stable Executive Chef, Patrick Campbell said: "Since we started in 2009 we've developed a reputation for our West Country-inspired menu using the best local produce to complement our vast range of ciders. With the new menu we wanted to capture our innovative fun spirit and the evolving tastes and dietary needs of our customers, while staying true to our authentic, rustic roots. We love the restaurants' social energy, so we've echoed that in our new dishes for people to share at the table. All our sourdough pizza bases are still handmade from scratch, our tomato sauce still made fresh every day - these values are really important to us and will always stay with us."
"Using local suppliers is a key part of The Stable", says Patrick, who has sourced all the produce himself. Having worked with Capreolus Fine Foods, based in Rampisham, Dorset, for years, featuring their charcuterie on the menus is something he and The Stable are very proud of. Using only the best free-range meat, The Dorset Spread is a new Capreolus product that debuts on this new menu. A soft-set salami, it is spreadable and is served with sliced sourdough bread. Their Rampisham Tingler is a Dorset-inspired take on a traditional Calabrian salami from Italy. With a hint of chilli, it adds a touch of spice to the new Capreolus charcuterie and cheese sharing Board.
Every care has been taken to bring The Stable's Green Policies into the menu too. Sourced fresh from Weymouth-based, West Country Catch, the fish for the new Hook, Line and Sinker pizza is dependent on the seasonal availability of either cod, coley or pollock, meaning that it will change based on the sustainable supply. With many coastal-based locations, this attention to detail is important to The Stable, who want to help promote a greener, more ethical future for food and the environment.
These locally sourced, artisan products perfectly complement the craft ciders on The Stable's extensive drinks menu. Their Cider Tasting Experiences allow diners to sample food paired to a range of ciders, in an experience conducted by one of their in-house Cider Masters.
"We've even revamped our legendary Tuck in Tuesday offer," says Patrick. The Stable's popular Tuck in Tuesday deal night, with selected pizzas, side salad and a drink costing just £10, has been a popular weekly attraction for many years.
For further information, please visit www.stablepizza.com.