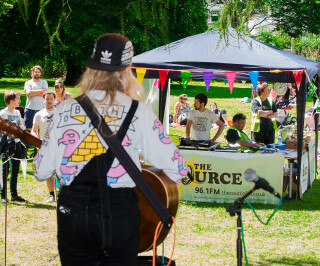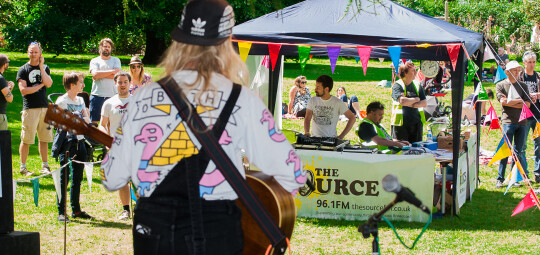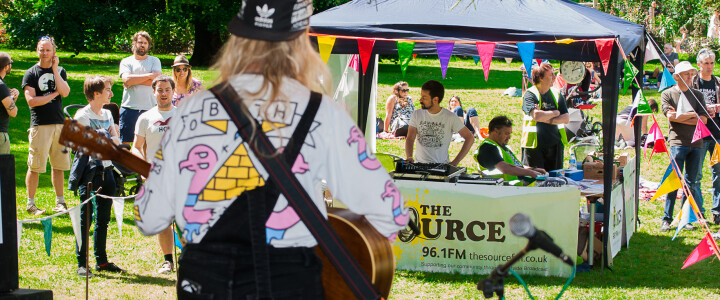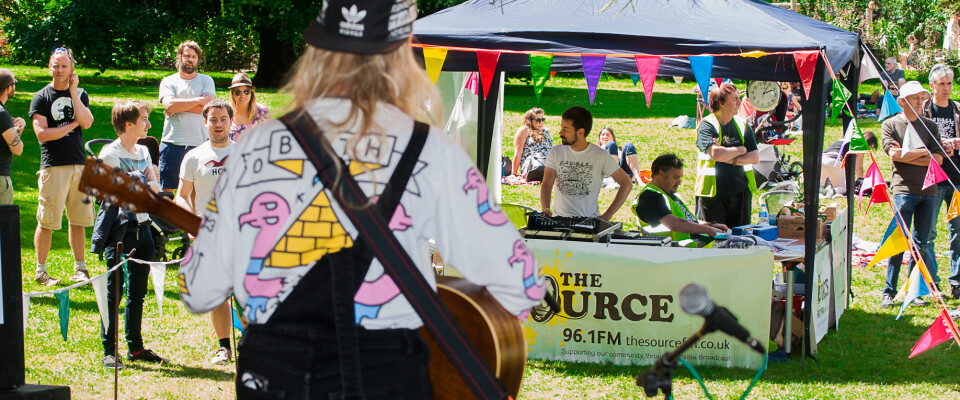 Highlights at Fal River Festival 2018
16 May 2018
This years festival promises to be BIGGER than ever with events taking place all over the river during the 10 days. Check out our essential guide to the very best events and start planning your Fal River Festival 2018.
Our programme is packed with festivities suitable for all ages and interests to enjoy. To make sure you get a flavour of the Festival, we've set out the following festival itinerary to help you navigate around the very best events.
There's so much more to discover, so make sure you check out the FULL programme here.
FREE copies of the programme can also be found in shops and venues all over the Fal River.

Remember the best and easiest way to experience #falriverfestival is by boat! Grab a money saving Mussel Card and let travel between events become an event in itself!


Friday 25 May
Sponsored by
Skinners Brewery
8pm
Fal River Festival Opening Night
FALMOUTH
Celebrate the start of Fal River Festival 2018 with free live music late into the night down at Events Square Falmouth.
Find out more...



Saturday 26 May
Sponsored by
Truro and Penwith College


9am-3pm
Bakers Dozen Exhibition
TRURO
An outstanding display of talent from both full-time and part-time students, further and higher education courses, representing the broad creative choice offered with Art and Design courses at Truro College.
Find out more...
10am
Flushing Arts Week BEGINS
FLUSHING
There's a feast of creative events happening in Flushing from 26 May - 2 June thanks to Flushing Arts. Don't miss the Arts & Craft Exhibition which showcases a range of affordable art by a plethora of local artists.
Find out more...

11am - 3pm
Falmouth Marine School Open Day
FALMOUTH
Head over to the Falmouth Marine School Open Day for a fun day out for all the family. Feed the piranhas, service and engine, build a boat and meet the sharks!
Find out more...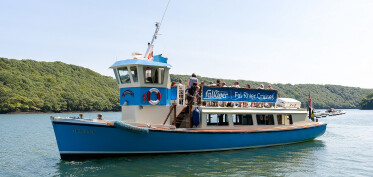 Sunday 27 May
Sponsored by
Mylor Yatch Harbour

10am
St Anthony Head Circular Walk
ROSELAND
A lovely easy to moderate 6 mile walk hosted by Cornish Ramblings along the Roseland coast, taking in Fraggle Rock Lighthouse at St. Anthony Head and the beautiful golden sandy beaches of Molunan.
SIGN UP...

10am - 12pm
Mylor Beach Clean
MYLOR
Be part of the solution to tackle ocean plastic! Join Falmouth Marine Conservation for a beach clean at Mylor.
SIGN UP...

12pm-5.30pm
ParkLive
FALMOUTH
ParkLive 2018 is a series of unique, acoustic, daytime, live-music and performance events from inside Kimberley Park.
Find out more...


12pm - till late
Mini Beer Festival
FALMOUTH
Head to The Working Boat Pub for their first ever beer festival, from midday until 11.30pm every day 25 -27 May.
Find out more...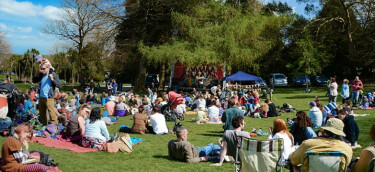 Monday 28 May
Sponsored by
Phillip Martin


10.30am - 1.30pm
Coastal & Woodland Foraging Course with Wild Cook Up
PENDOWER
Get confident identifying, harvesting and cooking with at least a dozen different tasty wild edibles on this Cornish Wild Food Foraging Walk.
BOOK NOW

3pm - 5.15pm
Jazz on the Quay
ST MAWES
Head over to St Mawes on Bank Holiday Monday for some toe-tapping good times... Jazz on the Quay is back!
Find out more...


4pm - 7pm
Free Drop-in Fishing
FALMOUTH
Experience a taste of sea fishing from the beautiful Falmouth coastline with Cornwall Fishing Adventures.
Find out more...


10am - 5pm
Falmouth Street Food and Craft Ales FINAL day
FALMOUTH
Follow the aromas down to Events Sq from Fri 25 - Mon 28 May and you'll find the best of Cornwall's street food producers and thirst quenching Cornish craft ale at Falmouth Street food and Craft Ale Festival.
Find out more...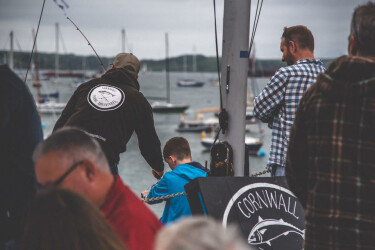 Tuesday 29 May
Sponsored by
The Cornish Bakery


9am
Surya Yoga Camp
HALVASSO
4-day festival of yoga, meditation and movement, with 5 nights of eco-camping in a beautiful place.
BOOK NOW

10am -4pm
Sketching Harbours and Boats
MALPAS, TRURO
Learn how to sketch boats and harbours down at Malpas with artist & tutor Rob Norrington!
BOOK NOW


2pm
Flushing History Trail
FLUSHING
Join Flushing Arts for a walk around the village and discover some of the history of the people, buildings and events during the Packet Ship era 1688 – 1850.
BOOK NOW


Seafood Medley BBQ
FALMOUTH
Falmouth's hottest new eatery Bahama Mamas, will be producing knock-out flavours at this year's festival with an outdoor 'Seafood Medley BBQ' from 29 - 31 May from midday till late!
Find out more...


10pm
Film on the Ferry :: Dunkirk
The King Harry Ferry is transformed into a floating cinema and brings you the 2017 Oscar award-winning war film Dunkirk.
BOOK NOW

Wednesday 30 May
Sponsored by
The Valley Cornwall
Looking for a family friendly place to stay & make the most of Fal River Festival 2018? Get 5% off at The Valley's luxury self catering cottages using the code 'FalFest18'




10am - 2pm
Canoe and Forage at 7th Rise
ST JUST IN ROSELAND
Explore the Fal River's best kept secrets by traditional Canadian canoe, spotting wildlife, investigating isolated creeks and learning about the areas rich history of smugglers and pirates!
BOOK NOW

11am - 5pm
Clash of Knights
FALMOUTH
Experience this all-action contest as four teams of knights battle it out for victory. Armed only with clubs and shields, strength and skill, the knights will meet head-on in an adrenalin-fuelled combat that's not to be missed.
BOOK NOW


11am - 5pm
I Dare Exhibition
FEOCK
Celebrating the 100th anniversary of women securing the vote, 'I Dare' tells the story of how, in 1931, the 'straightforward and modest' Ida Copeland defeated fascist Oswald Mosley to become MP for Stoke-on-Trent.
More information..


7.30pm
The Merry Wives of Windsor
TRURO
The Duchy Opera perform Otto Nicolai's comic masterpiece The Merry Wives of Windsor. Don't miss this wonderful opera, that has delighted audiences since its premier in 1849.
BOOK NOW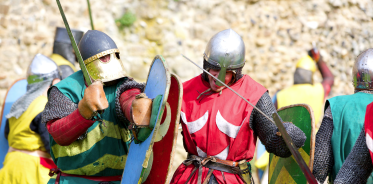 Thursday 31 May
Sponsored by
King Harry Ferry


9am
Cornwall Circus Camp BEGINS
HALVASSO
Dare to try trapeze or high wire? learn how to juggle? Test your skills on a unicycle perhaps? Then join Swamp Circus from 31st May - 3rd June. Whole camp, weekend and day passes available.
BOOK NOW


7pm - 9pm
Celebrating Cornish Writing with the Story Republicans
ST MAWES
The Story Republicans bring Cornish literature to life with an evening of stories, poetry & folksong at the Tresanton Chapel, St Mawes. Enjoy pre-theatre supper at Hotel Tresanton beforehand.
BOOK NOW

Fal River Wipeout
FALMOUTH
Sign up for the Fal River Wipeout at Kernow Adventure Park. Race your fellow contestants in a slippery scramble around the floating assault course course! Do you dare take the plunge?
BOOK YOUR SLOT...

10pm
Film on the Ferry :: Castaway
FEOCK
The King Harry Ferry is transformed into a floating cinema and brings you the classic tale of survival starring Tom Hanks, Cast Away.
BOOK NOW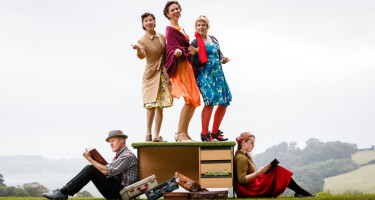 Friday 1 June
Sponsored by
Cornwall Area of Outstanding Natural Beauty

10am
Titanic Stories
Titanic Stories examines the stories of the Titanic's momentous sinking on 15 April 1912, re-appraising many of the myths, controversies and assumptions that still linger around one of the most well-known historic events of the 20th century.
Plan your trip...

2pm - 5pm
Bookbinding Workshop
CONSTANTINE
Tutor Ken Futers will show you how to make a single section A5 booklet using local maps or nautical charts to make the covers (feel free to bring you own if there's a particular area you'd like to feature).
BOOK NOW


SOLD OUT
Cornwall Gin Cruise
FAL RIVER
Setting sail on Fri 1 & Sat 2 June. Gin-loving seafarers will enjoy a two hour journey around the river aboard a classic wooden ferry, sampling a selection of Cornish G&Ts exclusively designed for the festival.


6.30pm
Pirates of Trebah
HELFORD
Two brave and adventurous children, some 300 years ago, discover the marooned pirates and what happens you soon shall know...
BOOK TICKETS...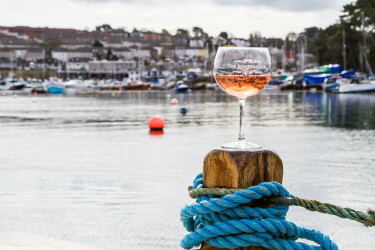 Saturday 2 June
Sponsored by
Enterprise Boats

9.45am
Fal River Festival Nordic Walking
FEOCK / ST ANTHONY HEAD
Try Nordic Walking at Fal River Festival 2018! This guided walk with Walk Kernow Nordic Walking takes in the spectacular scenery of the Roseland Peninsula, some of Cornwall's most beautiful boat trips. Limited availability so book soon to avoid disappointment.
BOOK NOW

11am - 3pm
Wonders of the Sea
FALMOUTH
FREE Marine themed art and craft activities for all the family at Falmouth Art Gallery.
Find out more...

2pm - 4pm
Rockpool Ramble
FALMOUTH
Discover how to find and identify some of the wonderful marine creatures and seaweeds that inhabit the rockpools of Castle Beach - including the infamous St Pirans crab!
SIGN UP...

7.30pm
Revolve and Rotate
FALMOUTH
Award winning singer and coposer Luke Daniels brings his 19th century clockwork Polyphon machine to modern morality tales and intruiging instrumental music in this beautifully crafted show at The Poly
BOOK TICKETS...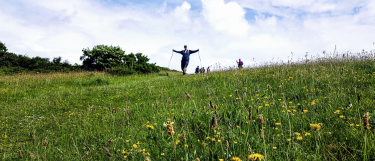 Sunday 3 June
Sponsored by
St Mawes Ferry


10am - 4pm
Parkour Open Session
PENRYN
Have-a-go at Parkour and Freerunning in Cornwall's first parkour gym, Control Movement.
BOOK YOUR SLOT...

10am
Deck Games
FALMOUTH
Head to to National Maritime Museum Cornwall and play traditional games popular in the golden age of cruise liners. Fun for all the family.
Plan your trip...


Joe Armstrong Exhibition
FEOCK
Take a trip on the King Harry Ferry and admire the work of local artist Joe Armstrong in our floating pop-up exhibition.