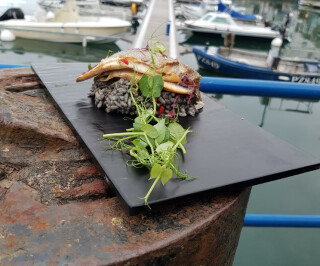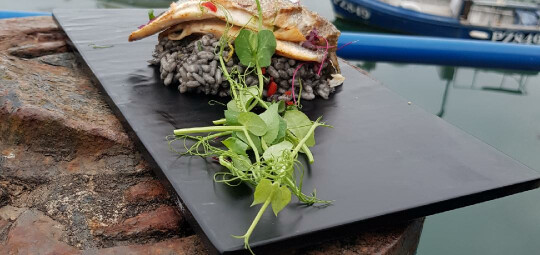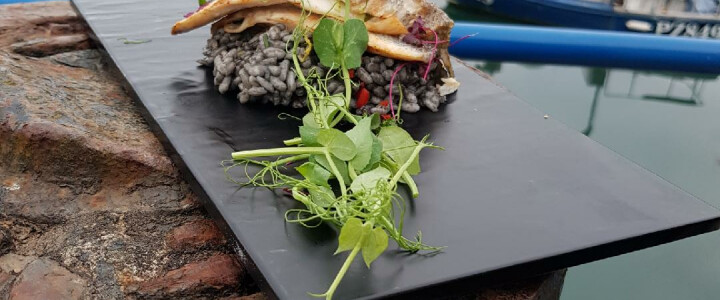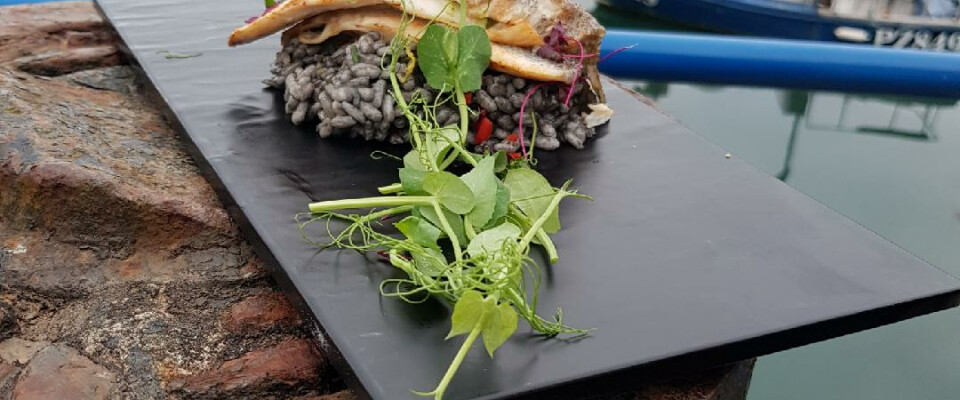 Guest Recipe :: Pan Fried Sea bass with risotto nero and wild garlic pesto.
30 March 2018
This delicious recipe, fresh from Chef Jack Stanley at The Chain Locker in Falmouth is bound to impress! Try it at home...
Ingredients
2 Sea Bass Fillets
25g Butter
½ Lemon
15g Pea Shoots
Risotto
500g Risotto Rice
25g Butter
1 ltr Fish Stock
20g Parsley
1 red Chilli
½ lemon
1 sachet squid ink
2 banana shallots
200ml wine wine
Pinch Salt and Pepper
Wild Garlic and Seaweed Pesto
50g Wild Garlic
50g Wakame Seaweed
50g Spinach
100ml Olive Oil
20g Roasted Pine Nuts
20g Grated Parmesan
Pinch Salt and Pepper
Method
To make the risotto nero;
Finely dice the shallots and add to a heavy bottomed cooking pan with the butter and sweat until transparent. Deglaze the pan with the white wine and reduce by half.
Add the risotto rice and release the starch. Slowly add the fish stock and simmer until the rice is soft to bite.
Finely chop the chilli, parsley and zest one whole lemon.
Add the squid ink, zested lemon, chilli and parsley to the pan and season with salt and pepper to taste.
For the Pesto;
Blanch the wild garlic in hot water for 2-3 minutes.
Roast the pine nuts in the oven at 180C for 3-4 minutes until lightly browned.
Add the garlic, parmesan, seaweed, spinach and pine nuts to a food blender and blend until paste like. Slowly add the olive oil and season with salt and pepper to taste.
Pan fry the Sea bass skin down in a hot pan with 25g of butter for 2-3 minutes. When the skin is golden turn in the pan and squeeze the half lemon in the pan.
Spoon pesto onto your desired dish and add the risotto to your plate and top with the Sea bass. Garnish with a wedge of lemon if desired and finish with Pea shoots.
Bon apetite! Thank you to The Chain Locker for sharing their culinary secrets with us.



The Chain Locker serves a delicious menu throughout the day, including locally sourced seafood, traditional pub food, imaginative daily-changing specials and breakfast options to suit all appetites.