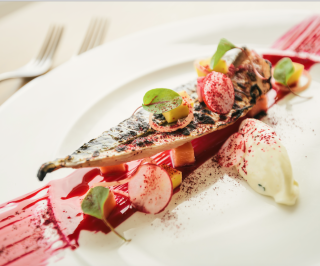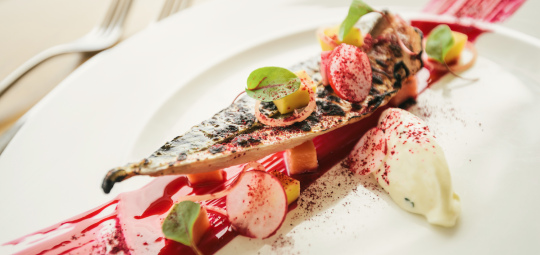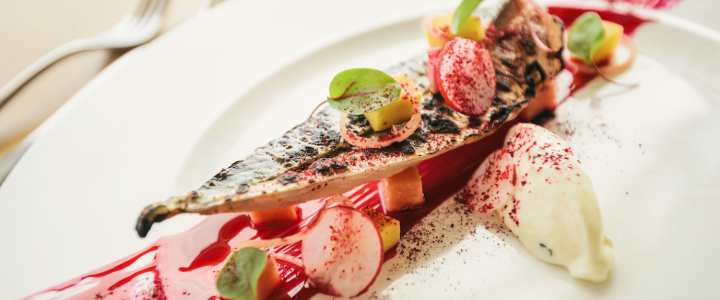 Guest Recipe from The Waters Edge
25 September 2018
Recipe: Falmouth bay mackerel, cold cure, hot torched; pickled radish, beets, shallots, horseradish
cream (serves 4)
Cure

Ingredients

4 boned, filleted mackerel fillets / halved
75g sea salt
75g caster sugar
1 tbsp toasted ground fennel seeds
1 tbsp toasted ground coriander seeds
Lemon peel
50g fresh dill

Method

Leave fish to brine for 15-30 minutes until mackerel is firm (you can leave this overnight as it will lightly pickle the fish, which some people prefer this way)

Dry on a cloth

To finish, use a blowtorch to chargrill the skin before serving
Horseradish cream

Ingredients
½ cup sour cream
½ cup double cream
½ tbsp fresh horseradish
Pinch salt
Pinch pepper
Method
Whisk all ingredients together until firm
Pickling liqueur

Ingredients
350ml apple cider vinegar
150ml water
120g caster sugar
2 star anise
1 tsp pink peppercorns
1 tsp coriander seeds
1 tsp fennel seeds
¼ tsp salt
1 radish, finely sliced
2 beetroots, small quarters or sections
2 shallots, fine sliced
Summer leaf, washed/spun
Method
Put all the ingredients into a pan

Bring to the boil and make sure all sugar is dissolved

Cut the vegetables to preference

Pour the liqueur over the raw vegetables

Leave to cool *You can also put these into jars and they will keep for two to three months.
How to assemble the dish
Mix some summer salad leaf with the shallots and place in line across the middle of the plate. Place the fish fillets neatly across the leaf, place the radish and beets alongside the fish and salad. Dress the salad and enjoy.


This recipe was brought to you by The Waters Edge Restaurant - The Greenbank Hotel, Falmouth
Make a reservation; +44 (0) 1326 312440