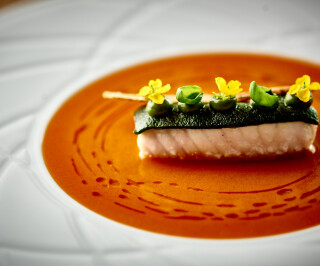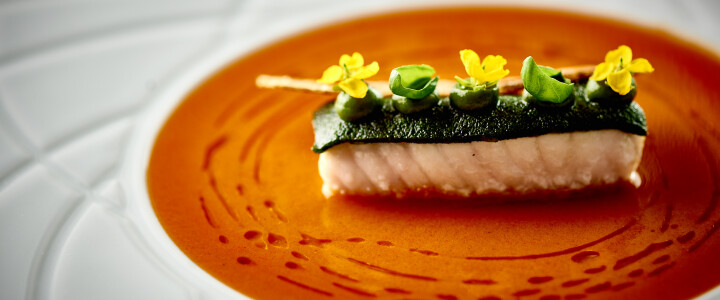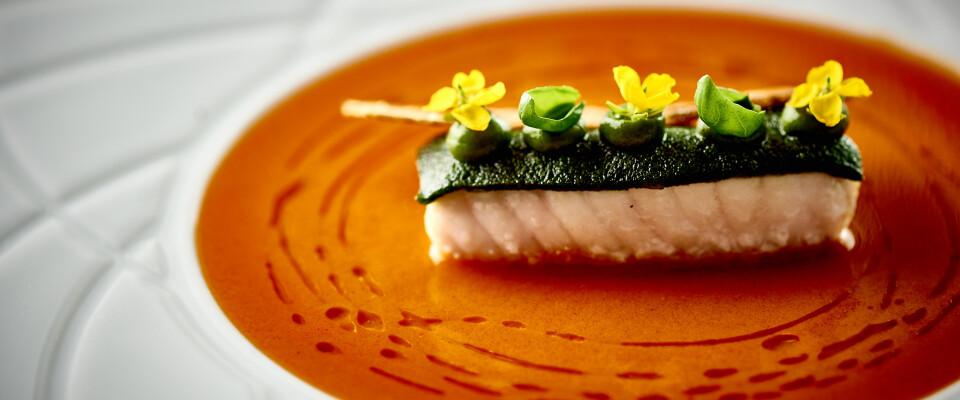 Guest Recipe from The Idle Rocks
9 October 2018
Recipe: Gurnard, Ajvar, fisherman's sauce, herb crust.
This is a dish that utilises a lesser known variety of fish in our waters, the Gurnard. The fish has a wonderfully meaty texture to the flesh and is delicious and sustainable product to use for a whole manor of dishes, fish pies, fish soups, whole baked and so on. Here we use it with a fisherman's sauce and Ajvar which is a Serbian red pepper relish.

Ideally you will need a BBQ for this to make the Ajvar, but if you do not have one then simply burning the aubergine and peppers on the outer skin is ok.
Serves: 4 – as a starter

Ingredients

2 x 800g+ Gurnard, scaled, skinned and filleted. (ask your fishmonger to give you the skin as well as this will be used to make a crisp later on, this is achieved by simply baking the kin in the oven with a little vegetable sprinkled on top and some salt until it becomes crispy)

Ajvar
4 red peppers
1 small aubergine
6 cloves of garlic
50g rapeseed oil
20g white wine vinegar
8g onion seeds
Small bunch of fresh coriander
Salt and pepper to taste


Herb Crust.
100g Japanese panko breadcrumbs (or normal will work)
100g melted unsalted butter
Small bunch of picked parsley
Small bunch of picked chervil
Small bunch of picked tarragon
1 small bag of baby leaf spinach, washed

Fisherman's sauce
1 small onion – Peeled and chopped
2 carrots – peeled and chopped
1 stick of celery – peeled and chopped
4 cloves of garlic – peeled and chopped
1 small bulb of fennel – peeled and chopped
Peel of 1 orange
400g chopped tinned tomatoes
300g passata (do not confuse with tomato puree)
400ml dry white wine
400ml fish stock
300g flat fish bones (ask your local fish monger)
1 bunch of basil
½ bunch of thyme
½ bunch of tarragon
Garnishes
Baby basil leaves
Rocket flowers
Crispy fish skin
Olive oil

Method
Fisherman's Sauce

Begin by getting the fisherman's sauce on to cook, this will need a good 2 hours of cooking time so it's important you get this done as your fish job. Take the onions, celery, carrot and fennel, and sweat in a large pan with a little rapeseed oil. Its important that you cook this on a medium heat so the vegetables do not colour, they need to be softened gently.

After 10 minutes or so, add the garlic (we add the garlic at a later time as it is very prone to colouring or burning, and cooks faster than the vegetables we are using. Next add the basil, thyme and tarragon along with the orange peel.

Cook gently for 5 minutes

Then add the white wine, and bring to the boil.

Once boiled add all the remaining ingredients, bring to a simmer, turn down to a low heat and cook gently for around 2 hours with a lid on.

After the 2 hours is up, remove from the heat, and blend (bones and all) in a food liquidiser. Pass through a very fine sieve (it is important to tap the sieve to pass the mixture through. Do not be tempted to push the mix through the sieve as this will lead to a grainy sauce). Season to taste using salt and lemon juice and reserve for use later.

Ajvar

Take the peppers and aubergine and cook over coals. This is so important as this is the secret of the flavour, but if you haven't a BBQ, then you can cook them over a naked flame. Put the peppers into a bowl and cover in Clingfilm until they are ready to be peeled. Peel, deseed and chop them up roughly.

The aubergine can be wrapped in tinfoil and put into the oven to cook until very soft. Then take it out and scoop out the flesh, throw away the skin, and drain off any excess liquid from the aubergine. Place all the ingredients in a food precessor, blend to a course pulp and then put it all in a pan and simmer on the stove for 30 minutes until it thickens a touch and becomes richer. Season to taste, and reserve for later.
Herb crust

In a pan of boiling water, cook the parsley, tarragon and chervil together until they are cooked, then transfer to ice-water to cool rapidly (you can tell they are cooked by rubbing your fingers together with a leaf between them, if the leaf breaks up its coked, if it feels rubbery then it needs longer) Then repeat the process with the spinach.

Now you need to blend the herbs and spinach together in a food liquidiser to get a smooth puree and cool it down over ice rapidly to keep the colour.
In the food processor blend everything together with some seasoning until a paste is formed. Roll the paste thinly between 2 sheets of greaseproof paper and chill so it's flat. Cut down into portions that roughly fit the size of the piece of fish.

To assemble
Lay your pieces of gurnard on a baking tray on top of greaseproof paper, season with some salt and a little lemon juice and bake in the over at 180 degrees for between 4 and 6 minutes.

Whilst they are cooking, warm your fisherman's sauce up.
Take 4 warm plates.
Pour a consistent layer of the fisherman's sauce on to the centre of the plate, being fairly generous with the portion.
Next take a generous spoonful of the Ajvar and place in the very centre of the plate.
Take the pre-cut herb crust and put on top of the fish, removing the greaseproof paper, and put it the oven for 30 seconds to soften the crust.
Take the fish and place on top of the Ajvar.
Drizzle the sauce with some olive oil all around the fish.
Place crispy fish skin on top of the fish, and garnish the fish with baby basil and rocket flowers.
Serve immediately.

This recipe was brought to you by - The Idle Rocks, St Mawes
Make a reservation; 01326 270 270