Testimonials

Don't take our word for it, see what others have to say about hiring one of our boats for a cruise along Fal River.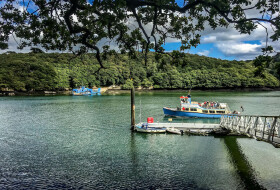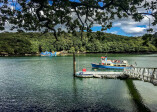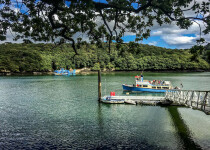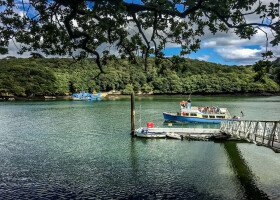 You made the entire experience pleasurable!
I wanted to write and thank you for all of your support with the recent CSIA activities week.
You made the entire experience pleasurable, from the initial support from Caroline Harvey at planning stage, to Raf and Topper ferrying 60 or so students a day from Falmouth to Trelissick with punctuality, good humour and patience.
The students, some of whom had never been on a boat before, had an amazing time with you and especially enjoyed the commentary during the trip and the detour to Turnaware Point where Eisenhower signed off plans for the D-Day landings. You gave them such a wonderful and positive experience.
After the past academic year of uncertainty due to the continuing Covid pandemic, our activities week was a chance for our students to relax, experience some normality and have fun with their contemporaries. thank you so much for all you did to make their time special.
Ian Kenworthy - Principal - Camborne Science & International Academy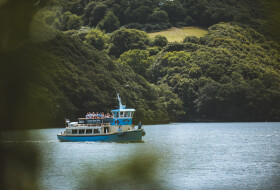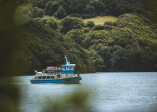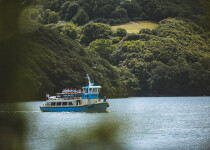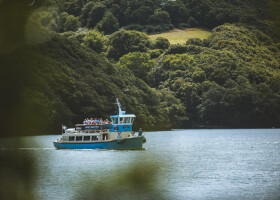 Thank you and your team for organizing our trip. 
We all had a fabulous day…the pasties were really good, nice and hot and tasty!! The crew, as always, were polite and they looked after us well.
Will be contacting you again in the near future…..maybe pencil in the same Saturday, August Bank Holiday 2020, for now!
Kay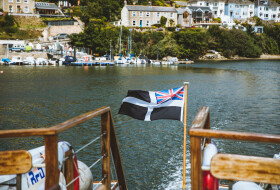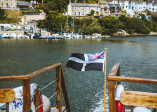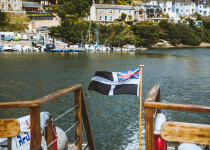 We had an absolutely brilliant day. 
You and the team were fantastic – the booking was easy and flexible. The boat itself and the provisions were excellent. A lot of the team never experienced anything like it and so it was wonderful to look at their faces and hear their wonderful feedback.
Lucy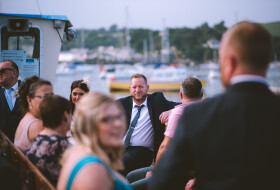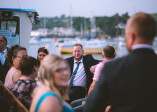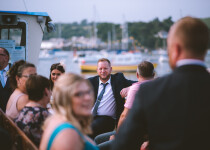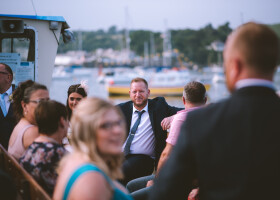 Everyone loved the boat
I can only congratulate you and the Skipper and boatman on everything going smoothly. The boatman worked like a demon and everyone loved the boat which was in spanking condition. I think people's reaction is a good guide and I had only delight and praise from everyone who came. I even had one friend call the boat a masterpiece! He adores boats. Everyone was very Cornish about the cold wind and mostly stayed on deck until we turned for Truro, then the grub lured them into the saloon.
Kit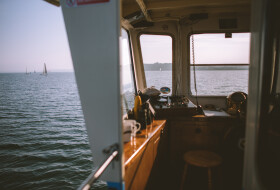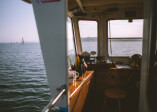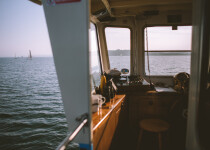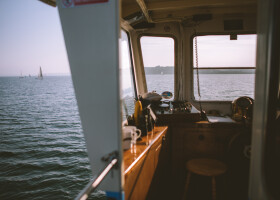 Great Service
Everything went brilliantly for our Golden Globe Reception. The service was great, absolutely on time and despite considerable consumption we actually managed to persuade everybody to get on board for the return journey without too much trouble.
Christopher, St Mawes Sailing Club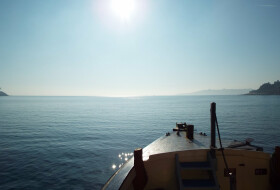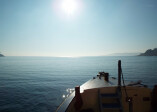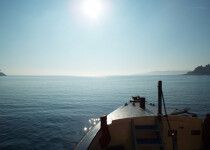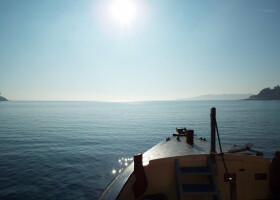 Fantastic Crew
On behalf of the Thursday Club and Oll An Gwella I would like to pass on our grateful thanks for a brilliant night out last Thursday. Your crew were fantastic and the weather could not have been better. It was the best Shanty Cruise yet and I have no doubt that the boys will be in touch again for something similar next year.
Maggie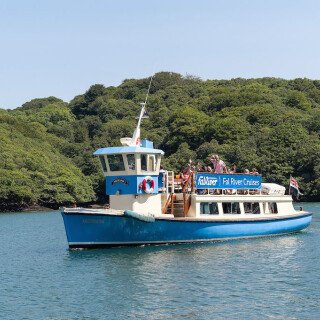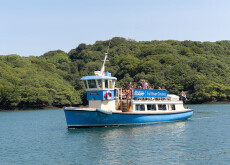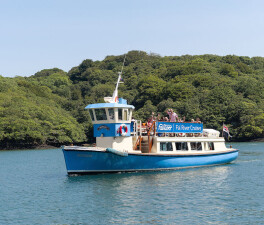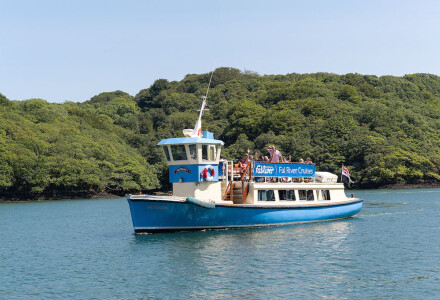 Want to plan your own luxury charter?
Contact us
Phone: 01326 741194
Email: charter@falriver.co.uk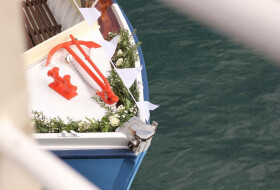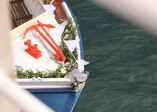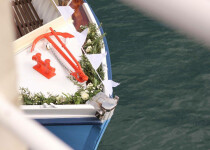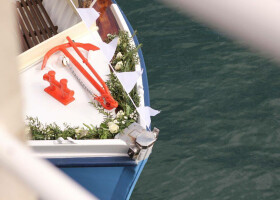 Everything went as smoothly as clockwork!
All of our friends and family had a great time and the crew were extremely helpful and approachable. We would not hesitate in recommending your company as the experience was amazing. It was the most perfect finish to our fantastic wedding and something that we will never forget.
Nicole & Mark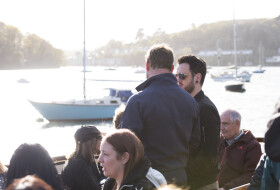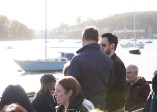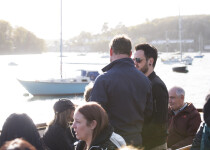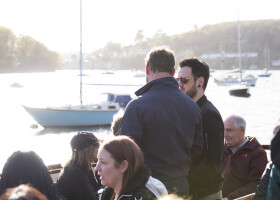 A lovely meander along the creeks
We all had a wonderful time and thoroughly enjoyed the evening. Ross and Matt were great and provided just the trip we wanted with a lovely meander along creeks while we ate our food. You even organised a beautiful warm evening! Thank you again.
Jill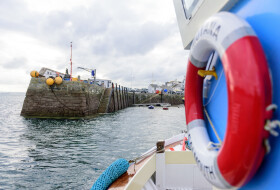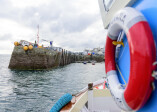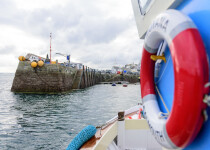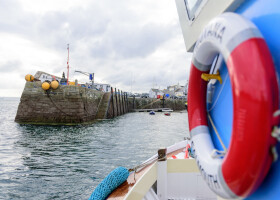 The charter really made our wedding.
Our charter was absolutely amazing. We couldn't have asked for more. The flexibility to change boats at the last minute was great and even though we didn't need to in the end it relieved a lot of stress from me knowing I could get everyone under cover if needed.
The crew were fab as well, so accommodating and friendly. We will definitely recommend a charter to anyone we know.
Thank you so much the charter really made our wedding.
Jess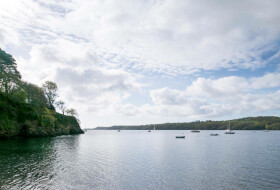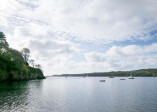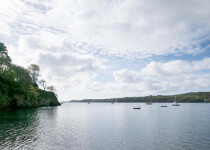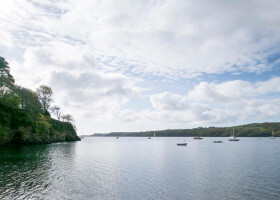 A Special Farewell
Robyn and I would like to thank you for making our farewell to our parents so special.
Obviously it's a once in a lifetime experience and you looked after us beautifully from start to finish. Giving us the coordinates was a really lovely thought and not something we would have thought of.
We wouldn't have had it any other way.
Anna & Robyn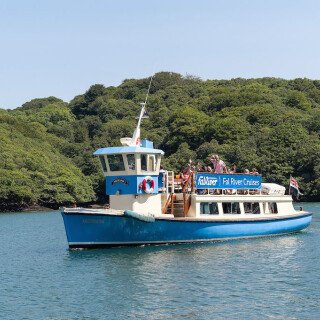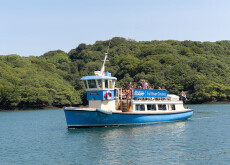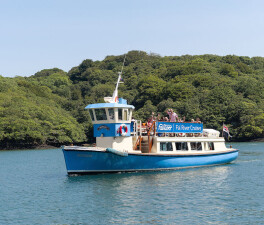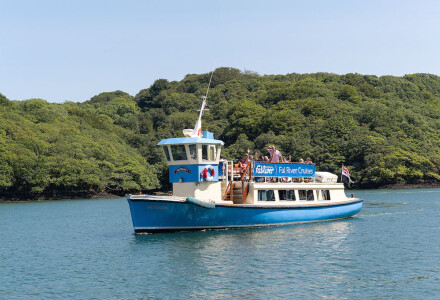 Want to plan your own luxury charter?
Contact us
Phone: 01326 741194
Email: charter@falriver.co.uk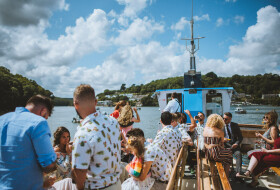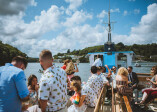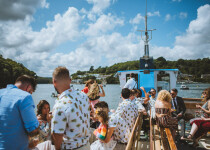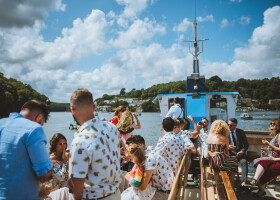 The cruise went fantastic
Everyone thoroughly enjoyed it. They staff were really good too, nice guys.
Everything went perfectly and everyone has come to us to say that was far better than any other wedding evening they'd been to with dj's etc.
Pete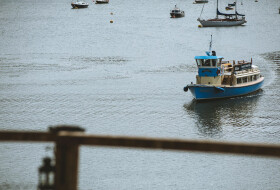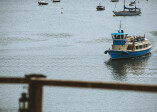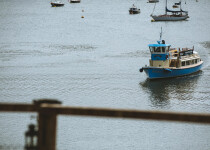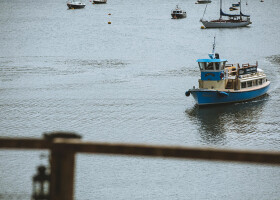 We all had an excellent time thank you.
The crew of 2 were brilliant and let us eat our pasties and run our quiz with no trouble at all. Our director kindly put some money behind the bar and the chap running it was very friendly and engaging! I would definitely book you again and have recommended you to my husband who has since been on a trip with you with the Royal Navy!
Susie