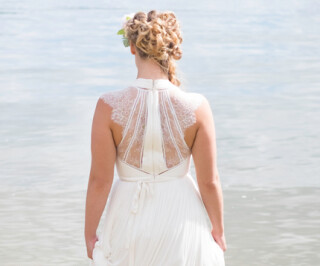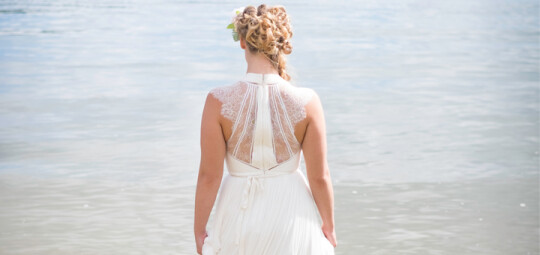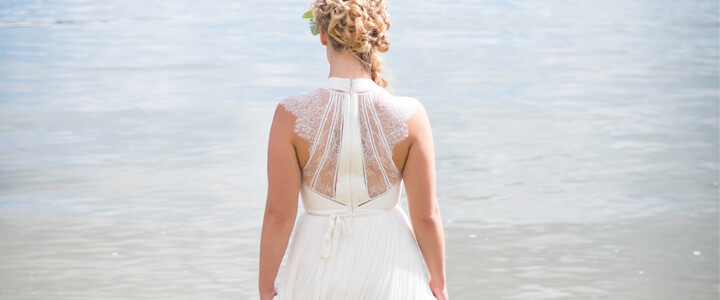 Tips on Finding the Perfect Dress
7 April 2017
Some top tips to help you choose the dress that will be best for you on the big day.
Wedding dress shopping is a big deal. It's THE most important dress you'll ever buy and probably the most expensive too. Is it any wonder we get so nervous and excited about finding "the one"? That perfect dress that will make you feel a million dollars on the big day.

But with so much choice it can be utterly overwhelming. We've put together some top tips to help you choose the dress that will be best for you on the big day.
Dress for your shape – remember your shape and individual style, the dress might look different on the model. You have to take into consideration your height, breast size, hip size etc. Some dresses are much better suited for a willowy look, others for curves, some are better for taller types and others perfect for petites. Think about what usually looks good on you. If you can't really rock a roll neck very well then a high-necked lace number probably won't work either.
Try on different styles – however in saying that, try on different styles. Be open to the fact that a more princess style might suit you as much as a fishtail or that a beaded gown may look just perfect rather than a simple A-line. Listen to the boutique assistants, they do this day in and day out and know what will flatter your frame.
Consider your theme – are you getting married on a beach? Then you may want something a little simpler and fuss free. In a castle you might want something to match the grandeur of your surroundings? Really think about the colour scheme, the venue, the vibe of the day. A bohemian theme with hay bales and an outdoor guitarist will be a very different feel to a harpist in a church. Also consider the time of year, winter brides will need to consider sleeves, boleros or shrugs.
What's your budget? – an important factor is how much you want to spend. It's always wiser not to try on dresses that are over your budget because you're in hot water if you fall in love with the one that you can't afford! Be ruthless with sticking to your budget, there will be something that you love.
Get inspired – before your dress appointment, look through magazines, blogs and Pinterest and get an idea of the bridal styles that you like. Take along some of your favourite images so that the boutique can get an idea of the vibe for the big day but stay open minded as to what you'll find when you get there.
Give yourself time – anywhere between 9 months and a year is long enough to get the dress. We would recommend not shopping any sooner than 18 months before the day because there will be many new styles in between now and then. Any less than 9 months and it could be cutting it a bit fine. It often takes 6 months for the dress to arrive into the boutique so it's best to allow yourself ample time. When you've looked in a few boutiques take your time to make your choice. Even if you think you definitely know which one you want, it's fine to spend a few nights thinking about it and then making your decision. Don't be rushed into buying a dress before you're ready. On the other hand, once you've bought your dress, stop looking immediately otherwise you're asking for trouble!
Get by with a little help from your friends – take an entourage with you when you go shopping but not too many! One or two close friends or family is all you need. The more people you take the more conflicting advice you will receive and at the end of the day, you need to listen to yourself and a few trusted friends that you totally trust when buying the gown.
Practice sitting – as well as standing and walking around in it, remember you will be sitting for a large part of the day also so make sure you're comfortable sitting down in it and moving around.
If you can't find it, create it – don't be afraid to go bespoke and have a dress especially created for you. There are so many options when it comes to having a dress especially made for you and with so many wonderful dressmakers on the scene in Cornwall, it gives you the chance to wear something completely unique!
Listen to your heart – lastly, listen to your heart. At the end of the day, it's your decision which dress you fall in love with and if there is one you simply cannot get out of your head, go with it. Many dress boutiques don't allow brides to take their photograph wearing the dress but that's OK, sometimes it's best not to take a photo because you could show it to someone who doesn't like it and will make you doubt yourself. The best thing to do is remember how you felt in the dress, that's the most important thing.
Remember to make an experience of dress shopping, you'll only do it the once so it needs to be an occasion to remember! Make a day of it and enjoy some lunch and cocktails with friends (we highly recommend booking a table at Bone China in Truro).
Have you found the dress? How did you find the shopping experience and where did you find your dream gown?