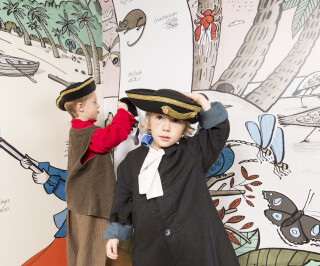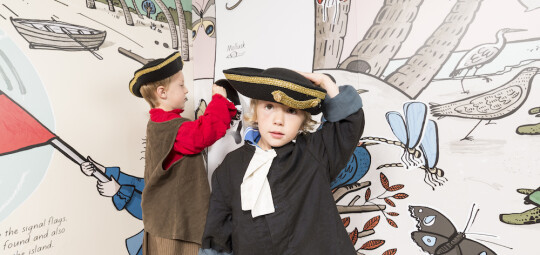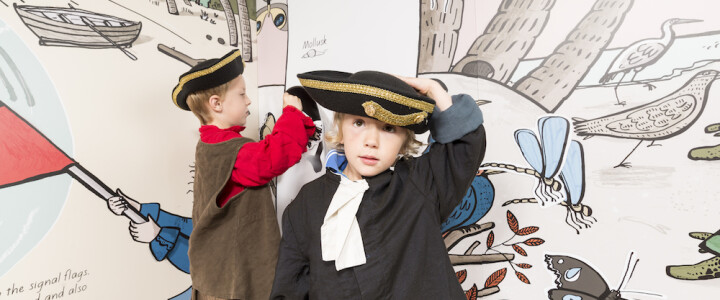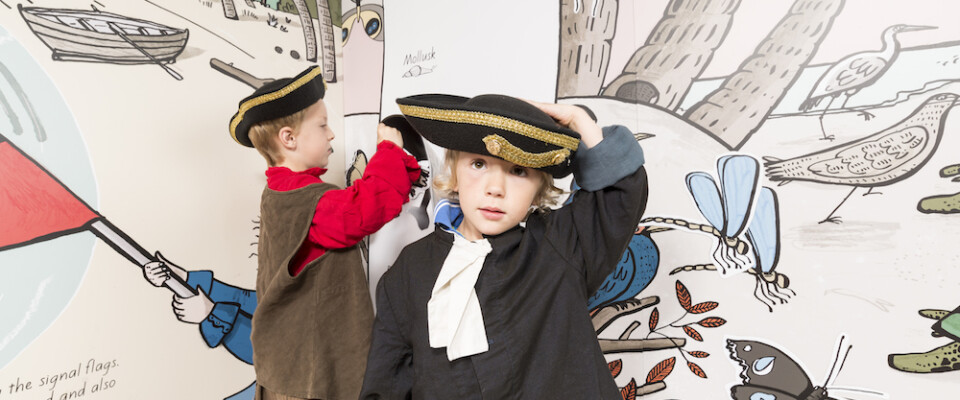 Join the crew of HMS Adventure this summer
21 July 2017
This summer at The National Maritime Museum Cornwall in Falmouth: Join the crew of HMS in the Awesome Adventurers Play Zone, alongside 6 weeks of live performance and storytelling, with new craft activities every week. And! Thorsdays are back!
Awesome Adventurers Playzone
Be inspired by heroic voyages of exploration like Captain Bligh's HMS Bounty! Join the crew of HMS Adventure to explore the Pacific Islands in the Play Zone. It's 1799, and the brave crew of HMS Adventure is charting the dangerous Pacific Ocean. The ship has just dropped anchor off a deserted island and you have volunteered to explore the island with the scientists. Get in character…who will you be? The Midshipman – with responsibility and a smart uniform. The Cook – got to keep that crew well fed. The Ordinary Sailor – a hard-working crew member or The Botanist, out to discover new plants, animals and specimens to bring home. Explore the island…
Slide down the waterfall, explore an underground cave, and hop around on giant insects! Can you help the botanist from HMS Adventure discover what sorts of wildlife are living on our Pacific island? Some of the creatures are hidden around the museum, will you be able to find them all in time?
Live performance, storytelling + new activities every week…
Squash Box Theatre – 'The Sea Show' – a quirky and hilarious mix of puppet show, natural history and comedy cabaret
Tuesday 18 + Thursday 20 July | Tuesday 29 August |Thursday 31 August | 11:30am +2pm

Rattlebox Theatre – 'Tales of Awesome Adventures' – storytelling and puppet shows creating a little magic and a lot of laughter
Tuesday 25 + Thursday 27 July | Tuesday 15 + Thursday 17 August | 11:30am and 2pm

Rattlebox Theatre – 'Beouwolf Puppet Show' – storytelling and puppet shows creating a little magic and a lot of laughter
Tuesday 1 August | Tuesday 22 August | 11:30am and 2pm
Thorsday! Join Seawolves our tame band of Vikings and discover what Viking combat was really like! Thursday 3 August + Thursday 24 August
Make and takes:
Make the things you will need for your own awesome adventure.. A compass badge to find your way home; A sword or flintlock pistol to fight of dangerous animals, or fearsome pirates; A newly discovered tropical bird to wear on your shoulder. Daily | 12 -3.30 pm
Trail: Awesome Adventurers! Daily
New! Late night Thursdays – NMMC are open till 7.30pm every Thursday in August.


And of course there are all the usual family favourites: 15 galleries over four floors, jump aboard the boats, climb the 100 foot Look Out Tower, watch shipwrights at work in the boat building workshop, go under water in the Tidal Zone, hear ocean adventures + survival stories, learn to sail miniature boats on our waterfront boat pool.


All activities are FREE with your museum ticket, pay once and get in free for the rest of the year.

Find out more...