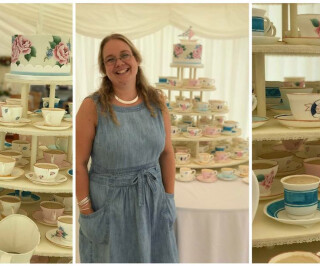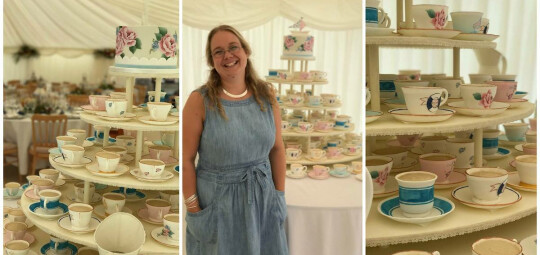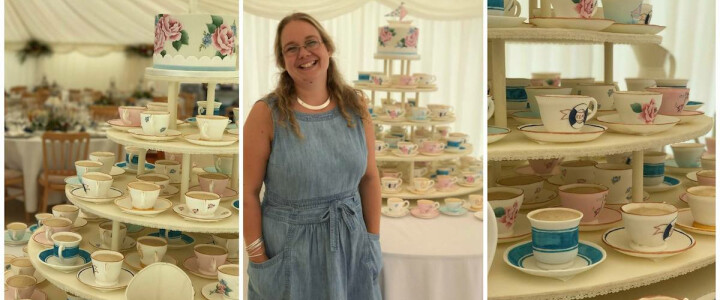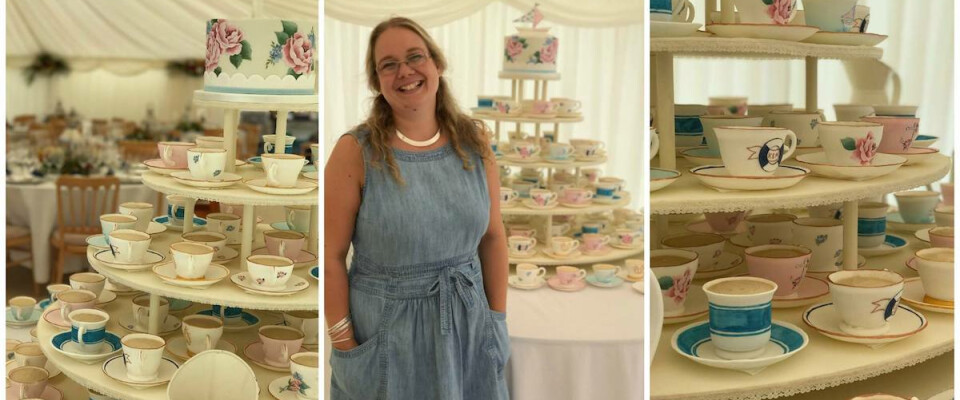 Tea and Cake with Emily Hankins
4 December 2017
This month we got to enjoy a cuppa and an all-important slice of cake with baking royalty herself, Emily Hankins! For those of you who are as in awe of her creations and immense talent as we are, read on and enjoy finding out more about this marvellous maker.
When did you start baking cakes and did you always know you had this talent?
Baking and cake decorating have really always been a part of my life, beginning with early memories as a small child pouring over my Nana's copy of 'The Good Housekeeping Book of Cake Decorating', through to making my best friends 21st birthday cake in my tiny student flat. I never ever imagined at that point in my life that it would end up being my career!
You are very unique in what you offer, as it's more than simply baking, you combine art and baking together. Could you explain more about your unique style?
I studied graphic design at university and realised quite early on that being stuck behind a computer screen for the rest of my life was not for me. Painting and illustration have always been something I have done for fun. When I started thinking about creating cakes as a business I knew I needed to offer something different than what was already available and it just seemed natural to marry both of my passions and skills together! When I paint on canvas I tend to use acrylics as I love the thickness and texture you can create with the medium – On cakes I paint with melted cocoa butter and edible dust pigments – this ix is very similar in texture to acrylics and is what allows me to build up such vibrant designs on a range of different colour and textured backgrounds.
Where do you get your inspiration from?
I absolutely love nature – especially flowers. In fact, I played with the idea of becoming a florist at one point! I also love drawing inspiration from old fabric and wallpaper prints – I can often be found in National Trust properties staring at the walls! Each of my wedding cakes is essentially inspired by the couple that it is created for – their likes and dislikes, their chosen theme/flowers/colours for their celebration, along with their personalities all go into their cake design. I love that each of the cakes that I create are completely unique because of this!
What made you start your own business?
I was brought up by a strong, independent mum who owned her own creative business so starting my own business always seemed like the right path to follow. I knew that working for myself would allow me the creative freedom that I desired and give me the flexibility to work around my family. It was a terrifying step to take but 6 years on I would not have it any other way!
What do you love most about the Cornish wedding industry?
Everyone is so friendly and welcoming within the Cornish wedding industry. Other businesses are willing to share knowledge and to make recommendations. I have made some friends for life within the industry and it has made what might be a very solitary career much more social. The majority of the couples I work with are from out of county so it is really useful to have a network of trusted suppliers that I can recommend to couples who may have no idea of what is available here in Cornwall.
How far in advance do people book you?
Generally, I find that couples book me anywhere between six months to a year in advance of their wedding. Cakes are generally one of the later things couples decide upon.
What has been your favourite cake to make of all time?
That is a really hard question as each cake I finish tends to be my favourite for a while! I do have a very soft spot for my edible teacups… I created a display of 100 of these earlier in the year, and although they are an awful lot of work they are lots of fun and have such a wow factor when you see them all together!
What is the process of creating a cake? When do you start and what's involved in the process?
After initial client contact I encourage a meeting in person in my studio in Princes House, Truro to discuss their cake ideas face to face over tea and cake. During this meeting we chat about wedding plans and I do some quick sketches, outlining their design ideas. After the meeting I bring together all of the information I have gathered into some proper illustrated cake designs which I then send off to their clients with their quote. The client then has the opportunity to make any changes to the design if they wish. Once the design has been signed off it's just a matter of waiting until closer to the wedding.
During the 3-4 days prior to the wedding the cakes get baked, coated in delicious white chocolate ganache and covered in Sugarpaste. The day before the wedding I spend hand painting the cake with the couples chosen design. I deliver each cake personally on the day of the wedding and set them up at each venue – I am bit of a control freak and like to know that it is completely perfect before I leave! Occasionally I even get to see the look on the couples faces when they see the cake for the first time which is a special treat!
What is the longest time you've spent working on a cake?
On average a three tier hand painted cake takes me around 35-40 hours in total. I usually allow 12 hours to hand paint a design over three tiers. I love baking and covering the cakes but my painting days are definitely my favourite – I usually have my favourite painting chair, a good audio book, peppermint tea and some healthy snacks to get me through the long shift! My edible teacups however are a slightly different matter… large orders of 100 or more can take up to three weeks of work on and off to complete! Definitely a labour of love!
What has been the best moment for you in business so far?
Seeing my cakes in print for the first time was pretty amazing, and still gives me a rush every time! It is amazing to think that my cakes are recognised now all over the world and that I get students coming to my classes from as far afield as Nigeria. Recently I was contacted by a cake school in Morocco who were painting a cake based on one of my designs and wanted me to live feed with them to offer the class encouragement – it is totally crazy that these people even know who I am, but I am incredibly proud that I can be an inspiration to others!
What do you do when you're not baking?
I am a mum to my beautiful eight year old son which keeps me super busy – what I don't know about Minecraft is not worth knowing! I have also recently discovered a love for running, which was rather unexpected but really suits me as I adore being outdoors in nature – especially near the sea!
What does the future hold?
I am hoping to do lots more teaching next year – I have discovered a real passion for this and really love sharing my skills with others! I am also looking forward to being a part of lots more couples special days and sharing in their excitement!


Take a look at Emily's hand-crafted vintage style cakes...