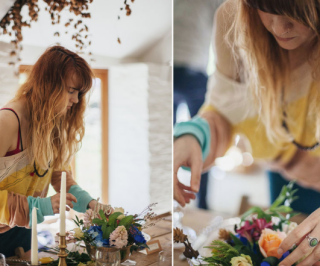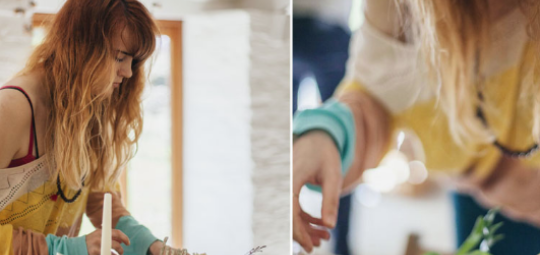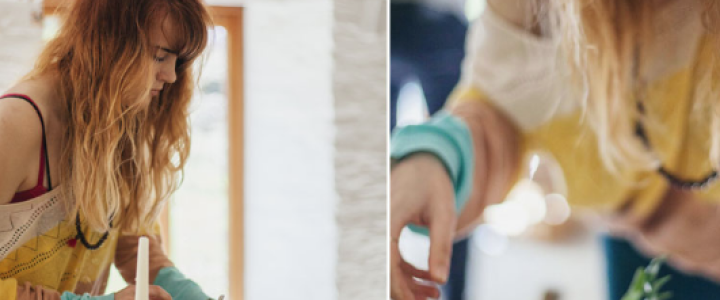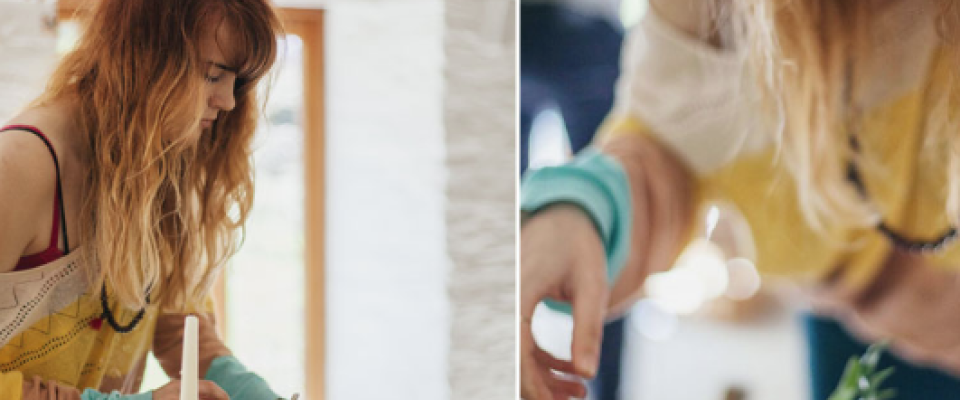 Tea and Cake with Twigs & Greens
30 January 2018
This month we got to enjoy a cuppa and a slice of cake with Floral Designer Jen of Twigs & Greens. Read on and find out more about this boho-tanical beauty.
Your creations are very distinctive, can you tell us a bit more about your unique style of floral design?

I specialise in all things natural, rustic and beautiful. I incorporate lots of foliage into my designs which I think helps differentiate my style. I also like to arrange flowers in a loose and less regimented way, like they are in nature, but with an artistic touch to really bring out their beauty.


Where do you source your flowers and greenery?

I like to buy local as much as possible, one of my favourite places to stock up is at The Cornish Cutting Garden near Helston. All their flowers are organically grown, and they run some fantastic community projects so it's great to support them. I am a keen forager and so i'm always on the hunt for foliage around Cornwall. If a bride has something specific in mind I use a wholesaler in Saltash, who sources flowers from Holland.



Where do you get your inspiration from?


The great outdoors is a constant source of inspiration for me. I try to spend as much time out and about exploring Cornwall, rummaging in hedgerows and wandering along coastlines. Even in winter, when you wouldn't expect to see much in flower, you can find all sorts of varieties of flowers and greenery if you know where to look.
Colours is another great source of inspiration for me, playing with colour and experimenting with bold combinations and unusual accent colours often leads my creative process.



What are your favourite trends when it comes to wedding flowers?


Flower design trends are constantly evolving, keeping it fresh and exciting year on year. Incorporating greenery has emerged as a key trend in recent years, which is wonderful as this has always been the style at Twigs & Greens since the very beginning.
I am being asked more and more recently for big showery bouquets, I enjoy experimenting with dynamic, cascading arrangements, which are often enhanced with trailing ivy or fresh foliage!
I like the recent return to boldness and vibrancy, a lot of brides are becoming more drawn towards wild and flamboyant colour schemes.
Hanging floral hoops are also a cool new trend. They're a great photo prop, and really fun to make.


What has been your favourite bridal bloom to make of all time? Do you have a picture?

That's a real difficult question, every wedding I make for is special and unique. Every time, I think.. That was my absolute favourite.
One really fun piece that comes to mind is the garland I created for Rachel & Warner for their wedding up North, in Derby. Their venue was a really characterful old mill, with beautiful light, arched ceilings, exposed brick walls, and cast iron beams. It made for a really unique backdrop and the couple gave me a great deal of creative freedom, decorating the venue in all sorts of fantastical ways. I arranged the garland piece on chains that were hanging from the cast iron beams.

Do you have a personal favourite flower?


I have a few, and they often change depending on the season, but Peonies, Hellebores, Ranunculus, and Anemones are all real beauties. You can't go wrong with a good Rose, and Hydrangeas are absolutely fabulous!



When did you first decide to become a florist and what made you start your own business?


I was trained in floristry almost 10 years ago whilst working at a lovely garden centre and florists in Leicestershire, where I grew up. I left, thinking that a "grown-up job" meant computers and offices, to pursue a career in marketing and events. Upon moving to Cornwall back in 2010, I realised that working in front of a screen was no longer for me, I worked in a couple of florists in Penzance and Helston, covering all aspects of floral design, and after a few years, decided to go back to school! I qualified with a City and Guilds Level 3 Diploma in Floristry in 2014 and started my own business in February 2015.


What is the process of floral design? When do you begin and what's involved in the process?

I meet the bride around a year to 6 months away from the wedding for the initial consultation. Often at this stage the bride-to-be will bring along some examples of what she's after, and we can discuss colours, budget, favourite flowers etc.
Around 2 weeks before the wedding we'll meet again and recap, at this point I will have put a detailed plan together to check through.
1 week before the big day, I will order and/or pick the flowers. I water and condition them straight away, and then them leave for a day.
I give myself a week to 10 day window for the making, depending on the time of year - less in the warmer summer months. Depending on the venue, and the access, the making either takes place in my studio in Camborne, or in situ, quite often it's a bit of both.


How far in advance do people book you?

Allowing plenty of time for planning and preparation, makes everything easier and stress free, Booking your florist 1 year in advance is what I recommend, although I have been able to sneak some brides in as little as 4-6 months. Often the bride won't know what she wants a year in advance, and that's fine, my advice is to just get it booked, and then there's plenty of time to figure out the detail.


After just 2 years in business, Twigs & Greens has truly blossomed winning several awards, what does the future hold for you?


I love Cornwall, I've put roots down and definitely imagine staying around. As for Twigs & Greens, hopefully much of the same! It's important for me to remain a small and independent business, it allows me to work closely with each bride, and offer a tailored and personal service.


What tips or advice can you give couples who are ordering their wedding flowers?


Don't try to please others or follow a particular trend or tradition to rigidly. Trust in your taste and don't be afraid to be original / express what you truly want.
I'd also advise couples to trust your florist. Some brides want something very specific, whereas others will hand over almost complete creative freedom. Either way, if you choose a good florist, they should be able to use their expertise and experience to surpass your expectations and deliver something better than you ever imagined.


What do you do when you're not doing floral design?


I love adventure and discovering new places, my work van doubles up as a camper, and i've explored most of Cornwall in it. My boyfriend owns Duckies, a cafe & deli in Hayle, I enjoy helping out there in my down time.


Take a look at Twigs & Greens...