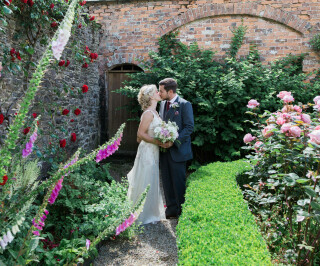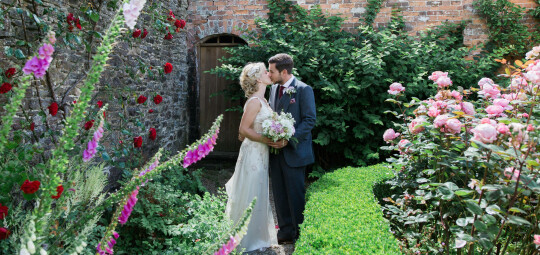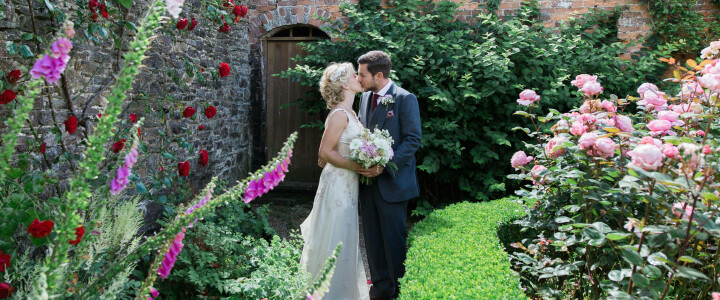 Tips for a Spring Wedding
26 March 2018
Dreaming up a Spring Wedding? Step this way... we asked experienced Wedding Planner Jenny Wren to tells us what to keep in mind when planning a wedding in the springtime. Prepare to be inspired...
Beautiful Blooms

Once Spring has sprung there is a lot more flower choices... peonies, hyacinth, tulips, sweet peas, ranunculus to name a few. Opting for flowers that are in season gives you more budget friendly blooms and can often be sourced locally.

Longer Days

At last we see the daylight hours lengthening from late March. If you are planning a Spring wedding ensure you factor this into your timeline for the day. Think about when to capture those sunset shots with your photographer without missing out on the dance floor action!

What to wear
Lighter shades for suits are better matched for spring weddings, such as dove grey, a natural jute shade or even light blue. You could dress your bridesmaids in floral fabrics to really embrace the season. Plunging necklines, off the shoulder, strapless, backless, lace, chiffon...the spring range of bridal dresses opens options up. Fresh flower crowns adds a springtime element to your look.

Spring Wedding Favours

How about little seed packets or spring bulbs for wedding favours, with a message such as 'let love grow' on them. With springtime being planting season these will be favours guests actually want to take home (we see so many left behind) and plant in their garden. It is also a lovely reminder of the day for them. Another option could be bird seed favours. I made these recently for a wedding in heart shapes with twine attached so they could hang off a tree.

Hints of Spring

Little details such as a sprig of lavender placed in the napkin tie, gives a subtle hint of spring.

Table Names

Give your tables names rather than numbers, these could be names of spring flowers in bloom.

Outdoor Ceremony

Spring's milder temperatures can potentially allow for an outdoor ceremony. Take precautions still with an indoor option also or a canopy or cover of some sort just in case those Spring showers hit.
Also shaded areas are important when it's a clear blue sky with no cloud cover. Consider renting some pretty parasols for the drinks reception.

Drinks Reception

Consider refreshing cocktails instead of the typical fizz option. They will no doubt be welcomed by your guests and add a fun element, reminding your guests Summer is on the way! You could even come up with your own signature cocktails for both of you. However sweet drinks in the sunshine can attract insects, so light some citronella candles around your drinks reception table to keep them away. Drinks dispensers are great as they allow people to keep refilling their drinks as much as they like, encouraging them to keep hydrated. Ensure you fill some with water and not just booze! How about freezing edible flowers within the ice blocks, add them to jugs of water for a touch of pretty.

Scent of Spring

Small jars of lily of the valley in communal areas will give off a spring scent. Fresh mint in the drinks at the cocktail hour will also give off spring vibes.
Music

If your opting for an outdoor drinks reception, a live musician may be reluctant to set up incase of unpredictable spring showers ruining their equipment. Consider a musician who can easily move if the weather changes. For example I have worked with a chap that rents a traditional gramophone. It tends to get a lot of interested from the guests and he can pick it up and move it very easily as it does not require electricity or a lot of set up.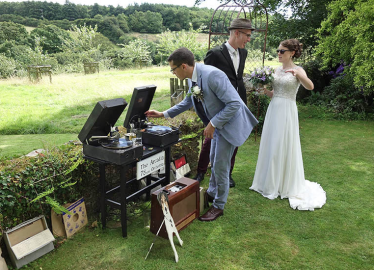 Spring Styling

Incorporate fruit into your tablescapes. For example sliced lemons to line the flower vases, or I once used granny smith apples in each place setting with the name place tags attached to the stem. They add a pop of colour to the tables and springtime vibe. Also get creative with your crockery, opt for floral patterned plates or pastel coloured ones.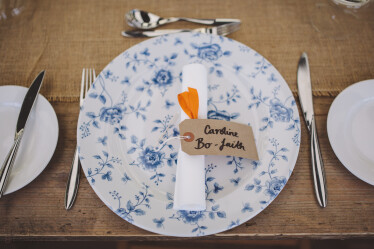 Fabrics

Having a marquee reception? Speak to your marquee supplier about the options of linings. Some also do swagging in a choice of colours to add colour to the ceiling.
Food glorious food

Talk to your caterer about tailoring the menu to the season. That may be using vegetables that are in season such as artichokes, asparagus or radishes in the main dish. Or designing canapés that have a reference to Easter, such as a devilled quails eggs. Also think about what they serve them on, ditch the basic serving platters and look at options where you can incorporate colour. A local caterer I work with called serve their canapés on top of little wooden box trays, which have what looks like real grass on the top, they look fantastic!
Don't forget the kids

Hire a yurt or tipi tent for the children to play in, keeping them cool from the midday sun if its hot and warm if there is a bit of a breeze.
Early evening

As the sun goes down, have a fire pit lit, surrounded by hay bails for seating, covered in pretty blankets.
Suppliers

Spring is a very popular time to get married, so ensure you book up your venue and favourite suppliers sooner rather than later to avoid disappointment.


Well, we are feeling suitably inspired after that, thank you Jenny Wren, we knew you would be full of superb Spring wedding suggestions.