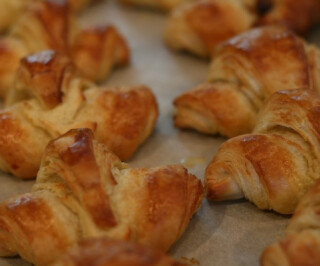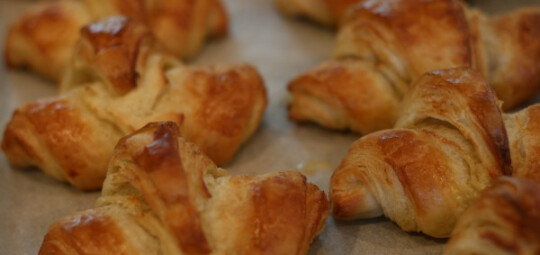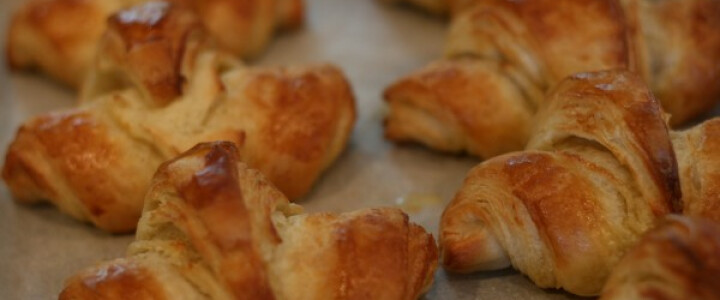 French and American Bread at Philleigh Way Cookery School
27 February - 17 September 2016
Bread baking courses are more popular than ever; on this course France meets north America, students learn how to bake baguettes, brioche, croissants, bagels, and cornbread.
Duration: 10:00-16:00
Course overview
Lunch is included and will comprise a selection of breads with various other delicacies prepared by our chefs.
Course details
Welcome: Meet your host and tutor, see for yourself the Philleigh Way farmhouse cookery school and garden. Enjoy a morning tea or coffee and tasty Philleigh Way treat.
Demo one: To help any beginners we kick off with the basics – an overview of the baking process, ingredients, learning the differences between flours and yeasts, proteins and gluten, measuring, mixing and kneading your dough. The first demonstration covers the french classic croissant and baguette.
Practical session one: The students make croissants (and trust us after making your own you'll never buy them again) and make the dough for the baguettes.
Demo two: Classic Southern American Cornbread. Learn how to make this quick loaf which is great to accompany a Sunday morning fry-up
Practical session two: Students make their own cornbread which they enjoy for brunch along with eggs from the farm cooked how you like and some crispy bacon. After brunch students shape and bake their baguettes.
Demo three: Brioche a slightly sweet french yeast bread enriched with butter and eggs.
Demo four: The Bagel originating from Poland although now synonymous with New York involves a different bread making technique including poaching and glazing.
Practical session four: Students make Bagels.
Lunch: Enjoy a selection of breads from around the globe together with various other Philleigh Way delicacies prepared by our chefs.
Close: Have a chat with fellow course attendees and members of the Philleigh Way team, before heading home to show off your creations. This is a guide to the days activities and is by no means set in stone and will vary depending on the season as well as the group's interest.
Location: This bread baking course is run from Philleigh Way, Cornwall. Full address details of Philleigh Way will be provided once you have booked.
Wine/drink: We are a licensed venue. We have a wide selection of the fine local wines and brews.
Age: We would advise that this course is only really suitable for 12 years of age and upwards. Under 16s must be accompanied by an adult.