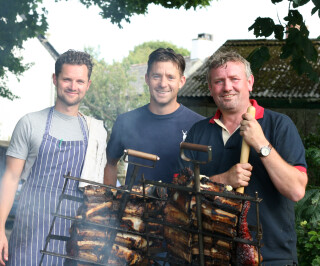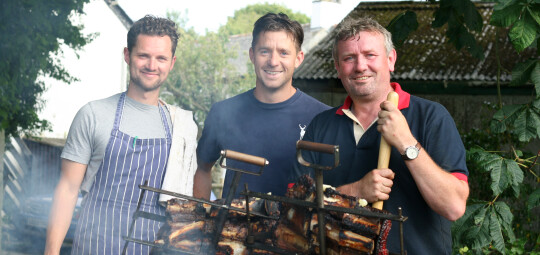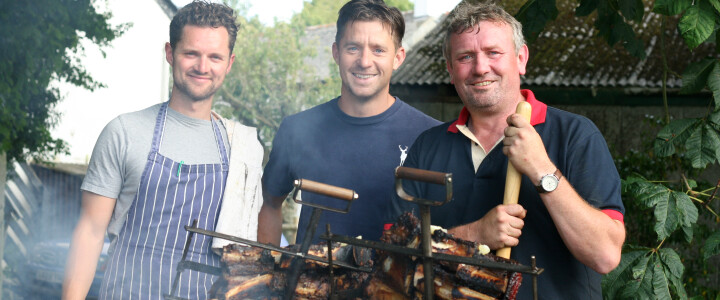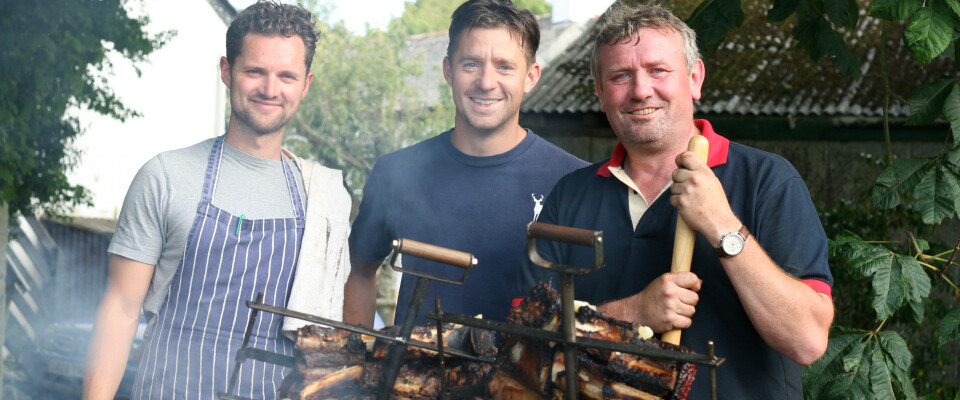 Argentinian BBQ at Philleigh Way Cookery School
14 May - 13 August 2016
On this course, Asador, David Deadman will take students on an odyssey into grilling the Argentinian Way.
Duration: 10:00-16:00
Course overview
Lighting fires and grilling beef is a way of life from the Glaciers of Tierra del Fuego to the northern peaks of the Andes.
David will illustrate technique after technique to include Parrilla (cooking on a grill), horno de barro (wood oven) to his boldest method, Asador Criolla, in which flanks of beef or butterflied lambs are fastened to an iron cross, where it cooks for hours in the glow of live coals. Students will also be shown how to build and light fire, the stages of fire and temperature control.
This day is all about fire and meat and the hunger that inspires us to improvise and innovate. If there is wood or charcoal to burn and local ingredients at hand we can find a way of making something delicious!
Suitable for absolute beginners or well seasoned grillers.
Course details:
Welcome
Meet your host and tutor, see for yourself the Philleigh Way farmhouse cookery school and garden. Enjoy a morning tea or coffee and tasty Philleigh Way treat.
Fire
The day kicks off with an introduction to fire, materials, building and lighting. Student will then learn how to make charcoal including a live demonstration of the process. The day will continue with an overview of the various methods of cooking on fire including parrilla (grill), criolla (iron cross), and wood oven. Students with an interest will also be talked through the process of constructing a brick wood oven.
No authentic Asado would be complete without beer for the asador, so there will be a couple of good local ales to sample.
Students then learn about the classic Argentinian beef flank cut – asado, and have a go at preparing the flanks before cooking them over an open fire on one of David's homemade asado criolla's (iron cross). This is a slow cooking process that will take the rest of the day checking on them from time to time.
Light bites, salsas and more unsual cuts
While the beef is cooking, students will be shown how to make a couple of authentic South American salsas such as a classic chimichurri, followed by Argentine empanadas (a snack sized version of a Cornish pasty) which they will replicate and cook in the wood oven. Students will be shown how to cook a few cuts of beef which are under-used here in Britain but hugely popular in South America such as kidneys, tongue or sweetbreads.
Steaks on the parrilla
Students will be shown how to cook a perfect steak on the parrilla grill over wood and charcoal. The session will incorporate some lesser know and more affordable cuts of beef, demonstrating the depth of flavour and texture it is possible to attain without using the standard British cuts of sirloin, rump or fillet.
Late lunch
The day will finishes with a true Argentinian asado feast incorporating the salsas, sides and of course the slow cooked flanks of beef from the fire pit washed down with a glass of good Argentinian Malbec.
Close: Have a chat with fellow course attendees and members of the Philleigh Way team, before heading home. This is a guide to the days activities and is by no means set in stone and will vary depending on the season as well as the group's interest.
Location: Cookery courses are run from Philleigh Way Cookery School. Full address details of Philleigh Way will be provided once you have booked.
Wine/drink: We are a licensed venue. We have a wide selection of the fine local wines and brews.
Age: We would advise that this course is only really suitable for 14 years of age and upwards. Under 16s must be accompanied by an adult.