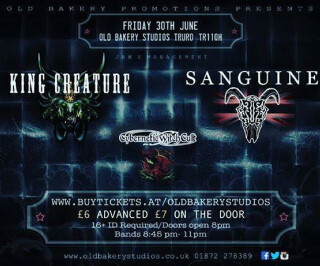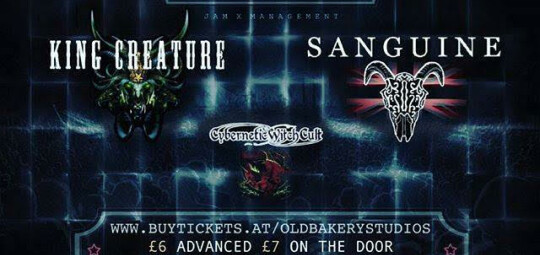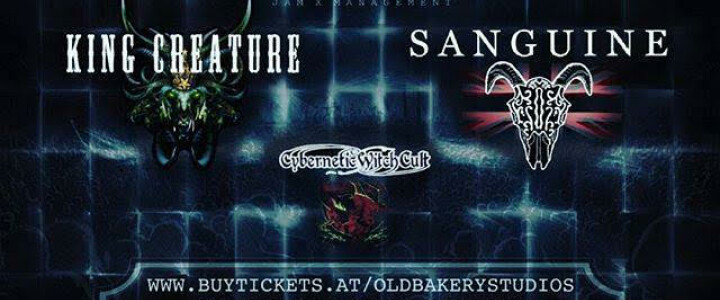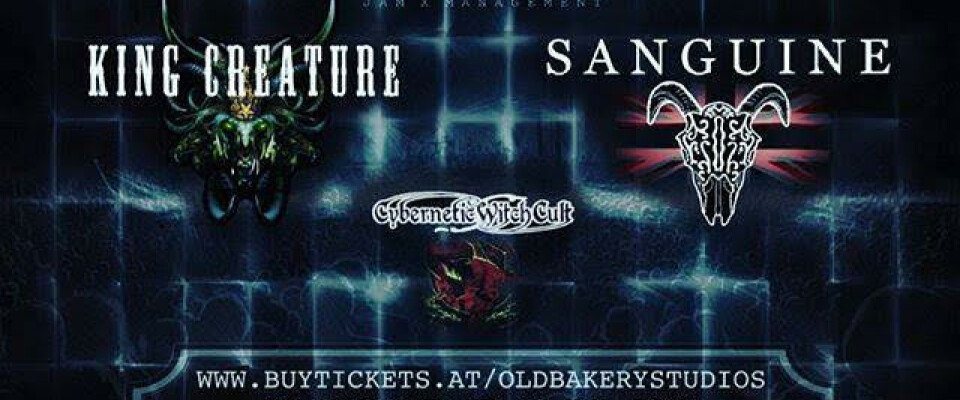 Rock Night with Sanguine, King Creature, Cybernetic Witch Cult
30 June 2017
Old Bakery Studios and Jam X Management bring you more of the best metal/rock bands around.
Things are going to get very heavy in Truro!
SANGUINE
KING CREATURE
CYBERNETIC WITCH CULT

£6 advance £7 on the door
16+ (ID required)
Doors open 8PM
Bands 8.45PM - 11PM
Bar open till midnight
300 standing capacity
Uncompromising, eclectic, and utterly unique, Devon-based female fronted alt. metallers Sanguine are a seriously exciting new voice in heavy music. With a world-conquering sense of ambition and a highly distinctive sound on their side, the quartet have already amassed a staggering list of achievements, and attracted ringing endorsements from many of metal's most respected figures. They have supported Megadeth, Fear Factory, Hell Yeah, Mushroomhead, Cancer Bats, Skindred, played Download, Bloodstock, Hard Rock Hell and more. The band have garnered praise across media from Metal Hammer, Zero Tolerance, Big Cheese to Scuzz TV. Their 2016 album Black Sheep saw them teaming up with million selling European metallers In Flames, singer Taryn has also made guest appearances on Iron Maiden's Adrian Smith's Primal Rock Rebellion collaboration with SikTh's Mikee Goodman. Sanguine are famed for their take no prisoners approach to live performance.
"Black Sheep is a storming 2nd album......Sanguine are a rock metal adventure – 8/10. John Damon - Big Cheese
King Creature is the embodiment of rock and roll with powerful metal overtones. Having played with rock and metal heavy-hitters such as Motörhead, Megadeth, Hellyeah and Down, King Creature are determined that the true spirit of rock and roll lives on, not just in music but also in the spirit of their performances and the way they live day to day. King Creature were catapulted into the limelight as the opening act for Motörhead in 2015 at The Eden Sessions. Since then, they have played shows and festivals across the UK, including Hard Rock Hell, Looe Festival and Boardmasters. Freshly signed to Marshall Records, King Creature have recently finished recording their debut album at Abbey Road Studios with world class producer Rob Cass. King Creature are determined to make 2017 the year of rock and roll by bringing their high-octane performance to stages everywhere.
"Breakdowns that hit you like a freight train" – Due South West
Formed late in 2013, Cybernetic Witch Cult started off playing Cathedral inspired, riff-laden Doom metal around the southwest. They quickly found their sound by fusing elements of Stoner, Doom, Prog and balls-out Hard Rock, filling what they perceived to be a void in the local music scene. Since the debut album 'Morlock Rock', the band have been taking their infectious grooves and stunning musicianship up and down our fair isle, wowing audiences with deep hooks, spaced out fuzz and an iconic video show that lends a visual aid to songs about cosmic wizards, alien dinosaurs and martian druids.
"Full of fuzzy riffs and distorted goodness" – Wonderboxmetal