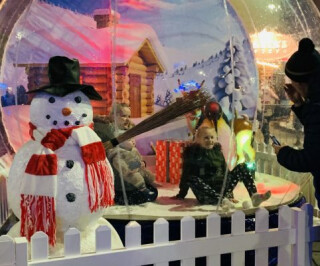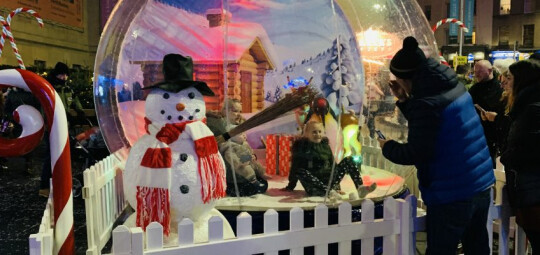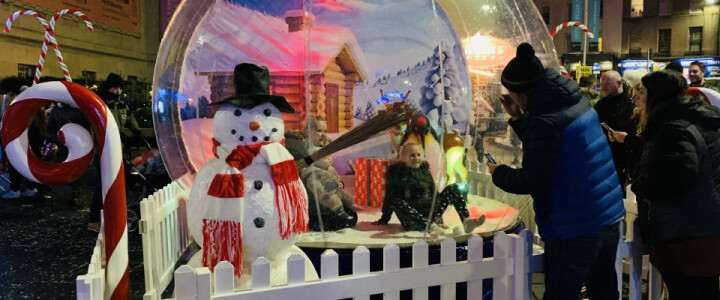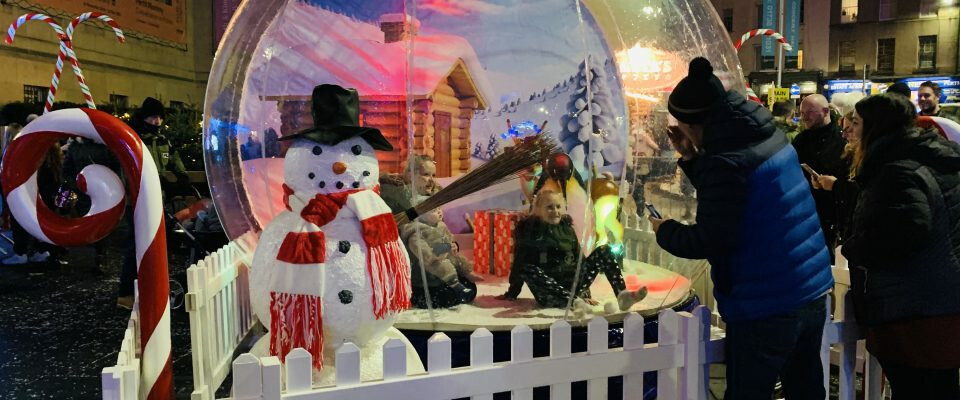 Falmouth's Festive Weekend
11 December - 12 December 2021
Falmouth's Festive Weekend is back with us this Christmas! Experience a festive land train, an artificial ice rink, snowy streets, festive stalls, fairground attractions, a giant snow globe, live choirs and much more. Take a look at what the Falmouth Town Team have planned for this fun-filled, Christmas weekend extravaganza!
What time is the festival?
Falmouth's Festive Weekend is on Saturday 11th and Sunday 12th December 2021 with the main activities taking place between 11am and 6pm on both days
How much is Falmouth's Festive Weekend?
The event is a community-driven event, organised and funded by the Falmouth Town Team (Falmouth BID and Falmouth Town Council) so you can see street acts, listen to choirs or bands free of charge. It is only £2 charge per person for the artificial ice rink, festive land train, adult swing rides and the helter-skelter. It is only £1 a go for all other small attractions. Any income received from these attractions will contribute towards Christmas activities 2022.
Where is the Festive Weekend taking place?
The Festive Weekend takes place in Falmouth town centre. There will be a road closure in operation (11am-7pm) on both the Saturday 11th and Sunday 12th December and Church Street Car park will be closed to traffic (but very much open for those wanting to take a ride on the helter-skelter, adult swing rides or to enjoy the games stalls!).
Car parking
Car parking is available at all the usual Cornwall Council-managed car parks (except Church Street Car Park), for information on these click on Cornwall Council's website here. In addition, there is parking available at Custom House Quay. Finding your way around – do browse the lovely Falmouth Map here. Community shuttle bus: do consider using Falmouth's community shuttle bus. Further information is available here.
Artificial Ice Rink on Event Square £2 per ride
Head to Falmouth's Festive Weekend to find a cracking artificial ice rink! Keep an eye out for music and entertainment. There will be skate aids available for those who require them.
Ice Curling Lane on Event Square £2 per go
Why not have a go on our ice curling lane whilst down on Event Square for an ice skate!
The Festive Land Train £2 per ride
Hop on the Festive Weekend land train to take you around our vibrant town!
Festive Land Train Route:
The train will run on a loop on both days from The Moor, through the town centre and terminate at the Maritime Museum car park.
Note: The Festive Land Train can carry up to 60 passengers
Timings: 11am-6pm
Church Street Car Park
There is fun to be had down on Church Street Car Park! Here you will find adult swing boats and a helter-skelter at only £2 per ride! Not only this, but you can also have a go at hook-a-duck, a 9 metre high striker, a coconut shy and roll-a-ball – all £1 per go.
The Moor
Meander through the snowy streets or hop on the land train to The Moor and delight your ears with the melodies of local bands and choirs as they take to the stage for what is set to be a brilliant line-up from 12pm – 6pm! There will also be some small fairground rides for the little ones and a giant snow globe photo opportunity.
Snowy Streets
Look out for snow machines throughout the town and come and enjoy a snowy experience as you shop and explore the cobbled streets of Falmouth. The snow will be water-based and biodegradable. You will find snow machines on High Street, Church Street, Church Street Corner and on The Moor.
Live Music
Local bands and choirs will not only be performing on The Moor, but will also be performing at various locations. There will be plenty of festive songs to sing and dance to throughout Falmouth over Festive Weekend!
There will be lots more happenings, so keep your eyes and ears peeled closer to December!
*All proceeds received over the weekend will contribute towards organising Falmouth Christmas 2022.