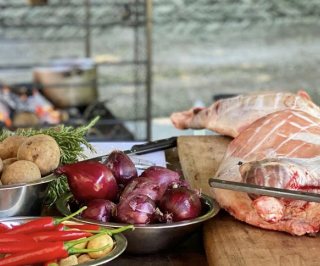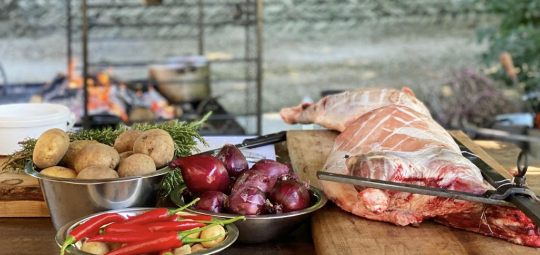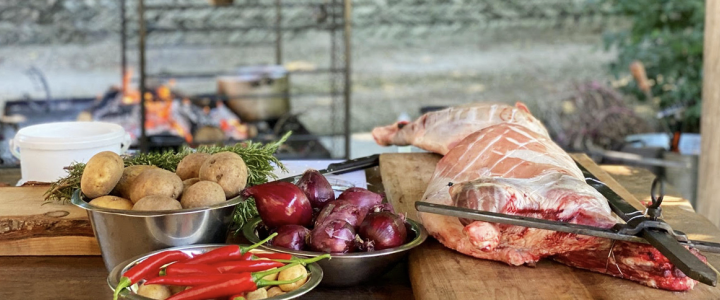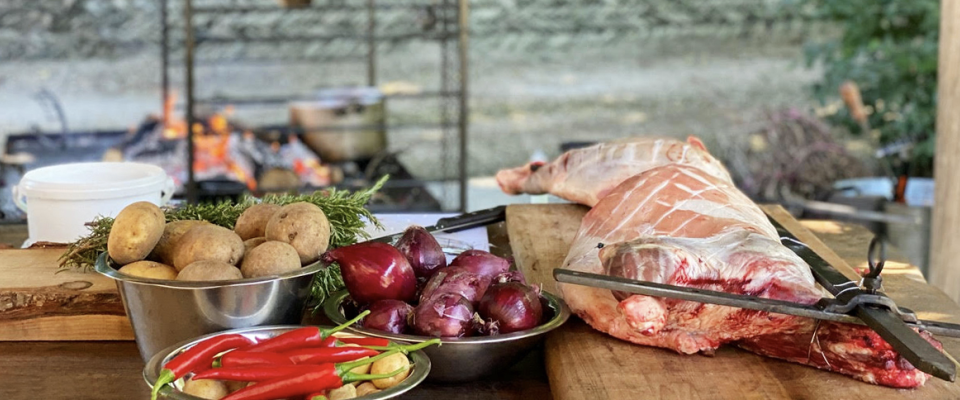 Asado Course at Philleigh Way
17 October 2020, 8 July & 14 August
On this Asado BBQ course, join Tim Gibb founder of Asado Fire Kitchen as he takes students on an Argentinian grilling odyssey.
Lighting fires and grilling meat is a way of life in Argentina from the Glaciers of Tierra del Fuego to the northern peaks of the Andes. Tim expresses that his Dad, who owned a local smokery was the touch paper to his obsession. It began as soon as he could walk, "I was nibbling my way round all the traditional smoked products. Maybe this is where the craze began, who knows! I learnt a lot about smoking here, heading down to work there on weekends and after school from the age of 11."
Tim's worldly knowledge of food only increases his knowledge to offer students "I spent many years travelling after university, working in kitchens in America, Canada, Australia, France, Spain and of course coming back to Dorset."
The antithesis of North American BBQ, asado is all about letting the flavour of the meat speak for itself. No spices, rubs or marinades are added before the meat is touched by the heat of the fire. Very slow cooking over hardwood embers creates the most smokey, succulent and flavoursome meat you will ever taste.
Unique equipment is used, the same as you would see on the Pampas used by the Gauchos after a long day herding cattle, Parrilla (wood grill), Horno de Barro (wood oven), Asador Criollo (adjustable spit) to the most primal method Asador de la Cruz in which a whole beast is butterflied, fastened to an iron cross and cooked over an open fire. Students will also learn the correct principles of fire building, management, temperature control and charcoal making.
The day is all about fire and meat and the hunger that inspires us to improvise and innovate. If there is wood to burn and local ingredients at hand, then we can find a way to make something delicious!
Philleigh Way is Cornwall's leading cookery school offering full and half-day courses in their purpose built kitchen.
COURSE OVERVIEW
Duration: 10:00am – 16:30pm – If you are able to make it, you are invited to arrive at 09:00am to help prepare the lamb (Asador de la Cruz method) for hanging over the fire pit for cooking. If you are not able to arrive at 09:00am, this process will be explained again during the day, and you are more than welcome to arrive at the scheduled time of 10:00am
Tutors: Tim Gibb – Founder Asado Fire Kitchen & Rupert Cooper – Head Tutor

Max student to tutor ratio: 12/1
Welcome: Meet your tutor and see for yourself the Philleigh Way farmhouse cookery school and garden. Enjoy a morning tea or coffee.
The Day: It's an action packed day with a mixture of demonstrations and practical sessions. All equipment is provided for you along with tea and coffee throughout the day, a good glass of red wine with your lunch and a local Cornish beer to help with the cooking!.
Close: One of the most unique elements of this course, is that food will be in abundance so we encourage all attendants to invite their family along to feast after the work is done, the bar will be stocked ready for their arrival!
Suitable for all levels from absolute beginners to well seasoned grillers.
Sample Dishes/Meats
Slow cooked half lamb
Spatchcocked chicken
Grilled chorizo and morcilla
Grilled flank steaks
Slow cooked short rib of beef
Empanadas
Chimichurri
Salasa criolla
Root vegetables cooked in hot embers
Crushed whole potatoes with paprika
Pan fried kidneys
Plank fish
Skills
Prepare And Cook Beef Ribs And Learn The Temps

First Meal A Fireside Breakfast (Steak And Eggs Or Asparagus Bundles Wrapped In Bacon With Eggs, Etc)

Veg Prep For Evening Feast, Par Cooking Spuds And Carrots, Parsnips Etc.

Making Dressings – Chimichurri, Confit Garlic And Saffron Caesar Mayo, Mayo For Lunch.

Cooking Veg In The Embers (Rescaldo) And How To Utilise This And Which Veg Are Most Suited.

Charing Leaves (Baby Gem Or Cavolo Nero)

Salt Baking And How It Works (Chicken Or Whole Fish & Vegetables)

Cedar Plank Catch Of The Day
Age suitability: 16+ or 13+ if accompanied by a paying adult.