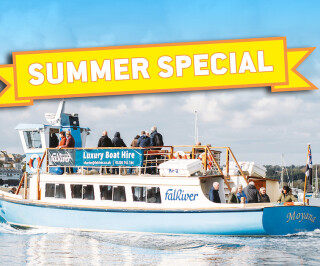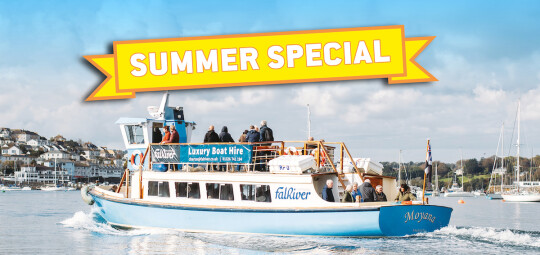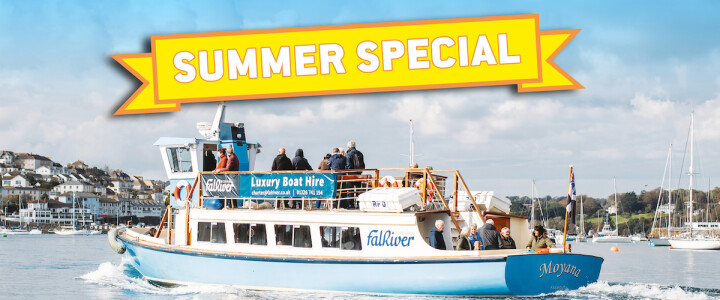 Half Price Family Boat Trips
5 August - 2 September
Explore the Fal River with the family this summer for up to half price! Hop aboard Enterprise Boats and start saving. Valid on family tickets only, terms and conditions apply.
***This offer has now ended***
Special Offer
Half price family tickets on Enterprise Boats between Falmouth - Trelissick (either direction) or St Mawes - Trelissick. Valid only with pre-purchased online tickets. Tickets only availble to purchase online between 5th August - 2nd September 2020. You then have up to 5 weeks to redeem your ticket(s) from date of purchase.
Falmouth - Trelissick (either way) | Family Day Return | Normally £35, NOW £17.50
St Mawes - Trelissick | Family Day Return | Normally £35, NOW £17.50
Moyana - We're running trips on our luxury boat the 'Moyana'. She is a classic wooden ferry with a full bar onboard, plenty of inside space in case we get some 'Cornish liquid sunshine' as well as large open top deck.
FAQs
When do I have to use it by?
You have 4 weeks to use your ticket from the date of purchase (printed on your ticket).
How many people can use it?
A family ticket is valid for up to two adults and up to three children. A minimum of 1 child must be travelling for the ticket to be valid.
Where can I purchase it?
By clicking the link above - simply complete the purchase online.
What ages do children count as?
Ages 4-16. Children 3 and under travel free of charge.
Need extra tickets?
Just add them at the online booking stage also, but remember, the half price offer is only valid for family tickets. All other tickets purchased online are 10% off.
Is it safe to travel on board?
We have taken a number of steps to make our ferries as safe as possible during COVID-19. Read our safe travel guidance here befoe you travel.
Visiting Trelissick - do I need to book?
Yes - if you are planning on visiting the National Trust site at Trelissick, you do need to pre-book your entry direct on their website. See here...
You can stay onboard for a round trip.
You also need to pre-book National Trust entry if you are starting your journey from Trelissick.
Select & Buy your Tickets...
Select your tickets below. Family tickets are for up to 2 adults and 3 children. Children are aged 4-16, 3 and under travel free of charge.
Terms & Conditions
Cannot be used in conjunction with any other offer or voucher

Tickets are valid only for 6 weeks from date of purchase.

Family tickets must be used with at least one child - ticket not valid for two adults only

Normal terms and condtions of service apply

All sailings subject to tide, weather and circumstances

Offer only availble to purchase online and not in ticket offices or on ferries

Offer only availble to purchase between 5th August - 2nd September 2020

Offer only available on Enterprise Boats

All family tickets are day returns, no other options offered

Tickets do not including hop-on hop-off travel at mutliple stops, valid only on the following routes:

Enterprise Boats: Falmouth to Trelissick (either way)

Enterprise Boats: St Mawes to Trelissick