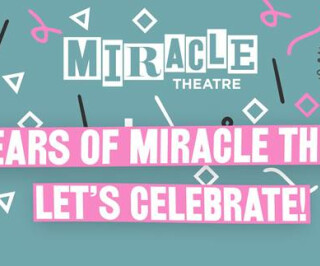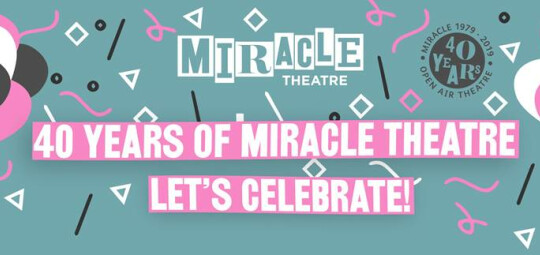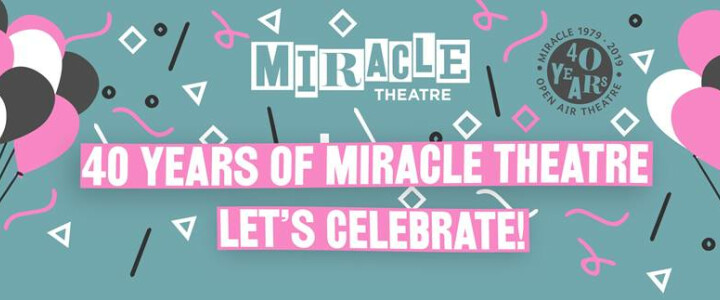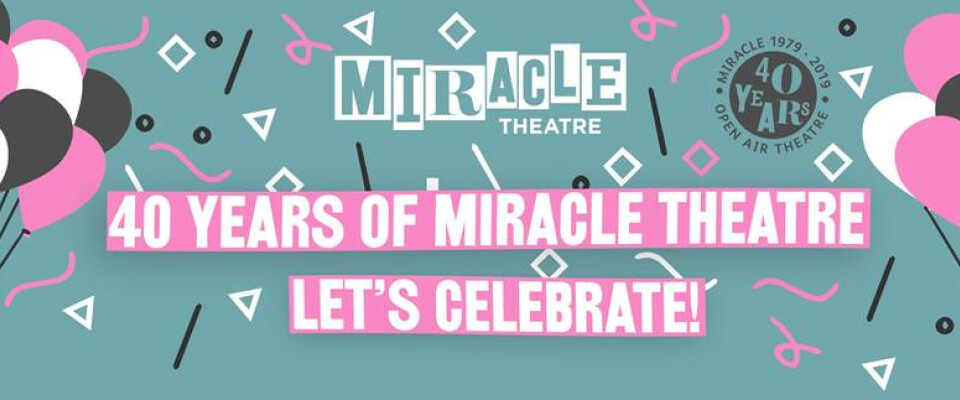 Miracle Theatres 40th Birthday
22 August - 24 August 2019
Join Miracle Theatre at Enys Gardens in Penryn for free activities celebrating their 40th birthday!
Miracle will be ending the summer with a bang at Enys House and Gardens in Penryn to celebrate their 40th anniversary.
Alongside their final three performances of A Perfect World, they will be taking over the house and gardens with FREE workshops, installations and activities – open to all from 4pm each day!
Free Admission – Every Day from 4pm
Take a look at what we're up to:
Welcome Cream Tea
Thursday 22 – 4pm
Come along at 4pm, tuck into a delicious free cream tea supported by Trewithen Dairy (when it's scone, it's scone!) and enjoy the installations and activities across the site to celebrate Miracle's 40th anniversary.
No booking required


Miracle Moments
Play Readings in the House & Gardens
Every day – Various times
Join Miracle actors as they read excerpts from Miracle past productions around the house and gardens each day.
Miracle moments under a tree – listen, lay back and relax!
Soundscape Workshop with Tom Adams
Friday 23 – 4pm
Join Miracle performer and composer Tom for a fun musical workshop with him and his loop station.
Tom created the score for A Perfect World working with adults and children in this way – now's your chance to have a go and share the joy of this style of music and sound-making!
FREE, open to all ages. Book HERE to secure your place.
A Perfect World Drama Workshops
Friday 23 - 5.15pm
Saturday 24 - 4.30pm
Join Miracle performers Hannah Stephens and Catherine Lake for a 'build your own adventure' drama workshop inspired by A Perfect World.
FREE, open to all ages. Duration: 1hr 15mins. Limited group size, please BOOK HERE to guarantee a place.
Sea Shanty Workshop with Catherine Lake
Saturday 24 – 6pm
Join Miracle actor and Musical Director, Catherine Lake (Bah Humbug, Tin), for a Treasure Island-inspired sea-shanty workshop. Some singing experience required.
Free, ages 16+, but please BOOK HERE to guarantee your place.
Keri's Drama Club – REUNION!
Saturday 24 – 4pm
Did you ever join in the fun at Keri's drama club in Falmouth?
Come and join Keri for a reunion – we'd love to see you and find up what you have been up to ever since!
Anyone who has attended Keri's drama – since 1989 – is welcome to join us for a tea party in the gardens.
No booking required


Book Tickets to see A Perfect World at Enys Gardens