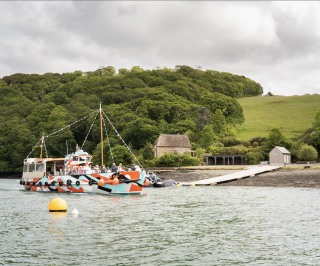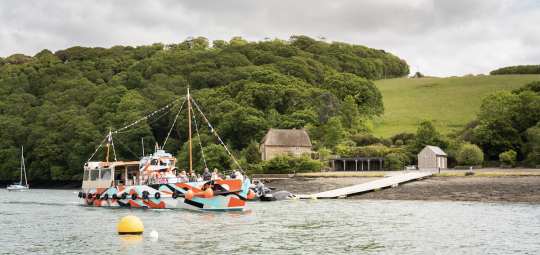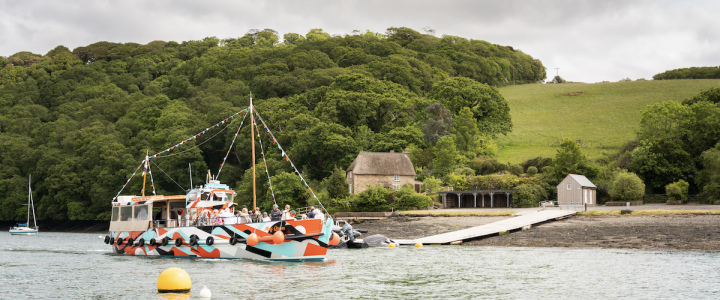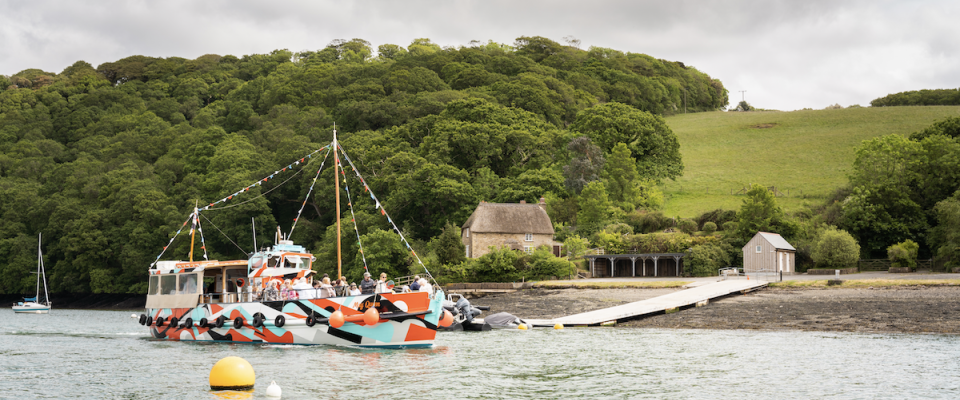 The History of the Dazzle Ferry
15 July 2019
Learn about the fascinating story of the May Queen and why 2019 is an important year.
Dazzle Camouflage
A Brief History of Dazzle
Dazzle camouflage, also known as razzle dazzle (in the U.S.) or dazzle painting, was a family of ship camouflage used extensively in World War I, and to a lesser extent in World War II and afterwards. Credited to the British marine artist Norman Wilkinson, it consisted of complex patterns of geometric shapes in contrasting colours, interrupting and intersecting each other.
Unlike other forms of camouflage, the intention of dazzle is not to conceal but to make it difficult to estimate a target's range, speed, and heading. Norman Wilkinson explained in 1919 that he had intended dazzle primarily to mislead the enemy about a ship's course and so to take up a poor firing position.
Dazzle was adopted by the Admiralty in the UK, and then by the United States Navy. In total Over 4000 British merchant ships were painted in what came to be known as "dazzle camouflage"; dazzle was also applied to some 400 naval vessels, starting in August 1917.
It was not until she was within half a mile that I could make out she was one ship [not several] steering a course at right angles, crossing from starboard to port. The dark painted stripes on her after part made her stern appear her bow, and a broad cut of green paint amidships looks like a patch of water. The weather was bright and visibility good; this was the best camouflage I have ever seen. TESTIMONY OF A U-BOAT CAPTAIN
DAZZLE DESIGNERS
All British patterns were different, first tested on small wooden models viewed through a periscope in a studio. Most of the model designs were painted by women from London's Royal Academy
of Arts. A foreman then scaled up their designs for the real thing. Painters, however, were not alone in the project. Creative people including sculptors, artists, and set designers designed camouflage.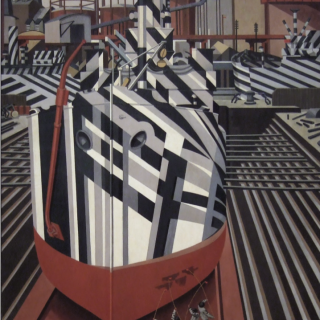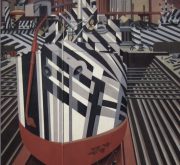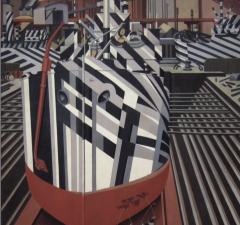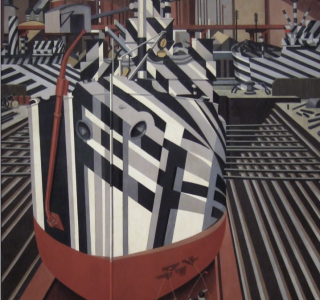 Edward Wadsworth, who supervised the camouflaging of over 2,000 ships during the First World War, painted a series of canvases of dazzle ships after the war, based on his wartime work.
Operation Overlord
The 75th Anniversary of D-Day
Operation Overlord was the code-name for the planned allied invasion and liberation of Nazi- occupied Europe during WWII, which was to lead to the Normandy Landings on D-Day, 6th June 1944.
On June 6th a total of 130,000 men and huge quantities of tanks, vehicles, artillery, supplies and equipment were shipped to the Normandy beaches. This required considerable preparation and by 1943 there were over 1,000,000 US troops in the UK. Many were stationed in the Fal River area.
THE BOMBING OF FALMOUTH DOCKS (1940)
During World War II it was evident that Falmouth would be a target for German bombers. On 10 July 1940 at 14.30 hours, the docks received their heaviest raid, when three vessels were hit, one of which sank and two were burnt out. The British Chancellor was one of the latter. She was later dry-docked and received extensive repairs.
FALMOUTH DOCKS
During Operation Overlord , Falmouth Docks, was at full capacity, the bay rarely had fewer than 100 vessels anchored, and the Dry Docks were of major strategic significance.
EMBARKATION POINTS
Embarkation points were constructed in various sites around the Fal River at locations such as TURNAWARE POINT, TOLVERNE, and TREBAH in readiness for the assault. The embarkation points were generally inconspicuous features, known as a 'hard', which sloped down towards the water. In the three weeks after D-Day there was an intense transportation of troops, equipment and supplies from the embarkation hards to the Normandy coast. In total 11,000 tons of supplies were dispatched every day from the hards to the battlefields.

REQUISITIONING
Widespread requisitioning took place during the war, both for military use and for civilian functions related to the war effort.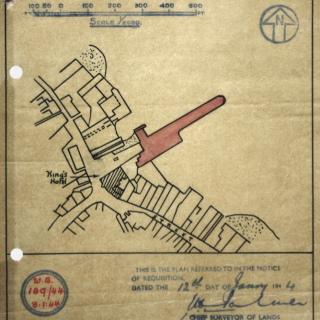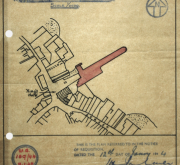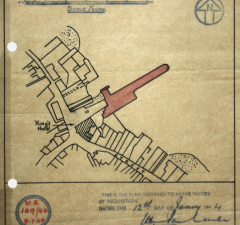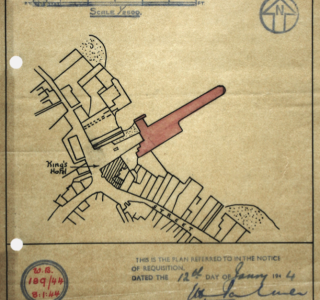 Prince of Wales Pier was taken over by American forces during Operation Overlord, it was reopened to the public in April 1951.
Memories of May Queen
By Richard Warwicker
When I was first on the May Queen in 1977, the ferry was owned by George Pill, and I used to do a few days a week. In 1979 I started work for what was supposed to be two weeks while George went to sort out some other business – I've been here ever since.
Ronnie O'Neill was the skipper and I served my time as crew, getting my own skipper's ticket a few years later. I forget exactly when, but I've been May Queen's skipper now for about 33 years..Falmouth has changed a lot in the years I've been here. In the old days, most holiday makers came by train and bus and stayed in town. Lots of people came to the same place year after year.The quays have changed too. Up from the Prince of Wales pier is Harris' coal yard (now flats). On spring low tides people went down to pick up steam coal, which burns a lot hotter and must have melted their hearths. Nevertheless the same people came back for more. We swam from Custom House Quay, Jacket Steps, Well Beach (where the Royal Cornwall Yacht Club now is), and the Greenbank. We weren't always the best behaved, but we used to shout up to the chef and he would throw us out food and fruit from the kitchen.May Queen is different to most other twin screw boats. She has a very flat bottom and is very beamy, so she slides a lot in the water. I've been around for a long time and I find it natural to handle her the way she wants to be handled. When you get to know the boat, you use it to your advantage. You have to keep way on her, even when coming alongside: if you stop off the end of the quay and try to kick her up like you would another vessel, you'll really struggle. A lot of people say she's difficult to handle – I say she's different, and it helps if you have a natural ability.I'm a morning person: I get aboard early because I love to watch the sun come up on the river. I wash the boat down, do my engine checks, and get alongside for a cup of coffee before the mayhem of a summer day starts.At school I was offered an engineering apprenticeship, but I was on the boats by the time I was 7 years old. When we were kids we used to travel to and fro from St Mawes in the funnel – at that time the exhaust went out at the stern. We used to drive the skipper round the bend because we towed little boats behind on string that would break,and we would always have to turn around and come back to get them.I've chosen a life on the boats: it was always going to go that way.
Skipper, Richard Warwicker

May Queen
An 80 year old ferry with a colourful past...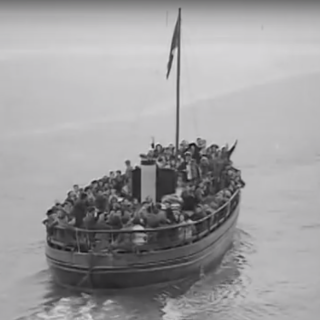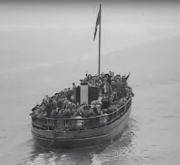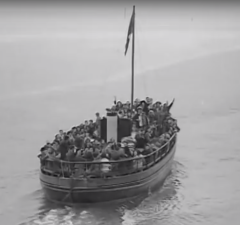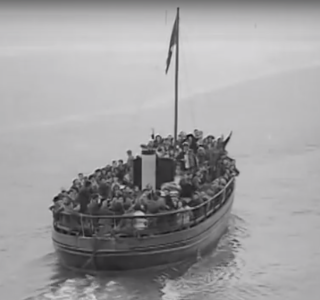 The ferry that came to be called May Queen was commissioned as a pleasure boat to work off the beaches of Rhyl in north Wales.
THE BUILDING OF THE MAY QUEEN
Work began in 1939 at Crossfield's in Conwy. She was built with a single length of Welsh oak for her keel, and had grown oak frames and ribs. Her planking (1" 1/8 thick) was of pitch pine, steamed and then fastened into place. The yard had very little machinery, and each timber was shaped by hand with adzes, draw knives and planes – but despite this, four men built her in six weeks!
May Queen is a carvel-built boat, which means her keel and frames were assembled first, with the planks fastened on afterwards. Unusually for a carvel vessel, she was not originally caulked: normally cotton is forced into the seams to make the hull watertight. In this case, however, the closeness of fit plus the swelling of the planks prevent the ingress of water.
THE WAR YEARS
May Queen was not destined for the beaches at Rhyl for some years, however. She was brand new in September 1939, and was immediately requisitioned by the Government for the war effort. She was converted for use as a fire fighting tender, and spent the war on the River Mersey at Liverpool.
At the end of the war, May Queen was returned to the builders, and though she apparently looked a sorry sight, covered in black paint and with holes in her decks from the fire pumps, she was restored at the expense of the government to her former varnished glory, and began working off the beaches in 1946.
The May Queen leaving Rhyl for the last time in 1967. Image from the book A Trip Round The Bay, by Pat Longfield
THE JOURNEY TO FALMOUTH
In the 1960s, May Queen was sold and operated for a time from Fleetwood, Lancashire. In 1968 she was sold again, this time to the Pill family of Falmouth. They bought her to compete on the St Mawes ferry route – a competition for passengers that ebbed and flowed over the next decades.
Approaching her 64th birthday in 2003, May Queen was sold to Cornwall Ferries. She has run the Customs House Quay to St Mawes service ever since, and celebrates her 80th year in 2019.
Skipper Pat Longfield painting May Queen in Rhyl.
Artist Kleiner Shames painting May Queen in Cornwall
The Dazzle Ferry
A Floating Work of Art
Created by local artist Kleiner Shames, the May Queen's striking new paint job was inspired by 'Dazzle Camouflage' of the First World War. This floating work of art commemorates many surprising layers of wartime history associated with the Fal River, and the boat itself.
ABOUT THE ARTIST
Kleiner Shames is a self-taught painter and sculptor based inPenzance, Cornwall.For the last 16 years, Kleiner Shames has developed a multimedia practice experimenting with form, colour composition and recurring shapes.Starting with large murals, Kleiner Shames progressed to working from studios in Oxford, Bristol, London and now Penzance. Using a process driven and hand-made approach, Kleiner Shames creates enamel paintings, wooden assemblages, concrete sculptures, screen prints and large-scale outdoor works.
DESIGN
The May Queen's new paint job was primarily inspired by 'Dazzle Camouflage' of the First World War.At first glance, dazzle seems an unlikely form of camouflage, drawing attention to the vessel rather than hiding it, however the goal was not to conceal, but to confuse the enemy by disguising the speed and heading of the vessel. and dimensions of a ship.Traditionally dazzle ships artists applied a number of visual techniques based on scientific studies to enhance the camouflage effectiveness. Some of these tried and tested techniques have been incorporated into the May Queen's paint scheme such as using conspicuous shapes and violent colour contrasts, using strategically placed contradictory patterns, painting on the boat's funnels, and curves on the hull to create false bow waves.

"The Skipper's wife pointed out a camouflaged poppy on the wheel house. The poppy wasn't intentional, but on reflection, it is a really fitting tribute to the D-day Anniversary which the Dazzle ferry also serves to commemorate." Kleiner Shames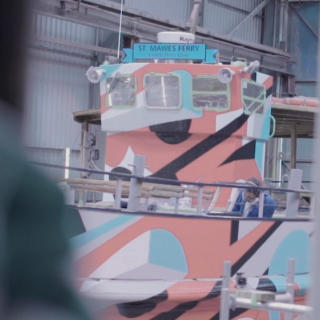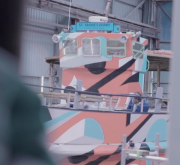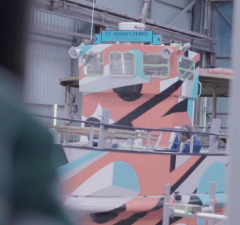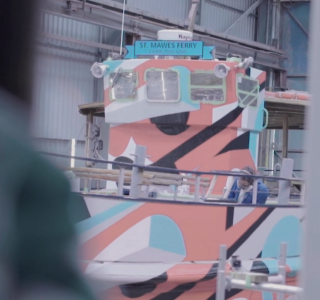 "The Skipper's wife pointed out a camouflaged poppy on the wheel house. The poppy wasn't intentional, but on reflection, it is a really fitting tribute to the D-Day Anniversary." Kleiner Shames
CAN YOU SPOT THE THE DUCK?
The artist also met and worked with the skipper, shipwrights and crew to uncover stories of The May Queen and the river to integrate them into the fabric of the dazzle design. Within the design there is deconstructed duck as well as Dazzled Duck in tow. Dazzle Duck, formerly named 'Ay-Up Duck' has been a crew member floating alongside The May Queen for almost a decade.
May Queen is one of three vessels that make up the fleet of ferries that sail from Falmouth to St Mawes.
Each year, the entire fleet of classic wooden ferries come out of the water, and undergo refit, repair and repainting. The refit provided the perfect window of opportunity to invite Artist Kleiner Shames in and transform the boat. Once primed and ready, the 60ft ferry was painted in 5 days entirely freehand. The Dazzle Ferry will remain on display on the water throughout 2019.