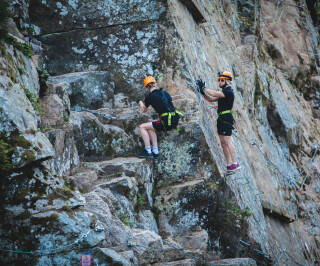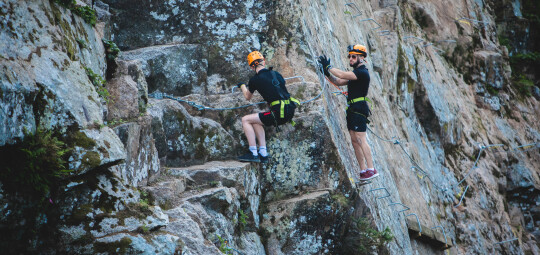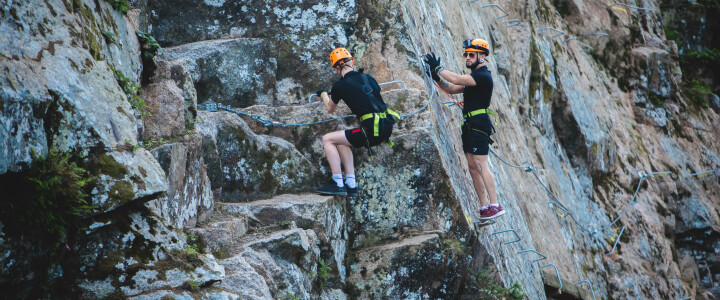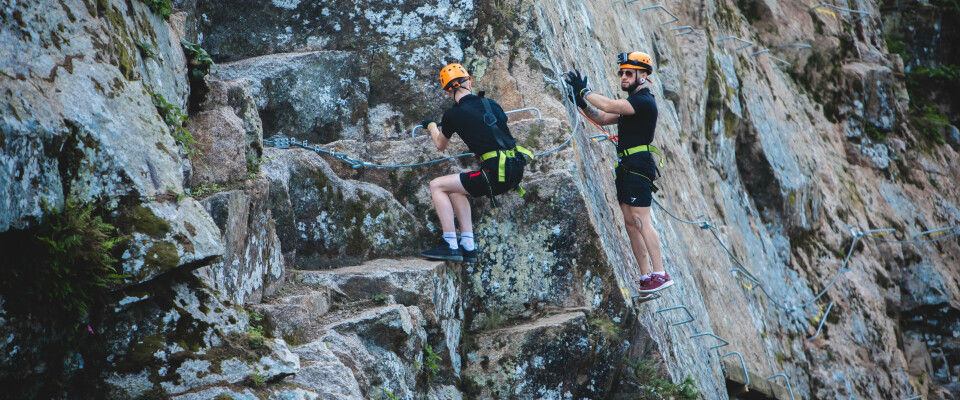 Guest Blog : Wellbeing with Via Ferrata
21 June
Our latest Guest Blog from Via Ferrata is all about activities to boost mental wellbeing post lockdown.
The pandemic has taken a huge toll on people's mental health and at Via Ferrata Cornwall, this is something that we're particularly aware of. As a social enterprise that was launched last year with the mission to support our charity BF Adventure in caring for Cornwall's most vulnerable young people, we've seen the anxiety, isolation and struggles that Covid-19 has caused. Now for the positive! We've also seen the incredible impact of the outdoors, exercise and adrenaline on mental wellbeing – not just in the young people that BF Adventure supports with its outdoor education programmes, but in the participants who've given our adventure activities a go – especially our Via Ferrata! This epic high wire adventure sees you making amazing memories and conquering fears as you wind across cliff faces on our iron stairway, brave our high wire bridge, tackle high challenges and leap from the top of the quarry onto our zip wire – all whilst being clipped into a safety cable!
What the research tells us...
The NHS has listed 5 tips for boosting mental wellbeing: connecting with others, being physically active, learning new skills, giving to others and paying attention to the present moment (mindfulness).
Several studies have linked the benefits of the outdoors to improved health and well-being. It's believed that contact with nature plays a crucial and irreplaceable role in brain development, and simply walking through a natural environment can reduce blood pressure as cortisol levels return to normal and stress levels are reduced:
"People who use the natural environment for physical activity at least once per week have about half the risk of poor mental health compared with those who do not do so; and each extra weekly use of the natural environment for physical activity reduces the risk of poor mental health by a further 6%." – Mitchell, 2013
How our adventure activities can help
Outdoors in nature
Our stunning 60 acre site near Falmouth is home to historic granite quarries filled with water, woodlands and a diverse range of wildlife, with gorgeous views overlooking Falmouth Bay and the Lizard Peninsular! All our activities take place in this beautiful setting – back with nature and away from the crowds.
The most beautiful place to exercise
Whether you're scaling cliff faces on our Via Ferrata, paddling though pristine waters with our watersports, plunging into the quarry water with our coasteering or perfecting your aim with our archery sessions, this beautiful site beats the gym any day. Out in the fresh air and exploring new things together, you're sure to feel some happy endorphins!
Learning new skills
Research shows the importance of learning new skills in boosting confidence and self-esteem, as well as connecting with others. All our activities will teach you technique, whether that's honing your paddling skills, mastering jumping off coasteering platforms, or, perhaps most of all – practicing your climbing and balancing skills on our Via Ferrata.
Connecting with others
We want to be a place where whole families and groups of friends can come together, unwind and share unforgettable experiences. All our activities have lots of opportunities to connect with each other, whether it's through navigating the high wire bridge of our Via Ferrata together as you balance (or bounce!) your way along, capturing each other on the zip wire, competing in our archery games, learning to belay during rock climbing, or sharing the hilarious moment when one of you wobbles off your paddle board into the water! We also have adventure trails for all ages to explore, a café to share some amazing cake and wild play areas in the making, for children aged 3+.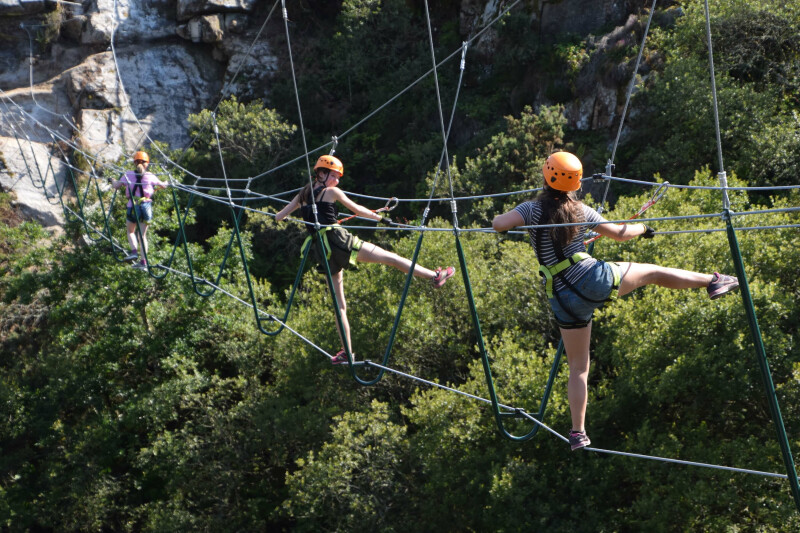 Mindfulness
When you're 20 meters up a cliff, walking across a 70m long single strand of wire, soaring through the air on our zip wire or plunging into stunning quarry water, you really can't think of much else! Being in the moment is hugely beneficial for mental health and Via Ferrata is a hugely popular sport for that reason – whilst it's challenging and exhilarating, it's also rather meditative. You're focusing on something you've never done before and pushing your limits.
Giving to others
All of our profits go straight towards helping local disadvantaged children and young people through the work of our launching charity BF Adventure. These people are facing life's toughest challenges, including mental health problems, issues associated with childhood trauma, poverty, physical disabilities and behavioural challenges – but the charity continues to empower them to build resilience and break down emotional, social and physical barriers in order to unlock their potential.
By choosing to do an activity with us, you're making an incredible difference to these people's lives!
The best activity for mental health
Whilst all our activities are great for boosting mental wellbeing, it has to be said that the Via Ferrata is special. It gives you the freedom to push your limits in a completely safe environment and conquer your fears, leading to a huge sense of achievement when you've completed the routes! Suitable for adventuresome children aged 8+ to full on andrenaline junkies, there are challenges for everyone, from complete beginners to climbing pros, who can forgo the metal rungs and use the natural rock crevices to move around the course. Offering so much more than just an adrenaline rush, it's one of the most unique, fun and exhilarating adventures to be had!
What our participants say
Here's one of our favourite pieces of feedback from our Trip Advisor page:
"Let me open by saying I have a great fear of heights. I thought I would end up observing my friends having 'fun'. However the instructors and staff are amazing, exceptionally friendly and they put me at ease. I never felt pressured. So I thought why not give it a go. I am so glad I did. The [Via Ferrata] courses are so well thought out they ease you into the climbing whilst providing total confidence in the safety equipment, instructors and your own ability to do the course. I never thought I would do this and if I can anyone can. Such a great time with great people. Please give this a go, it's a real bright spot in what could be considered a dark year. I can't wait to go back and can't recommend this highly enough." - Theale
We look forward to seeing you soon!