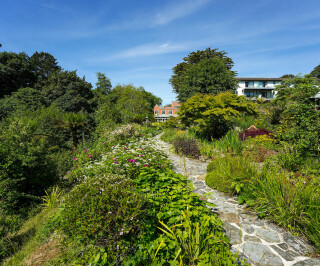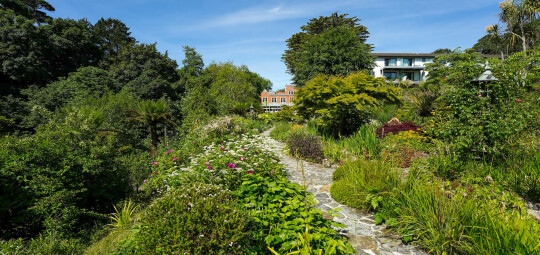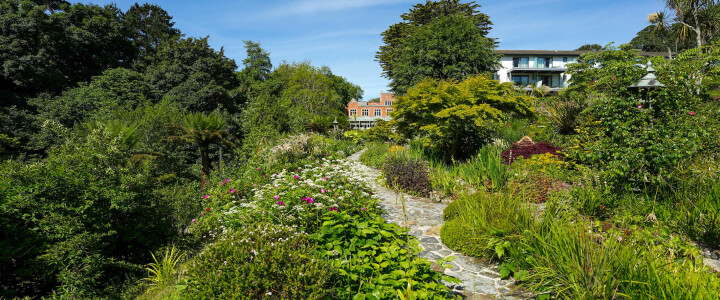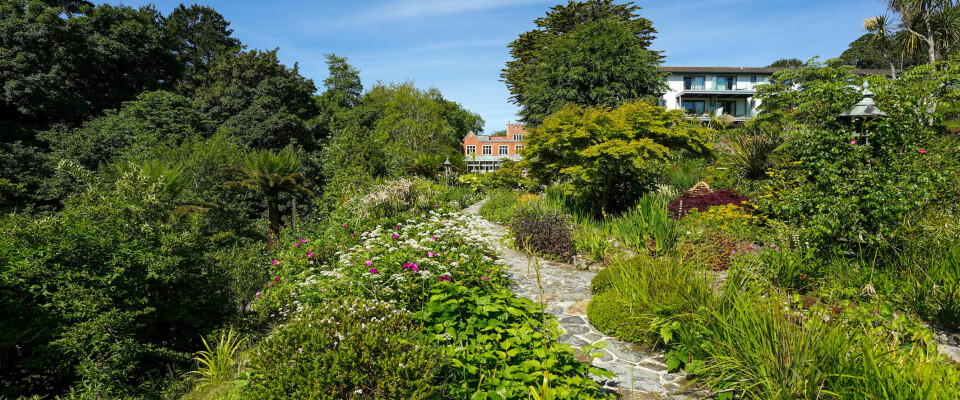 Guest Blog : Notes from the Hotel Meudon Garden
26 July
This weeks Guest Blog comes from the Hotel Meudon's Head Gardener, Ashley Gray.
The history of gardening originally started as enclosed spaces to grow food. This idea quickly developed into places where people could sit in peace and tranquillity and contemplate the beauty that surrounded them. Here at Hotel Meudon we pride ourselves on providing that space, or should I say spaces. If you want to sit in the summer sun and relax, then the terraced gardens and ponds are for you. With their perennial borders that are alive with colour, yellow Hypericums, orange Hemerocallis and pink fuchsias help make up this sea of colour, interspersed with the architectural and stunningly blue heads of the agapanthus.
Or if you want a bit more adventure then a walk through the valley, under the shade of our own mini jungle will take you down to the beach. During the spring, this valley is like a scene from Daphne du Maurier's Rebecca, with our huge collection of Camellia, Magnolias and Rhododendrons. Whilst during the summer it has a lush cool feel with Crocosmia and Hydrangeas coming out everywhere, giving the valley an entirely different view. It is because of this fact, that I would never be able to say what was my favourite part of the garden is. Each day there is a new facet to the garden or a new plant coming into bloom, taking over gracefully from something equally as pretty.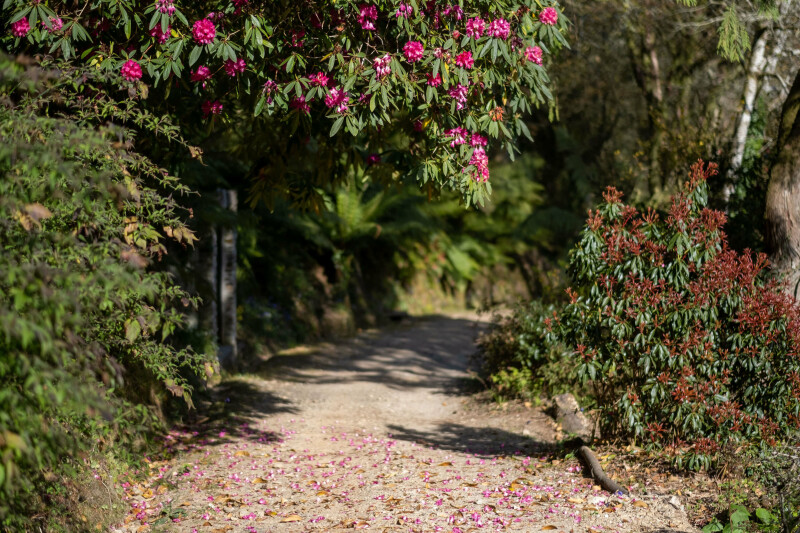 One of my favourite plants at the Meudon are the tree ferns (Dicksonia Antartica). Not only do I love their shape and style, but I love the story of how they arrived at Meudon, being used as ballast for returning ships from Australia. Once the ships arrived back into the Carrick roads the stumps were unceremoniously thrown overboard and would wash up onshore and eventually start to re-grow. And was then brought into the garden. Not only are the original ones still in the garden but have also sired many offspring since.
For me as a horticulturist, the best thing about the garden is the microclimate it holds. Not only does it allow me to grow such an array of plants but also how quickly I can grow them, I always joke that instead of being called a gardener I should be called the Meudon's plant wrangler, as most of my time is trying to slow them from growing, as left to their own devices, most would become triffids overnight. For example, I cut all the hydrangeas HARD in April but here we are in July and most are already covering the paths with their giant heads!
Lastly the reason for its beauty and success has been the gardens heritage, started by plant collectors and maintained by owners who have always prided themselves on the upkeep of this beautiful garden. They still look as beautiful as they did 200 years ago and has many more to come.
When you come and visit, please feel free to come and ask Head Gardener Ashley Gray all about the gardens.