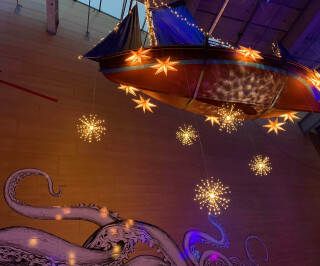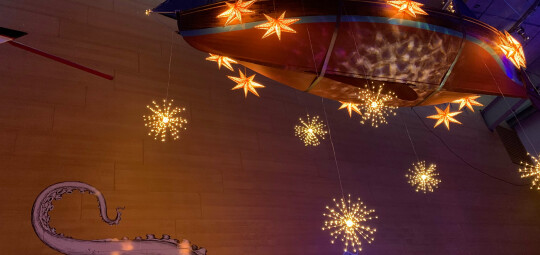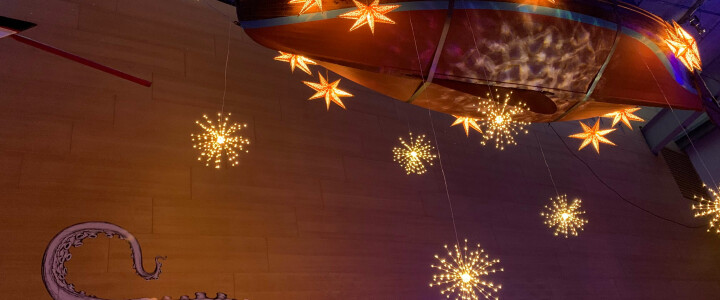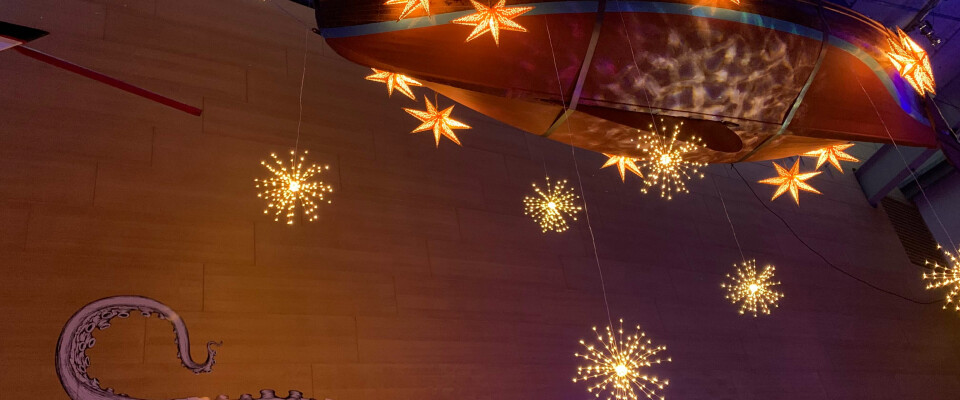 Maritime Museum Reopens on Thursday 3rd December
2 December 2020
The National Maritime Museum Cornwall is due to reopen tomorrow with plans for plenty of festive cheer.
National Maritime Museum Cornwall is due to reopen on Thursday 3 December after being closed due to Coronavirus. Whilst closed the Museum has been busy adding a festive light installation that takes its inspiration from maritime lights and navigation.
The light installation, Lanterns and Lights, which started at the Museum last Christmas for the first time, is a nod to the lamps, lanterns and stars used by sailors to help them navigate their way when at sea. Using the flying flotilla, hung from the Museum's high ceiling, the boats are lit with subtle ocean coloured hues and set amongst glistening star bursts.
In the foyer two heritage boats from the Museum's collection are decked in twinkling lights and will be the Museum's version of giant decorated Christmas trees, laden with gifts and parcels.
A number of rare historic ship lanterns and navigational aids from the Museum's collection will also be on display in the Main Hall, demonstrating how light and the stars guided sailors on their journey.
Sophie Butcher, National Maritime Museum Cornwall's Learning Officer, said, 'With so many of the usual festive activities cancelled in Cornwall this year we felt it was really important to celebrate the season with Lanterns and Lights. The idea of light and it guiding seafarers on their way resonates more than ever – the seas maybe stormy but with light there is always hope'.
National Maritime Museum Cornwall
The Maritime Musuem celebrates the incredible maritime history of Falmouth, Cornwall and how the sea influences global culture. Visit now to discover their latest exhibition Monsters of the Deep...
The Museum plans to remain open late on Monday 21st December so the lights can be truly appreciated. Last entry is at 6.30pm and visitors are welcome to stay until 8pm.
The Museum's hugely popular Make and Take crafting activities will be a little different this year where families are invited to 'Take and Make' instead. Starting from Saturday 19 December, for the duration of the Christmas holidays, families can take a craft pack home with instructions and all the items they need to create Star Light Jars pre-Christmas and Wishing Stars post-Christmas.
Throughout the Museum there will be a star trail where families can explore the Museum, hunting for the hidden stars. Each one has a different challenge to complete.
Due to Coronavirus the Museum has introduced a number of measures, including the introduction of a one-way system, restricted admission capacities to aid social distancing and a strict cleanliness regime. The same level of measures will remain when the Museum reopens on Thursday.
The Museum's Learning Officer, Sophie Butcher concluded, 'Lanterns and Lights is fast becoming a part of the Christmas calendar for families in Cornwall and we are really looking forward to welcoming visitors to the Museum in a Covid-secure way'.