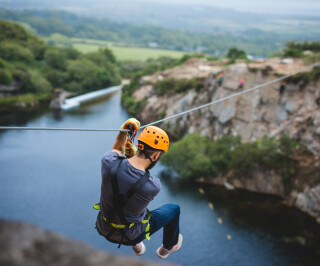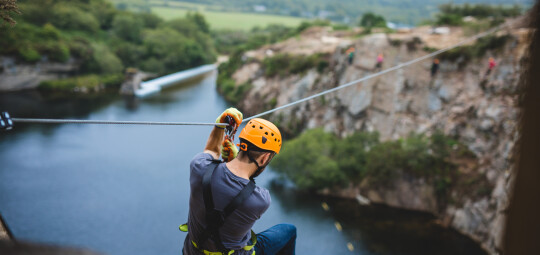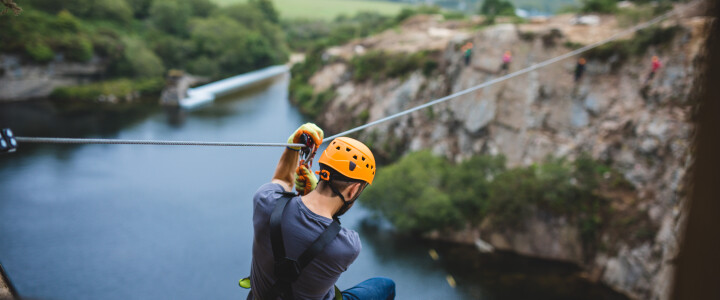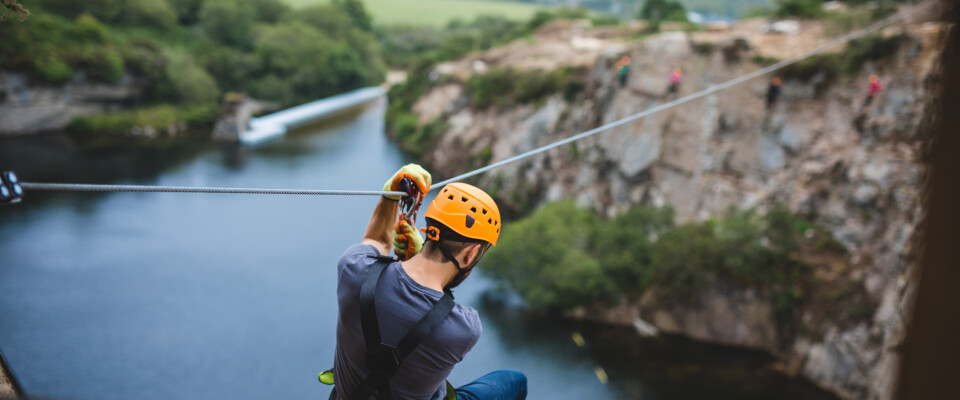 Guest Blog : Via Ferrata
2 April 2021
You may have wondered what the longest zip wire in Cornwall is, or the fastest. Well, Via Ferrata's happens to be the longest in West Cornwall – but it's also hands down the most rewarding! Here is their Guest Blog for this month and their take on the zip wire experience.
What is a Via Ferrata?
A Via Ferrata isn't just a zip wire ride – it's a full-on climbing, high ropes and zip wire adventure! You can read all about Via Ferrata, but in short, it means 'iron path' in Italian and was built during WW1 to enable troops to cross the Alps. Since then, it's become an epic adrenaline adventure in its own right, with many routes having been built worldwide. Clipped in at all times, participants get to scale cliff faces using metal steps built into the rock, cross suspension bridges and soar through the air on zip-lines on one exhilarating journey.
Journeying through historic quarries
Ours is the only Via Ferrata in South England – and it's in one of the most magical places in Cornwall: historic granite quarries filled with beautiful water and surrounded by gorgeous trees. Part of our Full Classic route, the zip wire is the ultimate reward after having taken on our quarry walls! This 2.5-3 hour adventure sees you winding across the rock-faces on an exciting route that takes you 20 meters above the water level. Part way through, there's the challenge of making it to the other side of the quarry on our high wire bridge! This 70 meter long single strand of wire will test your nerve as you wobble your way over the water. There's no better way to have fun, push your limits and make amazing memories with friends and family!
One of the most scenic zip wires in Cornwall
Once you've traversed across the rock, overcome high challenges and braved the high wire bridge, you've earned your treat! It's time to fly through the air on one of the most scenic zip wires in Cornwall.
Yes, you'll feel an epic adrenaline rush, but it's so much more than that. It's the finale to an adventure that you've completed under your own steam, building climbing skills and conquering fears along the way. There's no better way to celebrate your achievement!
As well as taking in the route you've just conquered, you're treated to stunning views over Falmouth Bay and the Lizard Peninsular! These sights were last seen nearly 100 years ago by the local quarrymen, so this is the perfect way to experience Cornwall's rich quarrying heritage.
Enjoy multiple zip rides if time allows
The sense of freedom and exhilaration that comes with zip-lining is second to none. Depending on your group size and how much time there is, you may get to enjoy it more than once!
Far away from the crowds, you can escape the craziness of daily life and enjoy a new kind of crazy! Soaring over the pristine water on our remote site, this is the perfect way to let go and enjoy nature.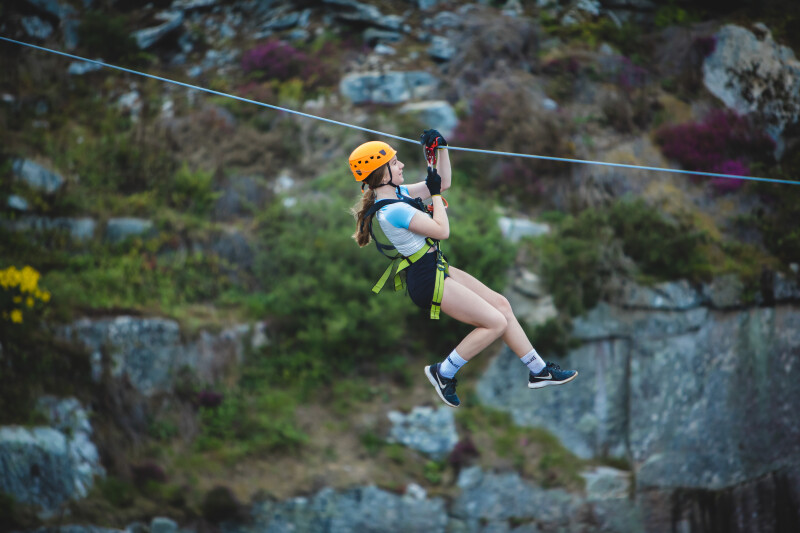 It's award-winning!
We're mad about zip wires, Via Ferrata, climbing and just about every other adventurous activity. We want you to have just as much fun, which is reflected in our Cornwall Tourism Award! We're over the moon to have received such amazing feedback from those who've joined us…
Our reviews
"It was an all-round fab experience, the zip wire at the end topped off the adventure. The instructor made us feel at ease from the moment we got there and we laughed all the way round the course!" – Melsy
"Myself and my boyfriend visited via Ferrata a few days ago and it was AMAZING! We had such a great time doing the "ultimate" course. Harry our instructor was really friendly and also was very knowledgeable and made our day enjoyable! And the zip wire at the end was super fun! Would highly recommend! Also the sandwiches in the cafe are delicious." – Rose
Check out more of our reviews on Trip Advisor!
Zip wire for charity
100% of the profits from Via Ferrata Cornwall go to our launching charity BF Adventure, which provides life-changing programmes for children and young people facing some of life's toughest challenges. These include poverty, disabilities, mental ill health and behavioural and learning difficulties. So, by undertaking this amazing challenge, you're also helping others to overcome their barriers! Zip-lining in Cornwall has never been this rewarding AND important!
Who can do it?
Our zip wire is part of the Full Classic route, which is for adventuresome children aged 10+ through to full-on adrenaline junkies! Climbing pros can forgo the metal rungs and use the natural rock crevices, making this a challenge for everyone! As well as families, couples and groups of friends, we've also had visits from companies as part of their corporate away days, as well as school and youth groups. It's also great for adventure birthday parties and stag, hen or even sten parties!