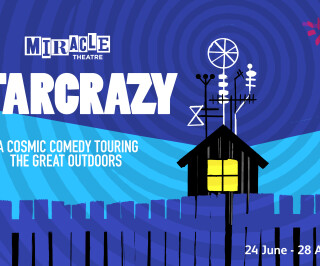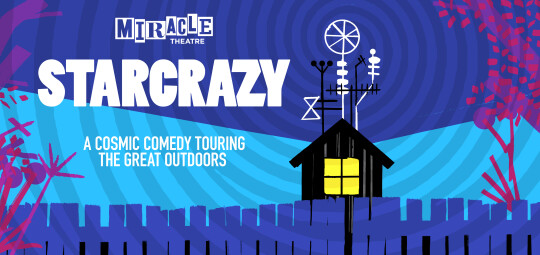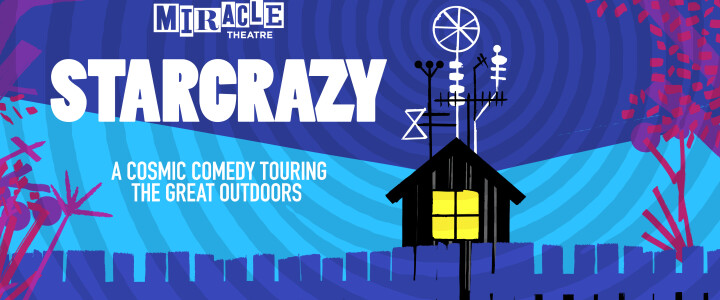 Miracle Theatre are back!
18 June
Miracle Theatre are back on tour this summer with new open-air cosmic comedy 'Starcrazy.'
It's time to get outside with Miracle Theatre! Having toured the nooks and crannies of the South West for over 40 years, this homegrown Cornish company will be back on the road for Summer 2021 with a brand-new cosmic comedy, Starcrazy.
After being forced to cancel all productions in 2020, Miracle will be making a welcome return to locations across the South West, bringing people of all ages together again, with support from the government's Cultural Recovery Fund.
"It's wonderful to be back in the rehearsal room again, dusting off the props, interacting with actual people and discovering that we haven't forgotten how to make a show! All systems are 'go' for a summer tour, starting at Falmouth's Gyllyngdune Gardens on 24th June." says director Bill Scott.
"Starcrazy is about Stan, a quiet, reclusive individual, who spends a lot of time in his potting shed, tinkering with a very powerful radio transmitter. His attempts at communicating with folk in distant galaxies are interrupted by a new neighbour, Gwen, who has interests much closer to home. And sinister forces are at work – or are they just inspectors from the planning department?"
With summer safety guidelines yet to be confirmed, venues will only be releasing a limited number of tickets for each performance. So do get in quick to guarantee a spot at your chosen venue!
Gather your nearest and dearest, start planning your picnics and look forward to some extra special time together under the stars, while you enjoy this gentle comedy about obsession, hope and the rekindling of love, written by Bill Scott with music by Tom Adams.
The perfect tonic for a summer of Covid recovery!
From 24th June until 28th August this small but perfectly formed production will be popping up at locations all over Cornwall and the South West, reaching from the Isles of Scilly to Wiltshire. Visit Miracle Theatre for tickets, tour dates and to find a venue
'Miracle are a joy – go and see them!' Western Morning News
'Truly Fabulous! Perfect example of what live outdoor theatre should be all about!" Audience feedback
'Brilliantly Bonkers!' Audience feedback
MIRACLE GUIDE TO OPEN AIR THEATRE
Come prepared! - Bring whatever you need for a cosy evening. Warm woollies, blankets waterproofs and insect spray!

Gather a posse! Bring friends and family the more the merrier for a Miracle night out!

Arrive Early - Pick a great spot and enjoy the beautiful surroundings

Bring a Torch - It's very helpful to safely find your way back to the car.

Bring a Picnic - There are often refreshments also available at the venue.
Miracle tours with 4 pairs of Sound Boosting Headsets that are free for anyone who feel they might benefit from them.
Each of our venues is unique! If you require any assistance or would like to discuss venue accessibility or to book Sound Boosting Headsets please call Miracle Theatre directly on 01209 216762 before booking.