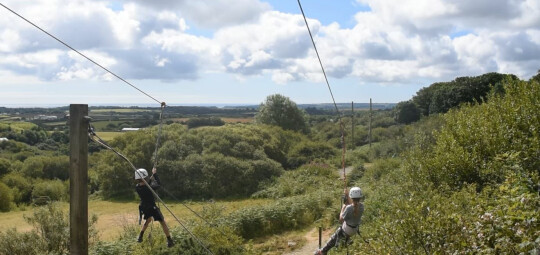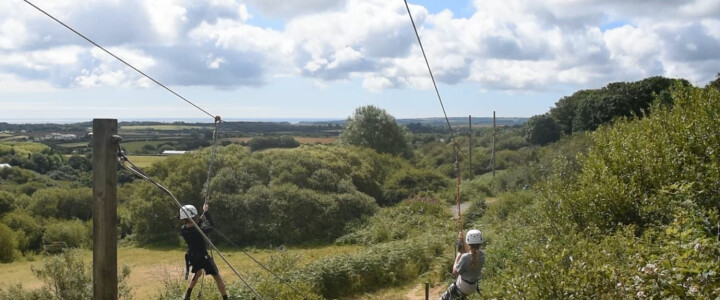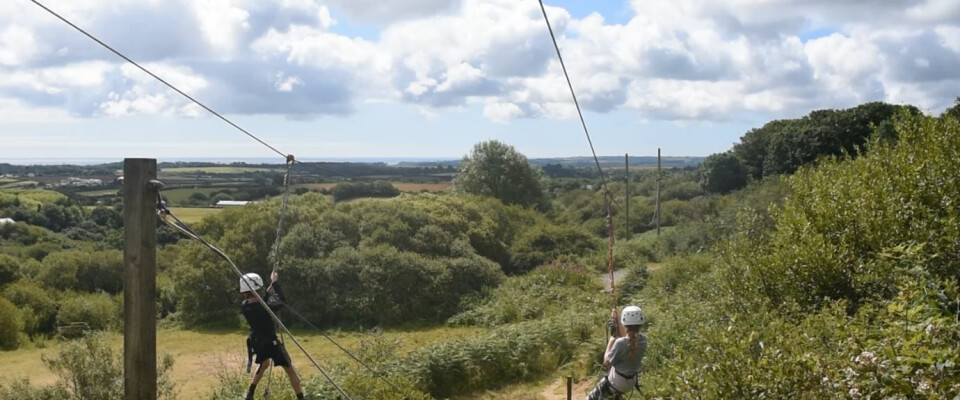 Guest Blog : Escape the crowds in Cornwall
31 August 2021
Want to escape the crowds in Cornwall and explore wild places? The team at Via Ferrata have put together some of Cornwall's most stunning and interesting spots!
Via Ferrata Cornwall
Our beautiful 60 acre site of historic water-filled granite quarries, heathland and woodland is tucked away within a 20 minute drive inland of Falmouth. It's the perfect place to get back to nature and explore! Our adventure trails for kids and adults wind through diverse habitat areas with bug zones, grassland, forest and wet woodland and you'll be treated to stunning views overlooking Falmouth Bay and the Lizard Peninsular! There is also the chance to enjoy some more adventurous outdoor activities, including the Via Ferrata! This epic high wire adventure sees you making amazing memories and conquering fears as you traverse across cliff faces on our iron stairway, brave our high wire bridge, tackle high challenges and leap from the top of the quarry onto our zip wire. After all the activity you'll be in need of some cake! Positioned at the top of the quarry with outdoor seating overlooking gorgeous views, The Cornish Barista runs a café offering amazing food made with local ingredients. If you love camping, you're in the right place too!
Wheal Maid and Poldice Valley
This circular 3.4 mile walk is fantastic for exploring Cornwall's incredible mining heritage and taking in the gorgeous landscape of coloured minerals! The walk starts at Twelveheads (there is a layby carpark there) and follows the trackbed of the railway to the beautiful lagoons created by the Wheal Maid tailings dams. You then continue to Crofthandy and join a byway leading to the Poldice mine workings. These mine buildings are fascinating to explore, and make for the perfect place to play hide and seek! The walk then follows the Poldice Valley, gradually descending to join the Mining Trail. You then finish by following this back to Kilcor Stamps and Twelveheads. You can see the full details of this walk here. Twelveheads is only a ten minute drive away from Gwennap Pit, a spectacular tiered amphitheatre-like structure which stands as a memorial to the Methodist movement. The site is included in the Cornish Mining World Heritage Site and is regarded as a place of spiritual, historical, and global significance.
Carn Brae
Check out this amazing Neolithic Settlement over 700 feet above sea level, with dramatic views over the coast, Camborne and Redruth! A special landmark includes the Basset Monument, a 90-feet high Celtic cross erected as a monument to Francis Basset, 1st Baron de Dunstanville and Basset (1757–1835). Basset gained his titles for erecting earthworks to defend Plymouth from French and Spanish fleets and suppressing a miners' "food riot". As well as this, the spectacular Carn Brea Castle (which has now been turned into a restaurant!) stands near the top of the hill. It was built in the 18th century and is considered to be a folly built on the huge uncut boulders that make up part of its foundations, giving the impression of the building melting into the land! Other things to look out for are the Cup and Saucer Rock (a large flattish rock with several deep basins) and the "Smugglers' Cave" – rumour has it that the tunnel extended from the top of the carn into Redruth town, whilst others maintain that it's an abandoned mine working. Either way, it's pretty cool!
Clay Trails near St Austell
Walk or cycle through mid-Cornwall's China Clay Country and take in the striking rural scenery with clay tips and pits created by the 250 year old clay mining industry! Tree-planting and careful environmental management is transforming this former industrial area into something truly beautiful and a haven for wildlife. These scenic clay trails were first opened in March 2005 and new trails have continued to emerge, letting you enjoy this unique area of Cornwall. Lose yourself in these quiet and peaceful pathways and get back to nature! You can explore the routes here!
Restormel Castle
Escape down country lanes near Lostwithiel to this remarkable late 13th century Norman castle, which was once a lavish medieval home with spectacular panoramic views out over the Fowey River valley. With large parts of the castle still intact and large fireplaces, high windows and the great hall, this is an amazing place to come and immerse yourself in history, imagining what life was like living in this perfectly circular stronghold. Highlights include walking around the inside of the keep and climbing up the stone staircase from the courtyard and being met with incredible views of the surrounding countryside. Why not explore and take a picnic on the flower-covered castle mound!