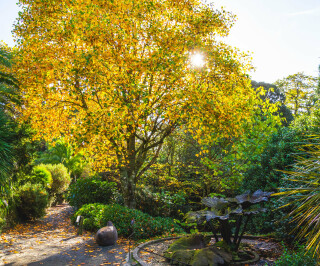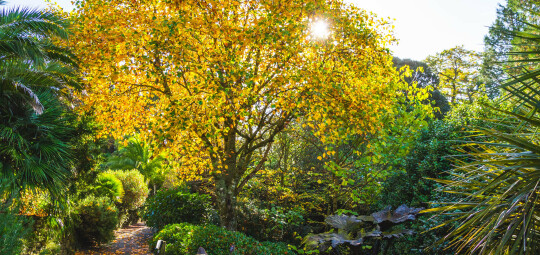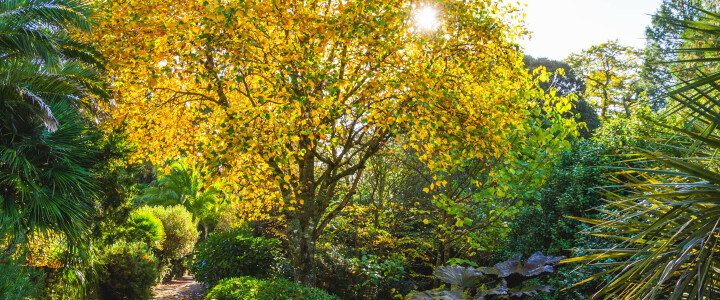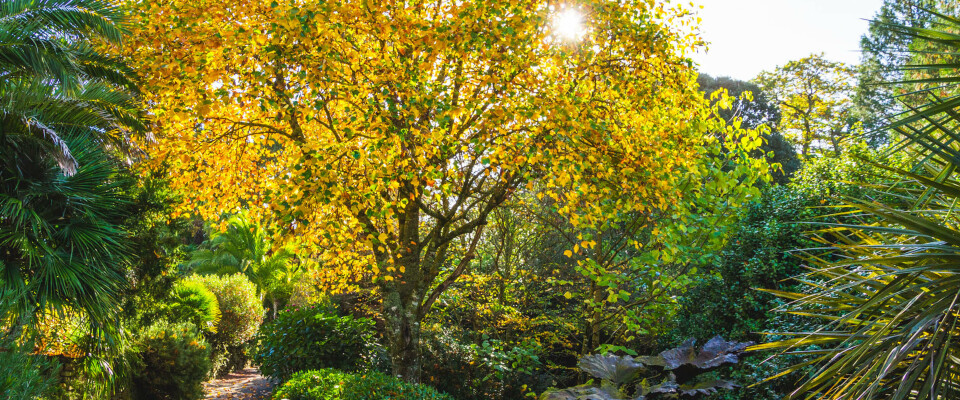 Top Things to do in October 2021
27 September 2021
The evenings are drawing in, the air is cooler and it's all starting to feel a little Autumnal…This all means that it's time to embrace fresh coastal walks, cosy up for hearty food and drink and enjoy all that fun that October half term has to offer! Take a look below at our top pick of things to do next month...
Visit Trebah Gardens
At this time of year, Trebah Gardens really comes into its own. Discover the magic of this beautiful 26 acre Cornish valley garden, with over four miles of footpaths. Explore under canopies bursting with exotic blooms and follow vibrant tunnels of colour that cascade down to our very own secluded beach on the Helford River. In autumn, the garden comes alive with an array of golden tones; the Hydrangea Valley casts clouds of china blue and soft white across Mallard Pond. Trebah really is a must do for October; a beautiful autumnal sight not to be missed!
Click here for more information
Miracle Theatre 'Everyman'
Various dates in October
As an addition to their usual family-friendly shows, this autumn, Cornwall's own Miracle Theatre brings Carol Ann Duffy's dazzling adaption of the fifteenth century English morality play right up to date for adult audiences, creating an intense, exciting, multi-media experience with live music, projection, choreography and a high-energy cast of 4. Up until the 17th October, this unique and exciting production will visit a selection of venues; visit Miracle Theatre for tickets, tour dates and to find a venue near you.
Philleigh Way Cookery School
If you fancy cooking up a storm this October and improving on your kitchen skills, book into one of the many courses at Philleigh Way Cookery School for a memorable experience. Next month sees everything from Indian, Asian, Italian and Cornish cooking! See below for a full list of the courses taking place this October:
French Classics - Wine Tasting
The Old Garage
Friday 8
On Friday 8 October The Old Garage will be joined by the incredible David Gleave of Liberty Wines for this insightful and exciting evening of Wine Tasting on the Roseland! The tasting will look at Alsace, Bordeaux, the Rhone and Burgundy and showcase some new and exciting wine styles that challenge the best of what the rest of the world has to offer.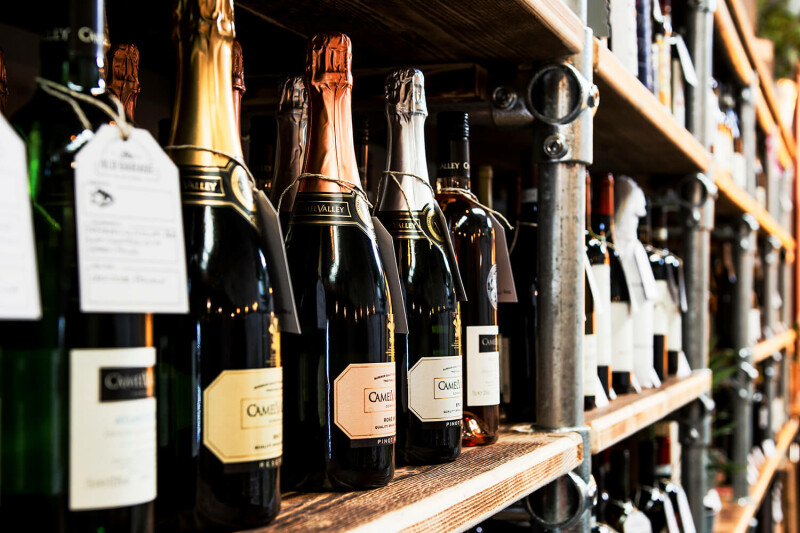 Truro High Tide Cruise
Monday 4 & Tuesday 19
All aboard Enterprise Boats for a high tide cruise up the river to the city of Truro. Departing Falmouth Prince of Wales Pier at 16:00 on selected dates, the boat will cruise up the Carrick Roads, briefly stopping at Trelissick and then cruising all the way up the river to the city of Truro. Arriving in Truro at approximately 17:15, the boat will then cruise back down to Falmouth arriving back at 18:30.
Midweek Guided Walking Break
Hotel Meudon
Selected dates in October
Explore the stunning South West Coast Path around Rosemullion Head and to the mouth of the idyllic Helford River with expert local historian and avid walker, Paul Miller. The two-night package includes daily breakfast, afternoon tea on one day and a two-hour guided walk. From £372 for two, based on two people sharing, guided walks available on set Wednesdays throughout October (13th, 20th, 27th October). At the end of each day retreat to the jungle hideaway afforded by Hotel Meudon, the gardens awash with greenery all year long. The incredible hydrangea collection can be enjoyed right through to March, and from October, the deciduous trees start to show their fabulous autumn colour, turning the valley gold and crimson.
Click here for more information and to book
Taste of Truro Evening
The Alverton
Friday 1
The Alverton will be hosting an intimate tasting evening in The Library to celebrate this year's Truro Food Festival, in collaboration with Annie Sibert from 'My Fish Kitchen' and James Greet from 'The Greet Cheese'. The evening will be a celebration of Truro and will highlight the very best seafood, grass-fed meats and harvest from our 'great little city'. Tickets are £60 and include a five course menu.
Peeky Blinders Murder Muystery
The Alverton
Friday 22
This exciting event at The Alverton's Great Hall in Truro will give you the chance to uncover the secrets behind the criminals, as a scandalous murder is committed. Guests will get to travel back in time to city life in 1919, where a family of gangsters rule the streets in newsboy caps with a razor sharp edge. Tickets cost £50 + booking fee per person.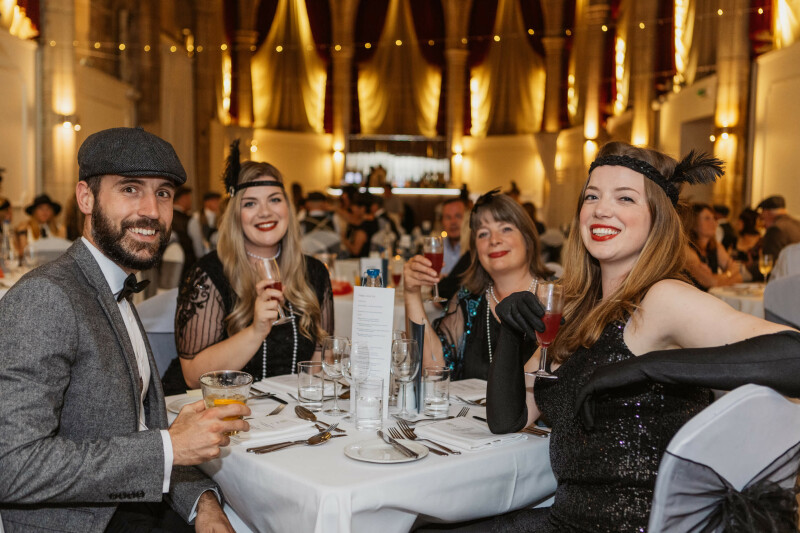 On My Way Exhibition - Rob Rimmington
Millenium Rooms, St Mawes
Saturday 23
ON MY WAY is an exhibition of 30 paintings by artist Rob Rimmington. It is a culmination of a lifetime of being a passionate part-time painter until now while working in other creative fields that have eventually fed into Rob's work today. With the mind and background of an architect, engineer and designer of ground breaking creative experiences, Rob has risen to the challenge of producing art that creates conversation with a strong focus on light and colour.
Click here for more information
Hunting Monsters - Lecture Series
National Maritime Museum
Thursday 21
From sea monsters and Nessie to Bigfoot, the Queensland tiger and the Mokele-Mbembe of the Congo, monsters – technically known as cryptids – hold our fascination. In this lecture guest curator Dr Darren Naish explores the intriguing work of a maverick group of monster experts and aficionados – the cryptozoologists. He poses the question: are there good reasons for believing in these creatures in the first place? For monsters, you see, might tell us more about the human mind than the creatures that exist outside of it.