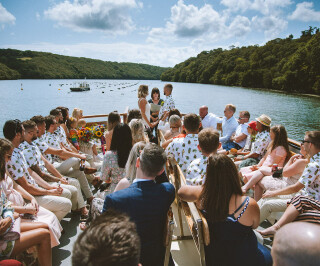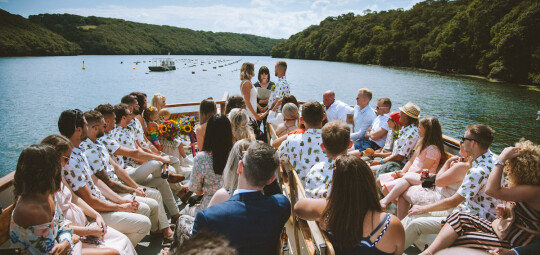 Leanne and Jim's Wedding On Board Moyana
31 October 2019
There is nothing more romantic than marrying on the water. This year we teamed up with Humanist Celebrant Zena Birch to host the first of our ceremonies on board our beautiful wooden boat: Moyana and best of all, the whole thing was a surprise for all of their guests.
All that Leanne and Jim's friends and family knew was to gather in Newquay for a morning ceremony transport pick up. From there they enjoyed an excitable coach journey from the north coast to south coast of Cornwall, to the small village of Malpas just outside Truro.

Travelling to Malpas to catch the boat was time-critical, parking at Malpas was an issue plus if guests had to drive they wouldn't be able to have a drink on the boat.
"These problems posed a potential disaster and this made me nervous!"
Leanne and Jim then decided it would be fun to hire a coach to bring guests to the boat from Newquay making it even more interesting by not telling their guests where they were going!
"What a surprise to arrive in Malpas to board a boat! It was one of the hardest things to keep secret for so long!"
Here the Groom and guests boarded the boat for a welcome drink and a cruise down river eventually mooring at the Trelissick Pontoon, close to where Leanne had been staying with her bridal party.
Leanne stayed in Quay Cottage a National Trust property located on the river edge.
"This house with its amazing grounds and location meant I had a little walk to the pontoon. I had my very own pontoon aisle.
With all the guests gathered on the top deck, the ceremony began. Moments later Leanne and her beautiful bridesmaids emerged on the shoreline and made their way down the pontoon aisle. There wasn't a dry eye as their little daughters climbed up the boat stairs and shouted "daddy!" There was so much laughter, tears and loveliness before there was the kiss, fizz and canapes before setting sail again for the rest of the days celebrations.
"Once married we sailed off on a pleasure cruise that was filled with excitement and happiness from all our guests who were thrilled to be part of our day!"
The communication and effort that was put in from Claire at Fal River Cruises exceeded anything Leanne could have hoped for from answering questions and replying within the hour even sending them tickets to travel on the enterprise cruises to admire the scenery they would encounter on the day of their wedding.
Nothing was too big an ask and even though all the planning was via email Leanne felt at ease trusting Claire with planning her wedding ceremony with no concerns whatsoever.
"This trust spiled over to the morning of the wedding where Claire came to get us to board the boat and while we were doing final finish rushing around I handed her my children to take care of!"
Leanne and Jim really wanted to have their friend Mike from Puravida to capture their wedding but unfortunately, even with twelve months notice, Mike was already booked. They asked his advice and Mike recommended Mark Shaw Photography.
"I searched for Mark Shaw online and was so impressed with his work I even started to imagine how our day would look in photographs! We went for a pre-shoot with Mark, this was a great opportunity to get to know Mark a little more and to get used to having a camera pointing at us"

The Offer…
2 hour cruise on board Moyana for 50 guests maximum.

Leading Humanist Celebrant Zena Birch to perform your ceremony and work closely with you to create and craft the perfect ceremony from the moment you book.
Package Price: £1,800
Option to upgrade and include a glass of fizz and canapes per person for after the ceremony and during the cruise for additional £1,000.
Limited availability, book your wedding on the river
01326 741 194 | charter@falriver.co.uk